William James College Trustee Shani Dowd Receives Lemuel Shattuck Award from the Massachusetts Public Health Association
By Staff Report
May 1, 2017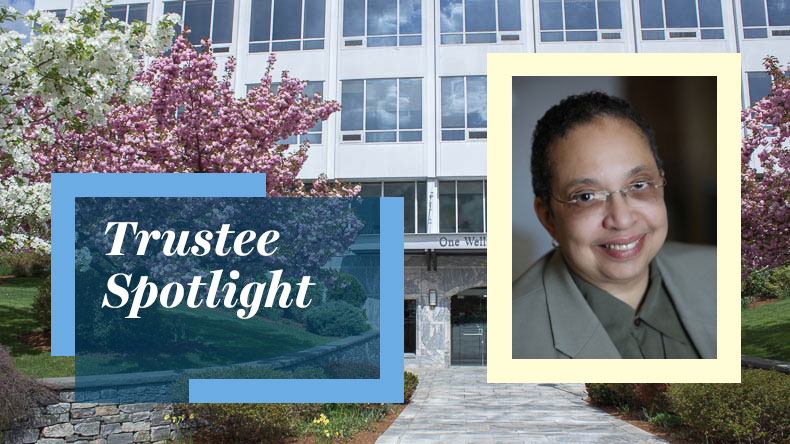 Shani Dowd, Director of the Health Equity Roundtable at the Harvard Pilgrim Health Care Foundation and member of the Board of Trustees at William James College, was recently awarded the Lemuel Shattuck award by the Massachusetts Public Health Association for her leadership in public health and health writ large.
Shani received the award in recognition of her lifelong dedication to activism in public health. As a teenager in the late 50's and early 60's, she started her activism by participating in the civil rights movement. Shani dedicated her career to clinical excellence, access to care and fighting the broader oppressions and injustices present in today's society, and spent her career advocating for race equity, LGBTQ rights and health equity for those who have been denied access to care.
"It's a wonderful honor to get a prestigious award like this, but this is work that is never done by individuals; this work is only done in collaboration with others," said Shani. "As honored as I am to get this award, I'd also like to give thanks and congratulations to my teammates and collaborators who have worked with me through the years on these important issues."
As Director of the Health Equity Roundtable, Shani works to create a pipeline for large, majority-culture organizations to reach into communities for input around disparities in treatment to inform health programs going forward.
Appointed in 2002, Shani is the second longest standing board member at William James College.
"This is a fitting tribute and recognition for one who has been a leader in helping systems and professionals become better open to accessing care for all people," said Nick Covino, president of William James College. "We are honored to have Shani among our Honorary Degree recipients and fortunate to have her guidance on our Board of Trustees."
Lemuel Shattuck, for whom the award is named, is most commonly referred to as the "Father of Modern Public Health" and was one of the most influential advocates in the adoption and expansion of public health measures at local and state levels. He published a Sanitation Report in 1850 that established a model for the nation's first Board of Health, as well as state boards of health in 10 states and the District of Columbia.
Popular Topics/Tags
Follow William James College
Media Contact
Katie O'Hare
Senior Director of Marketing and Communications