Turning Vision Into Reality
By William James College Staff
Jun 1, 2014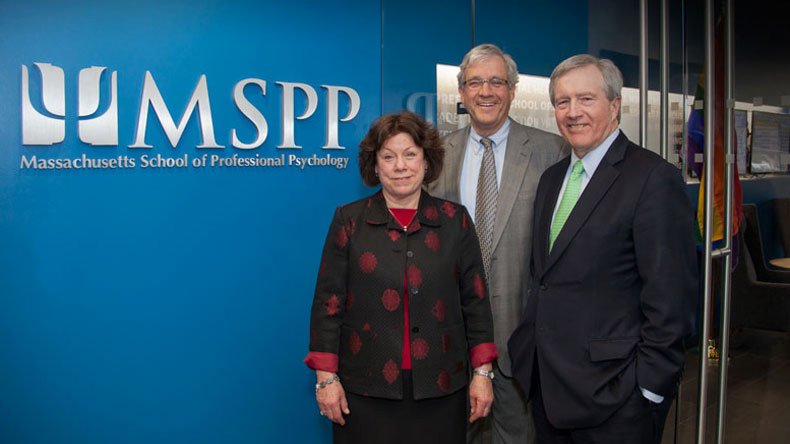 Covino, Hamilton, Schell
William James College President Nick Covino understands well the possible implication for tomorrow of what happens today. "The strength of what we do here can have an impact that changes the quality of life for so many communities," he says. Speaking about the initial phase of the upcoming Capital Campaign, Covino says, "This is our opportunity to do something different, to look ahead, to engage people who believe in our mission to collaborate with us to improve lives. We can teach the important implications of social and emotional factors to a variety of professionals whose training did not include mental health concerns. We have a chance to bring psychology into courtrooms, pediatricians' offices and divorce deliberations, to concentrate on bringing mental wellness into more communities, more businesses, fire houses, schools, homes and offices."
"This is our opportunity to do something different, to look ahead, to engage people who believe in our mission to collaborate with us to improve lives."

- Nicholas Covino
Covino envisions William James College's future as a platform to amplify social policy around mental health access, improve service delivery and decrease the destructive stigma associated with seeking and receiving care. He is grateful to the men and women who nurtured the school in its early years and then played a critical role in reinvigorating it over the last dozen. He wants the new address at One Wells Avenue in Newton to be a focal point for professionals, policy makers, community leaders and advocates to be talking about mental health issues and contributing to the literature of best practices.
Campaign Co-Chair Mike Schell concurs. His leadership of William James College's unprecedented multi-million-dollar Campaign includes an understanding of its critical timing—of seizing this moment. "This is our opportunity, if we can raise the financial resources, to go beyond training superb psychology professionals. We can make William James College a center for raising visibility, consciousness and advocacy around a host of mental health issues," says Schell. He and members of his Campaign team, including Co-Chair Don Siegel and Campaign Counsel Steve Braverman, have been doing the invisible work of getting plans and people in place for launching the initial Quiet Phase. "We need the staff, faculty, Trustees and alums to give their time and talent to this effort, to make it possible for new projects and programs to come off the drawing boards," says Schell. He is particularly focused on opening access to care for those who remain underserved, and to confronting the stigma that precludes too many individuals from seeking the care they need. "Our new address is far more hospitable than our last, more attuned to what we do, but we need the funds to make it our permanent home as well as a beacon in New England, if not nationally, for deliberations around the major mental health issues of our time."
This special 40th Anniversary issue of Rapport celebrates our alumni and examines the variety of avenues they have chosen to 'do good work' with their William James College credentials. It also looks back at our history and some of our important milestone moments. William James College Board Chair, Kerry Hamilton, appreciates the contributions of time, talent, passion and energy given by those who brought William James College to this seminal time in its history. Says Hamilton, "I think of the labor of love our 40 years of Trustees, faculty and staff have given to bring us here, poised on the brink of altering the mental health landscape." She applauds all the current Trustees, especially the six new members of her Board (featured on p. 5), that have been selected for their talent and experience, but also for their understanding of the mental health issues society faces today. "They care about our mission and want to see access opened for all those seeking quality care," she says.
As she contemplates an exciting future for William James College, Hamilton also thinks back to the many alums (1500) in the field, whose skills acquired at William James College have enabled them to touch countless lives. "We'reWilliam James College alums have with their graduate school, thinking it may be the result of the important and ongoing personal attention students receive from faculty and staff. "Personal growth and development is such an important part of a William James College education," says Hamilton. "The people we attract and the people we graduate have a real commitment to making a difference in the world."
Popular Topics/Tags
Follow William James College
Media Contact
Katie O'Hare
Senior Director of Marketing and Communications