Welcome to the Academic Year 2017
By Nicholas Covino
Aug 29, 2016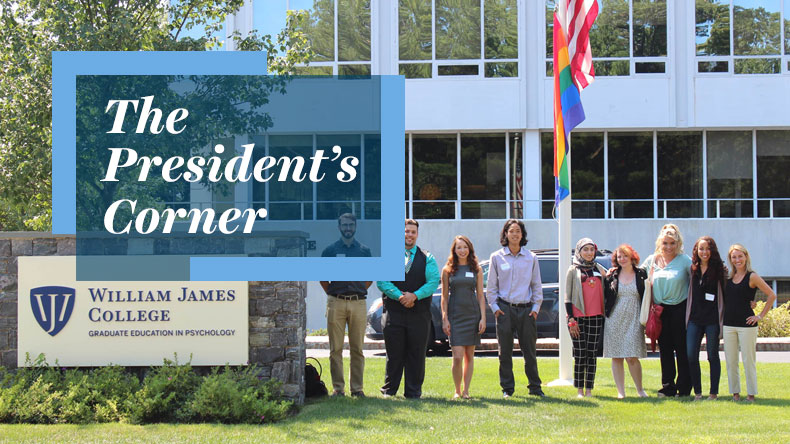 The President's Corner
Dear William James Community:
Welcome to the Academic Year 2017.
I hope that you all have enjoyed the sun and warm weather of this glorious summer.
A special welcome to new faculty, staff and our entering students. As I said in many of the welcomes of last week, we are inviting you into a learning community that has historically graduated 87% of its entering class. Most graduate schools in psychology only manage to do that for 60% of its members. You can depend upon faculty and staff to be willing to help when you get stuck; a school of psychology professionals are familiar with that role. Please ask for help when you need it. Likewise, while we encourage optimal performance, please refrain from competing against or making judgments of a colleague. Our learning community is at its best when we can support each other's growth and development and we are only as strong as the willingness of our newest members to join in that effort. Work hard and find ways to be a collaborator and a colleague!
The Committee on Accreditation for the American Psychological Association evaluates the quality of the national academic and professional programs. They require a lengthy Self-Study, a Peer Site Visit, and Independent Committee Review to be completed. At the end of this process, they will accredit a program for period of 3-years, 5-years or 7-years dependent upon their confidence in the program's quality. Most programs receive a 5-year accreditation. Earlier in the year, our PsyD Clinical program received a 7-year Accreditation and earlier in this month the Clinical Psychology's Consortium Internship AND the School Psychology PsyD program received the same 7-year accreditation. The Consortium is an innovation that brings part-time, local, APA-approved Internships to William James College. It has been the recipient of two HRSA awards of close to $2M to develop this model which is one of few in the country. The School Psychology department (which is already approved by the National Association of School Psychologists) submitted its first report to the APA and the committee's response contained NO requests for clarification or nor suggestions for improvement which is most unusual. These votes of confidence speak to the hard and caring work of the Faculty and Staff at William James College and the talent and strength of the Student Body. We are very proud of your accomplishments.
For the past 49 days, the Rainbow flag flew outside to honor those lives lost in the Pulse Nightclub shooting in Orlando. It will be brought inside now and leave the flagpole to support Old Glory. As this symbolic change is made, let's think together about how each of us at William James College can grow in tolerance and in understanding of those who differ from us. What is no longer outside on a flagpole can be on our minds and in our hearts. Psychology in any of its manifestations is about supporting and negotiating individual differences. While this can be a challenging task, we should dedicate ourselves to being/becoming able to do this. In this year, a group of faculty, students and staff will be working with a consulting group to become better at attracting and supporting students of color in our programs. With "Mental Health" a profession that is about 90% non-Latino Caucasian, schools like ours must all become more welcoming, competent and supportive. The Black Mental Health Initiative will be leading this effort. We look to everyone to help.
Many, many people worked hard over the summer to complete admissions, register students, arrange appropriate field placements and to create "Academic Boot Camps" and orientation. This was a major undertaking that went very well. On behalf of the College and especially for our new arrivals: Thank you!
Welcome to another year of your life and work. May it be rewarding for you and for those whom you encounter.
With hope and respect,
Nick
Popular Topics/Tags
Follow William James College
Media Contact
Katie O'Hare
Senior Director of Marketing and Communications