Welcoming Our Vets Home
By Robert Dingman, EdD, Director of the Concentration on Military and Veterans Psychology; Core Faculty in the Clinical Psychology Department
Oct 5, 2015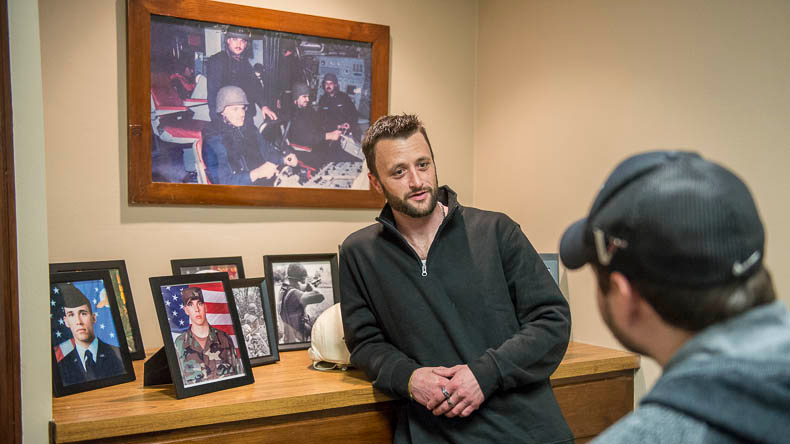 Tips for Families Welcoming Their Veterans Home After Deployment
Let time be your friend. Remember that a returning veteran may need weeks or months to readjust to the routines and rhythms of family life and intimate relating.
Respect a veteran's need to have space and time alone. It's important to be aware that close relating and the complexities of family relationships may be stressful as vets work to cope in their new environment.
See homecoming as a process, not a single event. Many veterans will have highs and lows as they learn to manage demands of everyday life, and the loss of the familiarity and camaraderie of the military.
Let your veteran take the lead in sharing war experiences. Listen respectfully rather than ask a lot of questions, and bear in mind that vets often have complex and unexpected feelings about what they have experienced. Your calm and reassuring presence at such moments may do much to soothe and relieve your vet.
Have flexible expectations about how quickly roles and relationships are restored. Children especially may be shy and wary after a long deployment, and may need time to get comfortably reconnected again.
Talk about hopes, dreams, and the demands of life when you are both calm. Emphasize positive things that you and your vet enjoy doing together, and be ready to take a break during stressful conversations.
Know that being spontaneous and fun may be difficult for a veteran. Being on the look-out for danger is a common result of military experience, and this makes it hard to just "go-with-the-flow."
Share carefully with children about your vet's injuries in language they can understand. Kids' worries are relieved and they feel less to blame when they have accurate information.
Veterans need time, love, support and understanding to manage the extraordinary and often deeply disturbing experiences of war. Some veterans also need professional help to regain their sense of stability and build a new life as a civilian. If the veteran in your family does not improve, or if you or your children develop stress-related symptoms when he or she comes home, please seek support and help through your physician or visit www.militaryonesource.mil.
Popular Topics/Tags
Follow William James College
Media Contact
Katie O'Hare
Senior Director of Marketing and Communications