What's Going on With the Windows?
By Anne Wilson, Director of Communications
Feb 16, 2022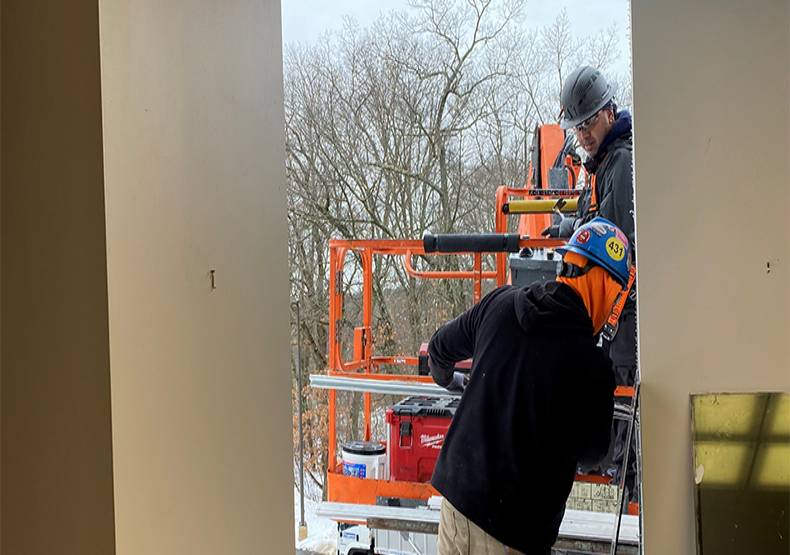 With classes back in-session on campus, those who have returned to the building these past few weeks may have noticed something different about the exterior – namely, that one room in one corner of the building on the second floor looks to be missing its windows. Those windows are missing, but for a very good reason.
Room 207 is the "mock room" for the upcoming building window replacement project, a major facility improvement effort that will kick-off, officially, in March.
"A mock room lets the construction team look at what they can expect to encounter through the rest of the job, and take more precise measurements," explained Director of Facilities Kevin Costello.
The planned two-year project will occur in phases, with work in the current phase beginning on the second floor. Offices and services located in active construction zones will temporarily relocate to other areas of the building.
In-person classes will work around the construction during much of the Spring term. Classes during the Summer 2022 term will be held remotely. The remote summer period will offer an extended time to conduct demolition, while also minimizing disruption to the learning environments.
Students, faculty, staff, and visitors are asked to follow all posted signage and respect the placement of temporary walls designed to restrict access to areas under construction. Faculty and staff will be notified in advance of any planned disruption to, or displacement from, their office or workspace.
Questions about the window project should be directed to windowsproject@williamjames.edu.
Topics/Tags
Follow William James College
Media Contact
Katie O'Hare
Senior Director of Marketing