William James College Celebrates Diversity with a Pushpin Board for Multiculturalism
By Samantha Higgins
Dec 6, 2016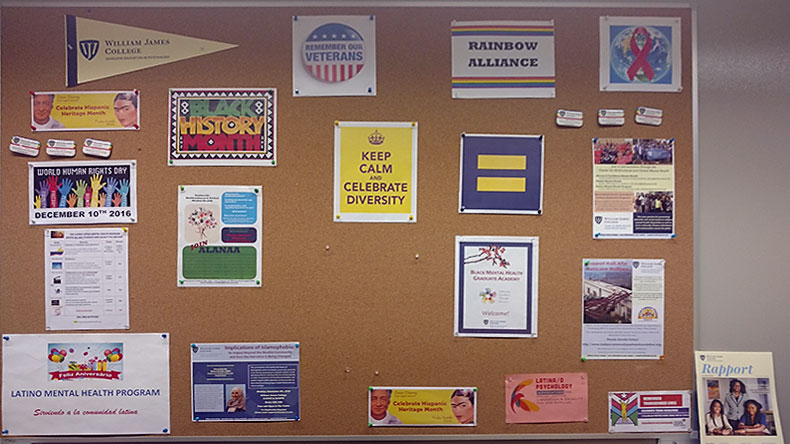 A faculty diversity committee at William James College has created a pushpin board to celebrate diversity that is displayed in the third floor hall way. The board was developed after the school conducted climate surveys and focus groups about diversity at William James College, as well as following the Brown Bag Discussion Series that is run by the Dean of Students Office.
"We are always trying to support and celebrate multiculturalism and diversity" says Dean of Students Josh Cooper, "this is a more constant way, besides having events, and has a high visibility location because we want it to be seen."
There was a previous multicultural push pin board located on the first floor, but due to updating the building it isn't as visible to students as it used to be. Instead of moving the board it was decided to just add another on the third floor and have both.
"The board is for awareness and appreciation, it's to get people to come out and expand their knowledge," says Cooper "it was what the students wanted, we think it is important to listen to the students voice."
Everyone is free to post on the board, in the email sent to the campus community to inform them about the board it says "anyone in the community can add supportive messages, programs, celebrations and notices that will enhance the college commitment to diversity, multiculturalism, and inclusiveness." Current postings include programs, events and workshops both on and off campus, as well as supportive messages such as "celebrate diversity" and PSAs and reminders of tolerance and safe spaces.
Popular Topics/Tags
Follow William James College
Media Contact
Katie O'Hare
Senior Director of Marketing and Communications