William James College Convenes Opioid Crisis Forum
By Staff Report
Nov 1, 2016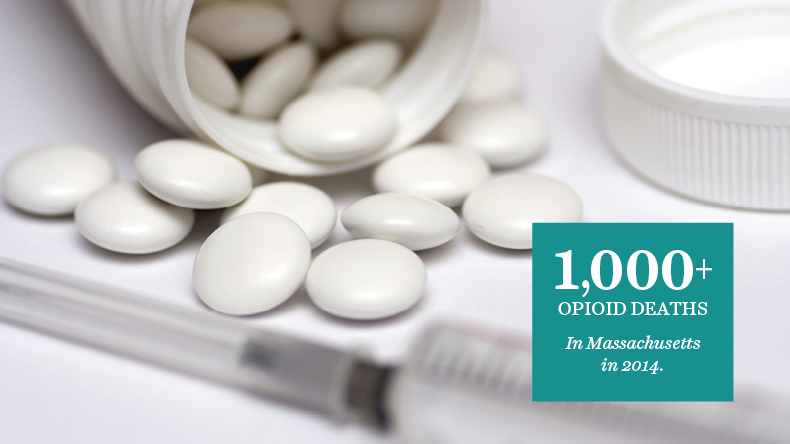 Prestigious panel tackles epidemic of addiction
The widespread presence of drugs in our communities is endangering, if not killing, unprecedented numbers of our citizens. More Americans die annually from drug overdoses than in motor vehicle crashes. There were more than 1,000 opioid deaths in Massachusetts in 2014, 684 in the first half of 2015. None of this is news.
Here's the news. William James College has taken a leadership role convening the experts in the field, the thought leaders, policy makers and experienced professionals to help focus attention, resources and strategies on this crisis. Under the leadership of David Herzog, MD, Special Assistant to President Nicholas Covino, PsyD, William James hosted a forum in April titled "Opioid Crisis: Thinking Outside the Box." This forum attracted more than 600 participants, including Massachusetts Governor Charles Baker; Marylou Sudders, Secretary of the Executive Office of Health and Human Services; Carl Hart, PhD, Columbia University award-winning author and authority on opioid addiction; Andrew Kolodny, MD, Senior Scientist at the Heller School for Social Policy and Management at Brandeis University and Executive Director of Physicians for Responsible Opioid Prescribing; and A. Kathryn Power, MEd, Regional Administrator for the Substance Abuse and Mental Health Services Administration, in addition to an equally prestigious panel of experts and participants, all concerned about the unprecedented rates of fatal opioid overdoses.
"I view this as a public health crisis 'all hands on deck' situation. We have to bring prevention, education and treatment to a new level."
- Charles Baker, Governor of Massachusetts
According to Herzog, "The conference got people thinking, people from a wide variety of fields eager to come together, listen to each other and move the process forward. As a result, nearly 90 individuals have formed three ongoing working groups committed to influencing real change and saving lives. We had psychiatrists, nurses, attorneys, people from the pharmaceutical industry, from law enforcement, from faith-based communities as well as parents whose kids had lost their lives-all wanting to work together."
Sudders acknowledged the Governor's Opioid Working Group and recent legislation limiting first-time opioid prescriptions to seven days. "It will take all of us to stem this crisis," she said. Hart noted that the vast majority of deaths occur because people take opioids in combination with other drugs. He supports legalizing drugs and emphasizing the environmental influence of addiction, meaning that if we can change one's environment, use decreases.
Kolodny said that the epidemic has exploded, in part, because of the over-prescribing by physicians aided by pharmaceutical campaigns that encouraged them to increase opioid prescriptions for their patients with pain. His suggestion was that a three-pronged approach is needed to treat this epidemic: 1) prevent/contain new cases; 2) treat patients; and 3) reduce the supply from pill mills and the black market.
Governor Baker emphasized how isolated parents of opioid abusers feel with nowhere to go because of the stigma and shame. He urged more conversation as a way to promote steps to counter the crisis. "I view this as a public health crisis 'all hands on deck' situation," said Baker. "We have to bring prevention, education and treatment to a new level."
Topics/Tags
Follow William James College
Media Contact
Katie O'Hare
Senior Director of Marketing