William James College Forum Addresses "Public Health Crisis of Our Generation"
By Staff Report
Sep 27, 2018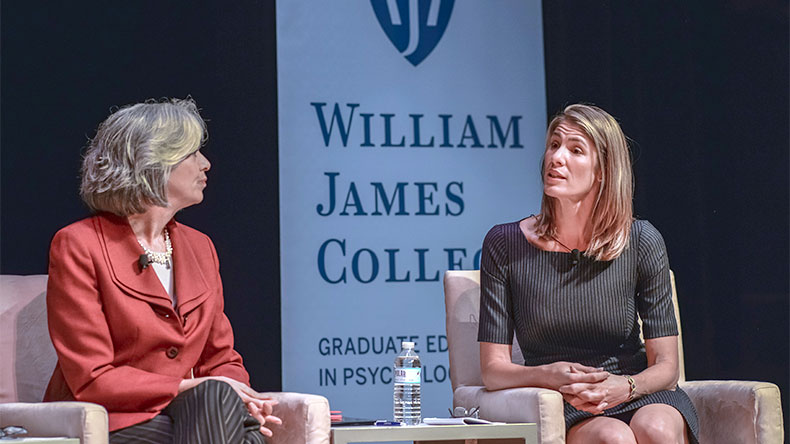 Communities across New England have been severely devastated by the opioid epidemic. More than a quarter of Massachusetts residents say they know someone who has died of an opioid overdose. Dr. Nicholas Covino, president of William James College, is counted among them. At a forum convened by the College last week, Covino shared that he had lost a nephew, also named Nick, 18 months ago to substance abuse and opioid misuse.
Across the Commonwealth, and throughout New England, policy makers, academics, clinicians, business and community leaders, and families and first responders have taken the lead in advocacy for new policies, and in generating novel treatment and early intervention programs to combat the opioid epidemic. The forum, entitled America is Watching: Response to the Opioid Crisis in New England, brought together more than two dozen of these thought leaders and some 500 registered attendees for panel discussions which explored a range of government initiatives, debated controversial treatments, and examined what constitutes quality care.
"This really is the public health crisis of our generation," said Dr. Jon Santiago, MD, a Democrat who will represent Boston's Back Bay and South End in the Massachusetts House next session. "There is not a day that goes by that I don't take care of someone in the throes addiction."
Santiago said he was inspired to run for office by the observations he made on his daily walk to work through the streets of Boston and his work as an emergency room doctor. An article written by Statehouse News recounted the story Santiago shared with the forum audience.
Personal stories, like Covino's and Santiago's, were shared by panelists throughout the day. Arlington Police Chief Fredrick Ryan, who was seated on a panel exploring "controversial treatment," recalled sitting with the family of one of his officers who lost a brother to an opioid overdose and how a fear of being judged had prevented them from seeking treatment for their loved one. He and others expressed a need to end the sigma around opioid abuse and around seeking treatment.
"Who would have thought, 3 years ago, that access to treatment would be through your local Police Department," Ryan asked, adding, "that's what we're doing [and] we are stopping the death in our jurisdiction."
Ryan is also co-chairman of the Board of Directors and Police Council Chair for the Police Assisted Addiction and Recovery Initiative (PAARI), an organization which provides support and resources to help law enforcement agencies nationwide create non-arrest pathways to treatment and recovery.
Another panelist seated on the "controversial treatment" panel introduced the discussion of the use of safe injection sites, as covered by the Boston Herald. Dr. Dennis Dimitri, chairman of the Massachusetts Medical Society, endorsed the practice saying, "We don't want anyone using illicit drugs, but while they're going to do it anyway, let's reduce the risk and get them into treatment."
The forum was coincidentally held the same day that the U.S. Surgeon General's office released a spotlight on opioids calling for "a cultural shift in the way Americans talk about the opioid crisis." Independent of the Surgeon General's announcement, several panelists suggested that a major, and also necessary, shift in this conversation would be to start treating and talking about opioid addition in the same way that doctors treat conditions like diabetes, high blood pressure, or heart disease.
"Addiction should be treated like the chronic disease that it is," Dr. Monica Bharel, Commissioner of the Massachusetts Department of Public Health, and panelist for a discussion exploring the question of what constitutes quality treatment. She added, "Until we get beyond the idea that this is a choice, we are not going to move forward like we need to."
William James College is actively pursuing innovative, long-lasting solutions to the opioid crisis. On campus, a new concentration for the Master of Arts in Clinical Mental Health Counseling program is in development, and the College also is working toward the creation of a center that has advocacy, public and professional education as its core.
"For many years, our students have opportunities to choose practicum and internship experiences in substance abuse site settings and to work with a number of faculty members with expertise in training students to work with clients who have been impacted by a substance abuse disorder," said Stanley Berman, vice president of academic affairs and associate professor in the department of clinical psychology at William James. "The new concentration and new center will add to these opportunities and provide a specific focus on training multi-cultural, multi-disciplinary professionals who can serve as advocates for people suffering from addiction."
The William James College Annual Forum, directed by Dr. David Herzog, special assistant to the William James College president and emeritus professor of psychiatry at Harvard Medical School, convenes thought leaders to address societal issues that affect mental health. This September 2018 event was the College's annual third forum to explore the opioid crisis.
"My hope is, as people leave here today, we leave with more than words and ideas, we leave by taking action," said William James College President Covino in his opening remarks to the forum attendees. "Folks like my nephew Nick deserve us to do that."
Popular Topics/Tags
Follow William James College
Media Contact
Katie O'Hare
Senior Director of Marketing and Communications