William James College Partners with Jewish Family Service to Help Syrian Refugees
By Staff Report
May 15, 2017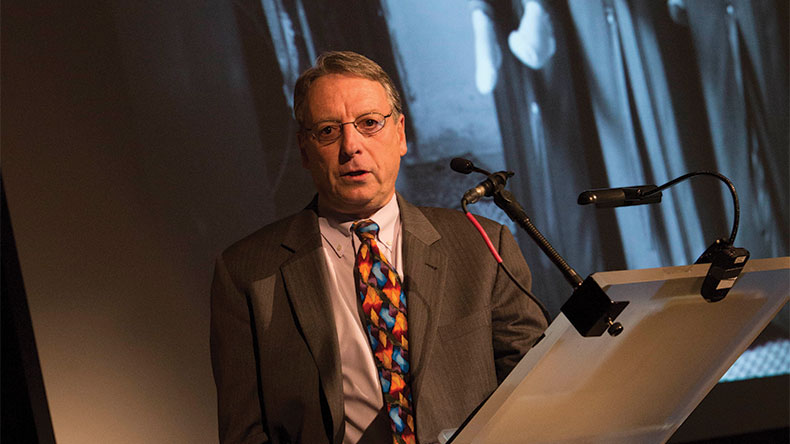 Students and faculty at William James College are contributing their expertise in global mental health as partners with Jewish Family Service of Metrowest (JFS), as JFS works to resettle six Syrian refugee families in the Greater Boston area.
Since the families began to arrive in November, JFS has supplied apartments and additional funds to help with basic expenses. Knowing that these families would need additional types of support, JFS CEO Marc Jacobs contacted Nicholas Covino, PsyD, President of William James College, to discuss the kind of social emotional care that the College could provide.
After a meeting between Jacobs, Covino, and Jill Betz Bloom, PhD, Co-Director of the Center for Multicultural and Global Mental Health and Director of the Global Mental Health Concentration at the College, a team of faculty and students at the College embarked on an effort to take on several ongoing programs to help both the families directly and community volunteers who are also working with
the refugees.
"Many of these families have had multiple losses in terms of deaths of family, friends and community members and extended periods in refugee camps. We assume the psychological wear and tear on each family is substantial, and we view our work with the refugee resettlement program as ongoing,"

— Stanley Berman, PhD, Vice-President for Academic Affairs at the College.
For example, Richard Mollica, MD, MAR, William James Global Mental Health Faculty and the Director of the Harvard Program in Refugee Trauma, will be working with Berman and Bloom to make this work sustainable for the volunteers. They are planning a workshop that will underscore the importance of self care for volunteers working with a refugee population.
Bloom is also closely collaborating with Rosie Coelho, Social Worker at JFS, to develop a support group for women who have been resettled with their families. This group will address experiences of trauma and will be facilitated by students from the Global Mental Health Program at the College who will be supervised by Bloom and Yousef AlAjarma, PhD, REAT, Associate Professor at William James.
Additionally, AlAjarma, an Arabic-speaker, has organized several Arabic-speaking students to work with the families, and is training and supervising these students.
"I'm thankful for the collaborative relationship between JFS and William James College. It is wonderful to see how invested everyone is in this program, and I'm grateful to be a part of it."
Both AlAjarma and his wife, Nedaa Taweel, MA, have volunteered a significant amount of time helping to ease the transition for one family in Needham, in particular. Taweel, who has two graduate degrees, one in conflict resolution and the other in family therapy, has provided tremendous support to the mother of this Syrian family, translating for her as she enrolls her children in school in Needham. When the family's five-year-old son had difficulties upon entering preschool, Taweel attended preschool with him as his translator until he was able to communicate and participate socially without her assistance. AlAjarma and Taweel have also encouraged their own daughter to help translate for one of the family's older children at school, and AlAjarma has provided support to the father of this family, building a foundation of trust that has enabled the man to ask AlAjarma for assistance when needed.
As the support group for women progresses, playgroups for young children and activity groups for older children will be put in place as facilitators work with mothers to determine what their children need most, and when those needs are most pressing.
Bloom says, "I have been so impressed with the sensitivity of JFS volunteers as they make an effort to be supportive, while not overwhelming these families. It's important, in this work, to assess the appropriateness of each program and to adjust one's work in order to follow the lead of the families as they describe their own needs."
William James College faculty and students are putting a great emphasis on flexibility and attentiveness as they navigate the changing psychological needs of this refugee population.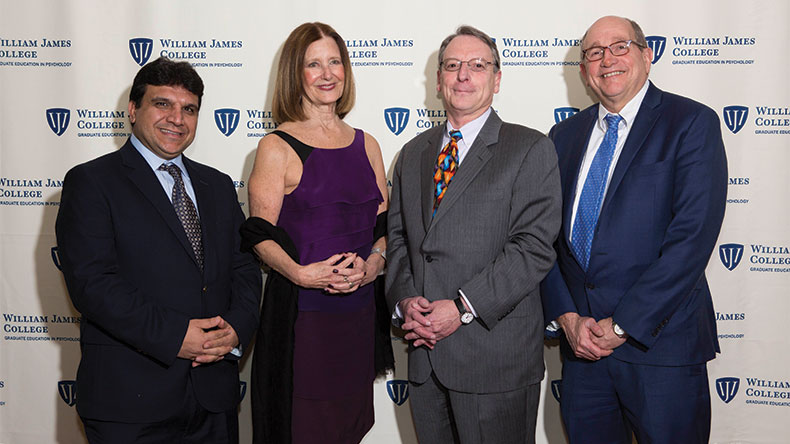 Yousef AlAjarma, PhD, REAT, Director, Expressive Arts Therapy Emphasis; Jill Betz Bloom, PhD, Co-Director of the Center for Multicultural and Global Mental Health; Marc Jacobs, MSW, CEO, Jewish Family Service of Metrowest; and Stanley Berman, PhD, Vice-President of Academic Affairs.
Popular Topics/Tags
Follow William James College
Media Contact
Katie O'Hare
Senior Director of Marketing and Communications