Dr. Natalie Cort Moderates Post-Show Discussion Following A.R.T's Production of Barber Shop Chronicles
By Staff Report
Dec 19, 2018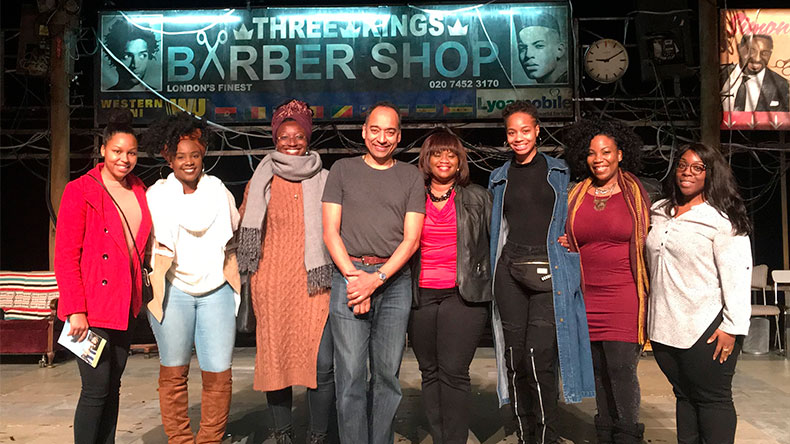 For generations, barber shops have been a place where African men gather – for haircuts, yes, but also to talk. Barber Shop Chronicles, a play currently running at the American Repertory Theater (A.R.T) in Cambridge, traces the global ties between these spaces as they exist in different geographical contexts. The show takes audiences to shops in London, Johannesburg, Harare, Kampala, Lagos, and Accra, and offers a window into a space that's part newsroom, part political arena, part stadium, part confessional – and all important to the men who gather within.
"In the UK, as I imagine it is in America, the barber shop is a space where we can sit, chill for hours, and loiter in public space without fear," said Nigerian-born, London-based playwright Inau Ellams in an A.R.T press release. "They are safe spaces for men to speak about things associated with masculinity. That harkens back to traditional African communities where men would gather to talk and, now and then, someone would cut their hair."
Ellams' idea for the show came after seeing a flier advertising a course designed to teach barbers the basics of mental health counseling. He then traveled around England and Europe recording conversations, and those conversations formed the basis for the play.
Dr. Natalie Cort, assistant professor of Clinical Psychology, core faculty in the Center for Multicultural and Global Mental Health and in the Concentration on Children and Families of Adversity and Resilience (CFAR), and director of the William James College Black Mental Health Graduate Academy, was invited to host an on-stage, post-show discussion with actors from the show after the December 15 performance.
"Playwright Ellams provides us with a port of entry into the everyday lives of extraordinarily ordinary, brilliant, and multifaceted men. He allows us to peek into safe and welcoming spaces where Black men feel a sense of belonging, and feel valued and respected, and feel like they matter," said Dr. Cort addressing the panel and audience. She was joined by members of the cast Anthony Ofoegbu, Solomon Israel, and Elliot Edusah, and the play's associate director Stella Odunlami.
"As a Black psychologist, I am aware that expression of vulnerability, and seeking mental health services, is often taboo in our community," Dr. Cort said, asking the panelists for their thoughts on the impact of powerful alternative spaces, like the barber shop, in mental health.
Ofoegbu said that works like this play enable people to gain an understanding that 'yes,' there is an effort to understand a need, "we are trying to face up to it, deal with it, manage it, like everybody – it does not matter where you're from, we're all trying to manage our lives." Regarding the impact of the space, he continued, "The impact for us as Black men is that it helps us to understand… because we're left asking our own questions if we can't turn to anybody, or we find that there are doors that are closed that will not open. There's a Nigerian saying, 'when you haven't got a way, you've got to find a way.'"
The show's cast is all male. Odunlami, the show's associate director and the lone female panelist representing the production, said the focus for her was the impact of oral tradition and "how barber shops are spaces where stories, traditions, knowledge can be passed on across generations and, particularly when you are a part of the Diaspora, how few and far between those spaces are."
Dr. Cort asked the panelists to reflect on the Diaspora and immigration as a theme presented in the play. She said, "It's about leaving home and the loss you've incurred when you leave, and the challenge that is present as we attempt to acculturate, assimilate, find a place to belong," and asked them to speak to that experience, personally or in their character portrayal.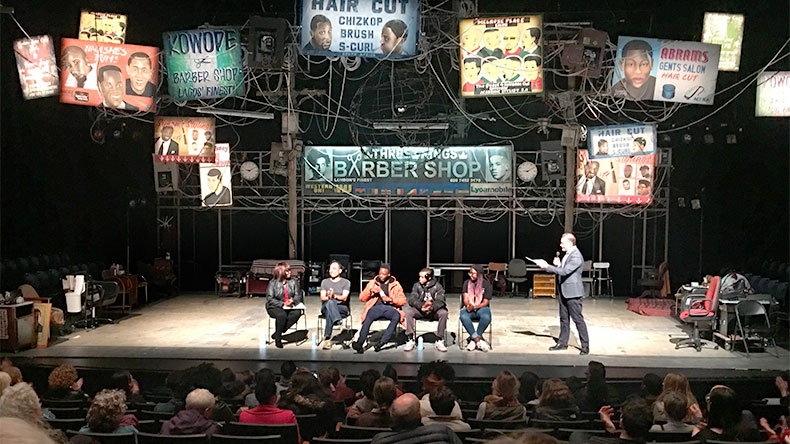 All of the panelists said they grew up in London, but each spoke of connecting to different cultural identities through their parents and communities, and some referenced spaces where they felt "at home." For Edusah, a barber shop was one such space.
"The barber shop was always a place, when I was growing up, I'd go and hang out – and I wouldn't even get a haircut. It was a place where we could come and speak," he said. "Barbers were seen as the fathers in our neighborhood. I've seen the same barber since I was about 4 years old and I see him more than I see some of my uncles. That shows the relationship, the bond, is strong and real."
He continued, "Sometimes you come to the barbershop as a place of refuge, as well as a place of enjoyment and banter and fun, it's a place where real conversations are held, and people learn a lot in a barber shop – surprisingly."
Dr. Cort also asked the actors to reflect on "challenging socio-cultural topics" explored in the play and what the reaction from audiences around the world has been as they, as actors, enter in to conversations that people feel uncomfortable discussing.
"This is a universal human story from an African perspective," Ofoegbu responded, adding that the story is mostly a reflection of what people talk about when they gather, which tends to be things they fear.
"…Fear about sexuality, color of skin, where you're from… we just have to see it for what it is," Ofoegbu said. "What's lovely about this is that a story like this from this perspective is rarely seen, rarely told," but it's a reminder that we "are all human beings." He added, "We have a lot of responsibility as actors, we have to hold up a mirror to show back to you that we're all human beings. To remind you of what we all are."
Matt Kramer, research and writing specialist in the William James College Academic Resource Center, attended the show and the post-show discussion. In a comment on Facebook, he called the experience "a wonderful look at so many topics (father-child relationships, couples, generational differences, politics and culture) in an entertaining and illuminating fashion."
Barber Shop Chronicles will be presented at the American Repertory Theater through January 5. The production is the show's penultimate stop on its North American premiere tour, which followed critically-acclaimed runs at London's National Theatre and the West Yorkshire Playhouse. Tickets and information are available via the A.R.T website.
Popular Topics/Tags
Follow William James College
Media Contact
Katie O'Hare
Senior Director of Marketing and Communications