Working in Schools: Two career paths that aren't teaching
By Sarah Johansson, Assistant Director of Marketing
Apr 12, 2023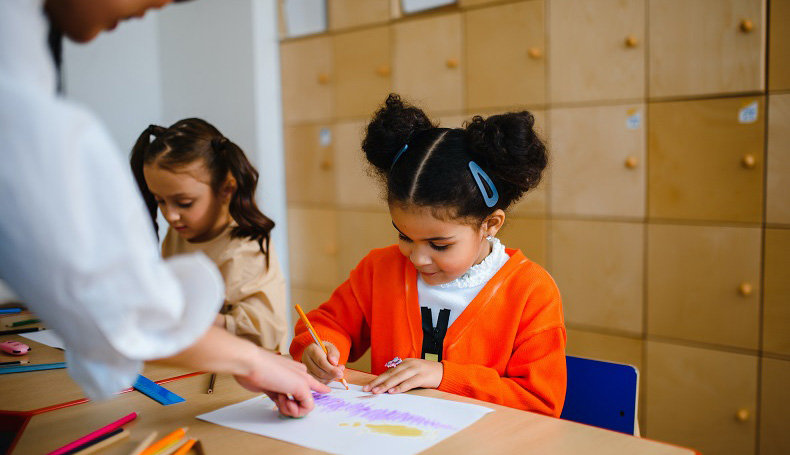 When you think of working in a school, you probably imagine teaching in a classroom, working as a special education teacher, supporting students as an instructional aide, or even managing the school as a principal. You might think of of making a difference in the lives of children and adolescents or working closely with like-minded professionals.
If you're looking for a rewarding career like this, but know that teaching is not the right fit, consider career options in school psychology or applied behavior analysis. In these fields, you will have the benefits, schedule, and stability of working in a school system without being a full-time teacher or administrator.
Maybe you have an undergraduate education degree, but are unsure of your career options outside of teaching. Perhaps you want to leave your current position as a classroom teacher, but want to continue working in a school system. Or, possibly, you're interested in child psychology and education and want a career where you can do both.
Whatever your path is, William James College might be the perfect next step for you. Read on to learn more about our academic programs in school psychology and applied behavior analysis.
What is school psychology?
School psychology is a field of psychology that focuses on helping children and adolescents succeed academically, socially, and emotionally. School psychologists work within school systems to provide direct services to students, as well as support parents and teachers. School psychologists can work with students of all ages in public, private, charter, urban, suburban, and other settings.
Like school counselors, school psychologists provide an array of services to students. However, a career as a school psychologist is unique because of the ability to work individually with students, caregivers, teachers, and administrators to provide in-depth prevention, assessment, and intervention.
For many children and adolescents, school is where they have their first, and often only, exposure to mental health support. There is a critical shortage of school psychologists across the country, leaving many children without these much-needed resources. Choosing a career in school psychology means choosing a career where you will make a difference in the lives of students every single day.
How can I become a school psychologist?
William James College offers a Master of Arts and Certificate of Graduate Studies (MA/CAGS) in School Psychology that can be completed in three years. The program is accredited by the National Association of School Psychologists and combines supervised field training with in-classroom instruction to fully prepare graduates to be culturally responsive practitioners. Upon completing the School Psychology MA/CAGS program, you will be fully qualified for certification or licensure as a school psychologist in Massachusetts and many other states.
What is applied behavior analysis?
Applied behavior analysis is the science of behavior and how it can be used to improve the lives of clients. Behavior analysts observe the interaction between clients and their environment and focus on areas such as communication, attention, social skills, motor skills, self-care, and academic performance.
Behavior analysts work with clients across the lifespan and in a wide variety of settings, including schools. ABA evaluations and interventions can have meaningful applications with autistic individuals, those with learning, developmental, or intellectual disorders, or clients struggling with mental health or traumatic brain injuries. As an applied behavior analyst, you will help clients improve functioning, reduce harmful behaviors, and gain independence.
The demand for educators and practitioners skilled in applied behavior analysis continues to grow. If you are passionate about helping children and adolescents succeed in their daily lives, consider a career in applied behavior analysis.
How can I become a behavior analyst?
William James College offers a Master of Arts in Applied Behavior Analysis and a Certificate in Applied Behavior Analysis that meet the academic requirements for licensure and prepare students to take the Board Certified Behavior Analyst® examination. Additional fieldwork requirements are needed to be fully eligible for the exam. If you are not currently working in an ABA setting, you can choose to complete five additional credits at William James and obtain a supervised field placement.
The MA in ABA program is 34 credits and can be completed in as little as four semesters. The certificate program is 21 credits and is specifically designed for students with a master's degree in any field. This certificate program is an excellent option for current teachers who have earned a master's degree and are looking to change or enhance their careers.
If you would like to learn more about William James, or talk in more depth with an admissions counselor about your educational and career goals, sign up for a 1/1 phone conversation through our online calendar.
Topics/Tags
Follow William James College
Media Contact
Katie O'Hare
Senior Director of Marketing