BS in Psychology and Human Services
Counseling and Behavioral Health
You're Ready to Finish What You've Started
Affordable, work friendly, and a huge step in your human services career and your education. You've started the work, now finish your bachelor's degree in a supportive environment with mentors and peers who understand your journey.
"I cannot overstate the emphasis WJC put on the mental health and self-care of all who are affiliated with this College. It's uplifting to see WJC's true alignment with providing mental health services for all and it's an energy you can feel. I feel grateful to be a part of such an inclusive and supportive academic setting."

Felicia Agbanyo, BS in Psychology and Human Services
Our Philosophy, Your Experience
We believe that the best learning comes from integrating classroom knowledge with hands-on experience. Your education is enriched by a curriculum that combines an understanding of theory, training, and practice, and we emphasize the development of professionals, like you, who are committed to the ethical provisions of quality services to culturally diverse clients, agencies, and organizations.
See Yourself at William James
At William James, you'll gain exceptional training in a supportive, student-centered learning environment, with instruction and guidance provided by leading practitioners in the field. Throughout your studies, you'll experience our integrative philosophy of training and education, with application of classroom instruction in structured field experiences. Underlying this approach to professional training, is a sustained focus on your personal and professional development, with an orientation towards community service, and respect for those you'll serve.
Connect with Our Students
Our Student Ambassadors have volunteered to be a resource for you and answer all of your questions about our programs, graduate school, living in Boston, and more.
CONNECT WITH STUDENTS
Attend an Upcoming Admissions Event
We offer virtual information sessions, onsite open houses, and student panels for all of our academic programs.
Register for an Event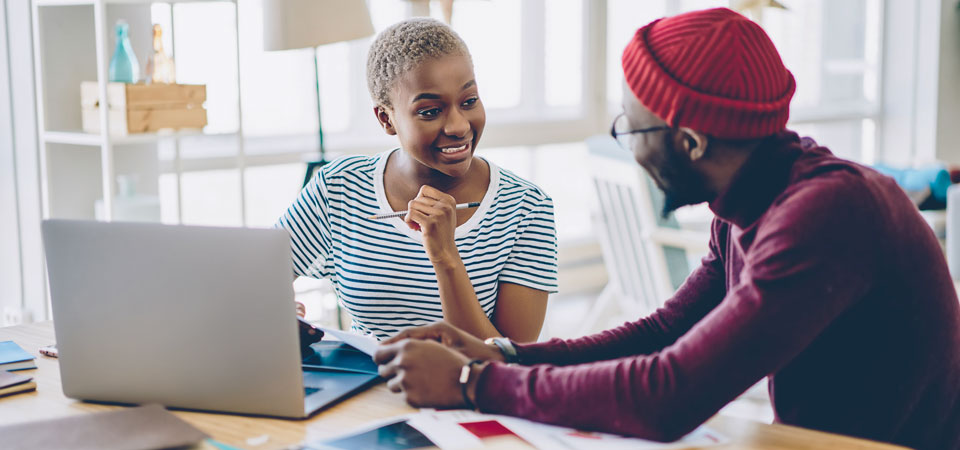 Our Partnerships with Community Colleges & ABA Organizations Can Make Applying Easy
William James College is proud to have "Articulation Agreements" or "Transfer Agreements" for our Bachelor of Science in Psychology and Human Services program to provide a simple process for transferring your undergraduate credits. If you attend or have graduated from one of our partner colleges, we will transfer in your college-level coursework and guarantee your admission if you have a GPA of 2.5 of higher.
We also partner with several ABA organizations and are proud to offer a scholarship to employees from these agencies.
Learn more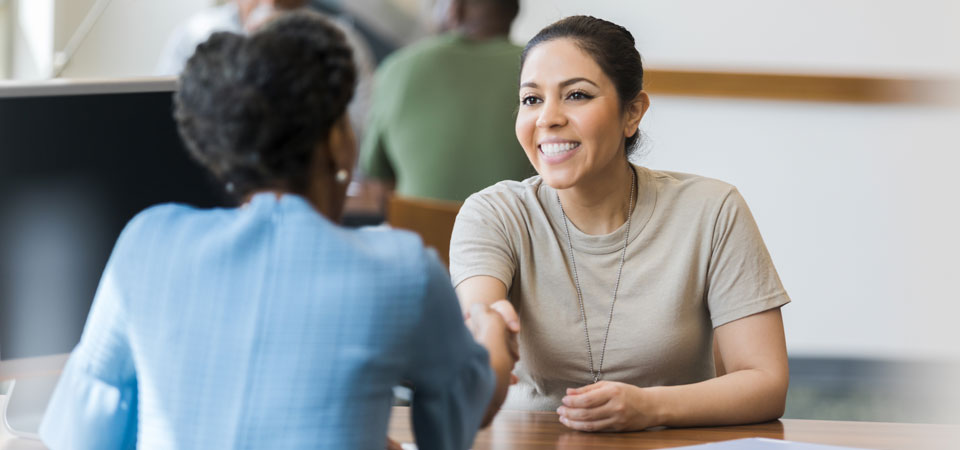 Are you missing academic credit, but have life experience?
At William James College we understand that not all learning takes place in a classroom. Many of our students have gained considerable knowledge from their experience working in the field of human services. Students may be able to earn college credits toward their Bachelor of Arts degree by using the knowledge acquired through life experiences, including volunteering, employment, seminars, workshops, completion of non-credit courses, military training, or cultural experiences.
Learn more
Around campus, in the community, and in the news—
William James College is leading the conversation.
Student Spotlight: Felicia Agbanyo, Bachelor's Completion Program
Bachelor's student Felicia Agbanyo decided to join the behavioral health field after seeing the positive impact her mother made while working in group homes for individuals with disabilities.
Read more
Veteran Day Event Invites Conversation, Reflection on Military and Educational Experience
An event held on November 12, and hosted by the MVP concentration and the TVTV program, brought together students and graduates as panelists for a discussion where they reflected on their service and how skills gained or developed through service, including leadership, resiliency, trust, and communication, have impacted their academic journey.
WCVB Channel 5's Maria Stephanos Discusses Isolation, Pandemic Mental Health Impacts, with President Nicholas Covino
The pandemic has caused people to lose control of their social environments, and this loss of control has far-reaching mental health impacts. WCVB Boston Channel 5's Maria Stephanos spoke with William James College President Nicholas Covino about what it's going to take to rebuild our communities and social structures following the prolonged period of isolation caused by the pandemic.