Student Spotlight: Felicia Agbanyo, Bachelor's Completion Program
By Josh Rizkalla, Communications and Media Relations Associate
Feb 9, 2022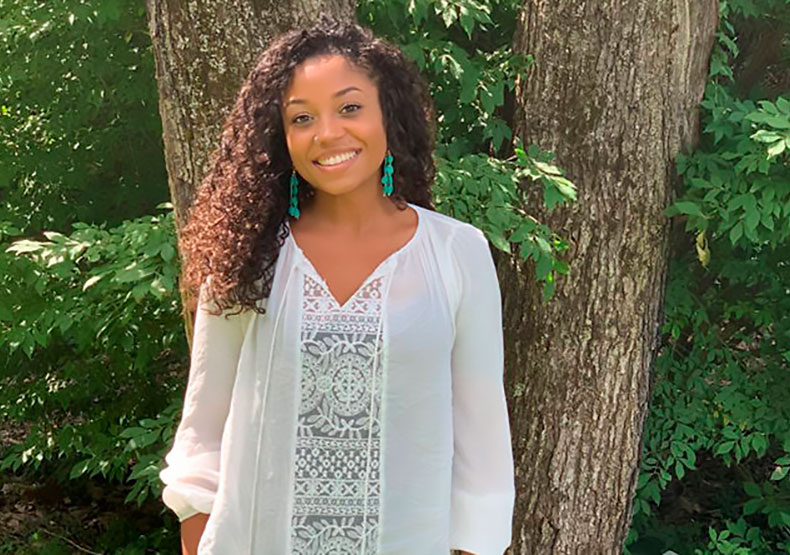 Felicia Agbanyo, a student in the Bachelor's of Science in Psychology and Human Services completion program, has worked in group homes for individuals with disabilities for the past 11 years. She was inspired to follow in her mother's footsteps and enter the field after seeing the positive impact and connections her mother made with group home residents.
"I'm an advocate, I do that in my work every day. It's something that fires me up," she said. "Working with people with developmental disabilities, I'm going to make sure you hear them and you're going to see them."
Agbanyo spent ten years helping operate a group home for Seven Hills Foundation before accepting a position with the Massachusetts Department of Developmental Services earlier this year. She learned about William James College at a college fair she attended after earning her associate's degree. She said she was eager to apply but, as a first-generation college student, she found the application process daunting, describing it as "uncharted territory."
A conversation with Julia Rodenheiser, enrollment and retention counselor and program administrator for the Center for Workforce Development, helped. The pair talked for over an hour at the college fair. Agbanyo credited Rodenhiser's open communication and support along the way as the difference in her decision to enroll, and now describes what she is learning in the classroom as a "game changer" in the ways it has helped her on the job.
"I love being able to understand the 'why' and communicate that to my staff, instead of just asking someone to do something. [For example,] 'Here's what we're protecting and here's why we're protecting it,' and I see my staff get it," she said.
On campus, Agbanyo has embraced another advocacy role as an Academic Councils Engaging Students (ACES) representative for the bachelor's program, where she's proposed more opportunities for students to communicate with leadership, including a monthly town hall where students can bring questions to department leadership. Recently, Agbanyo helped facilitate the bachelor's program's first community service event, a holiday donation drive that benefited the Boston women's shelter Rosie's Place.
She said she has felt encouraged by faculty and appreciates "being able to walk into an environment and having a platform for being heard and feeling like my opinions matter," she said. "Everything I've brought to faculty, they've been attentive to."
As she continues her education, Agbanyo is interested in studying Organizational and Leadership Psychology. Inspired by seeing the impact changes from management can have on those who work in medical care, Agbanyo wants to help improve communication. She believes that leadership and staff should both be at the table when considering policy change.
"I've seen over and over again people in power making decisions for the people working for them, not taking into account what those people's lives are actually like," she said. "Whether it's on a grand scale or a small scale, I just want to be a part of the change."
Topics/Tags
Follow William James College
Media Contact
Katie O'Hare
Senior Director of Marketing