2019 Haiti Service Learning & Cultural Immersion Program
By Staff Report
Jul 24, 2019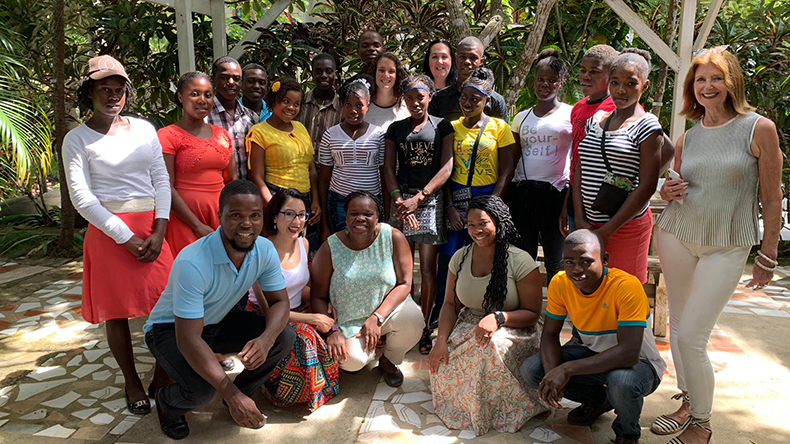 From July 13 through July 22, 2019, students (Elana Bayer-Pacht, April Clayton, Tania Jimenez, and Lisa Saunders), faculty (Drs. Gemima St. Louis and Jill Bloom), and a Center for Multicultural and Global Mental Health-affiliate (Ms. Gina Dessources, LICSW) traveled to the rural community of Vallue, Petit-Goâve for the annual Haiti Service Learning & Cultural Immersion Program. During the immersion experience, the team conducted a series of psychoeducational workshops on mental health literacy for adolescents, young adults and teachers.
Guided by an evidence-informed curriculum, the training sessions and hands-on activities were designed to address the impacts of stigma on the Haitian community's attitudes, perceptions, and behaviors towards individuals who suffer from mental disorders; promote greater understanding of the relationship between the brain, mental health, and mental illness; increase the community's awareness, sensitivity, and compassion for people with mental illnesses; and discuss culturally-appropriate interventions to combat stigma and enhance mental health and overall well-being.
In addition to the didactic training, the team led an expressive arts and summer camp program for young children ages 4 to 12. They also took part in local cultural events and historical excursions, and attended the annual festival hosted by the Association des Paysans de Vallue (APV). APV is a local non-governmental organization (NGO) that is involved in several industries including agriculture, education, environment, infrastructure, arts and crafts, communication, health, and tourism. William James College is grateful to APV as well as Rebâti Santé Mentale and Team Unity for their participation in this year's immersion program.
The Center for Multicultural & Global Mental Health (CMGMH) at William James College aims to inspire and empower students, clinicians, educators, and other providers as agents of social justice with a passion for and commitment to serving historically marginalized populations. CMGMH offers transformative service learning experiences that are designed to expose, inform, and deepen students' knowledge, cultural awareness and sensitivity, and cultural fluency.
Every summer, students enrolled in the African and Caribbean Mental Health, Global Mental Health, and Latino Mental Health concentrations participate in cultural immersion programs in Ecuador, Guyana, Haiti and Kenya. The international service learning initiative is one of the many ways in which the College supports student education to prepare them for careers that meet the growing demand for access to quality, culturally competent psychological services for individuals, groups, communities, and organizations both locally and around the globe.
Topics/Tags
Follow William James College
Media Contact
Katie O'Hare
Senior Director of Marketing