Clinical Mental Health Counseling Student Learns to "Cultivate Care" Through Unique Internship Experience
By Staff Report
Apr 16, 2019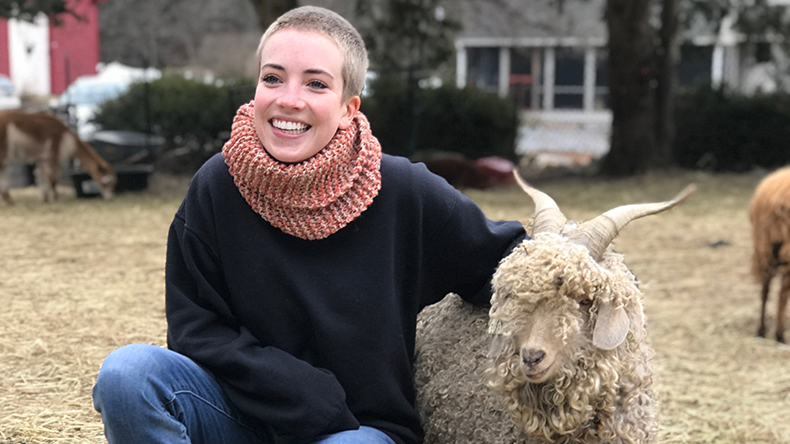 In a typical day at her clinical mental health internship, Allison O'Connor might gather hay, clean chicken coops, feed horses or goats, collect eggs, make soap, groom bunnies or many other activities involved in running a farm. While these are things that may not typically come to mind when one imagines the field work of a mental health counselor, they're very much at the core of the work conducted at one site.
Cultivate Care Farms is a living farm that focuses on rehabilitating animals as well as providing innovative mental health treatment to clients. Their mission is to "operate, maintain, and expand Care Farming for humans and animals to heal and grow therapeutically through mental health, wellness, and community outreach programming." The focus is hands-on, non-traditional therapy, and clients, interns and clinicians work together to care for the animals, clean the living areas and maintain the farm.
O'Connor, a second-year student in the Master of Arts (MA) in Clinical Mental Health Counseling program, was drawn to Cultivate Care Farms because of the opportunity to engage with clients in unique ways. Previously, she worked as a mobile clinician at a mental health agency where she often found clients searching for alternative treatments.
"When I visited Cultivate, I was immediately aware of how special the site was and that this was an outpatient counseling center that so many of my clients at the agency could have benefitted from," she said. "Cultivate rejuvenated me and excited me and it felt hopeful to explore an alternative model of therapy and mental health treatment."
O'Connor described an instance with a young client who had difficulty accepting getting dirty while caring for the horses. After engaging in more sessions at Cultivate Care Farms, this client was able to march through puddles without becoming fixated on mud or water getting into his boots. O'Connor explained that the setting allows clients to step out of their comfort zones and solve problems in real time as they engage with the animals, explore the grounds and manage other aspects of the farm.
"All of these acts are rooted in the care farm model, which aims to help clients seek congruence, and gain self-esteem, autonomy and self-efficacy in their abilities to learn and accomplish new skills," she said. "All of the work we do with clients at Cultivate is embodied and experiential, which is what sets it apart from traditional settings."
Andrew Lapin, executive director at Cultivate Care Farms, emphasized that it takes a unique intern to succeed at this challenging organization. "The role of Cultivate intern is not for the faint of heart and WJC interns have risen to the challenge through extreme weather, extreme knowledge acquisition, and complete dedication," he said.
O'Connor said she is proud to be a part of the William James community and thankful for the support from Melissa Koen, associate director of Field Education, for encouraging her to step out of her comfort zone and apply for the internship.
"William James is a tight-knit community," said O'Connor. "During my first visits I was struck by the accessibility of the professors, the passion of the students around me, and even the artwork that lines the walls of the interior. I felt that WJC was truly a learning community and a place that fostered growth and community change."
The clinical mental health counseling program at William James College integrates rigorous academic instruction with extensive field education and professional development assistance in the form of practicums and internships. The curriculum provides for an understanding of theory, training, and practice of counseling. The program emphasizes the development of professionals who are committed to the ethical provisions of quality services to culturally diverse clients, agencies, and organizations. In addition to the counseling areas of emphasis, students can participate in Cross-Departmental Concentrations, including African and Caribbean Mental Health, Global Mental Health, Latino Mental Health, and Military and Veterans Psychology.
In the future, O'Connor said she plans to use the education she's gained in the classroom and from her field experience to pursue her professional goal of becoming a mental health counselor.
"I have always known that I wanted to work in a helping profession," she said. "I have always been passionate about listening and providing unconditional support, and I feel these are some of the traits I can offer as a counselor…[and] I would love to continue to explore more alternative and non-traditional approaches to therapy as I progress in my career."
Topics/Tags
Follow William James College
Media Contact
Katie O'Hare
Senior Director of Marketing