William James College Honors Three with Honorary Degrees
By Staff Report
May 30, 2019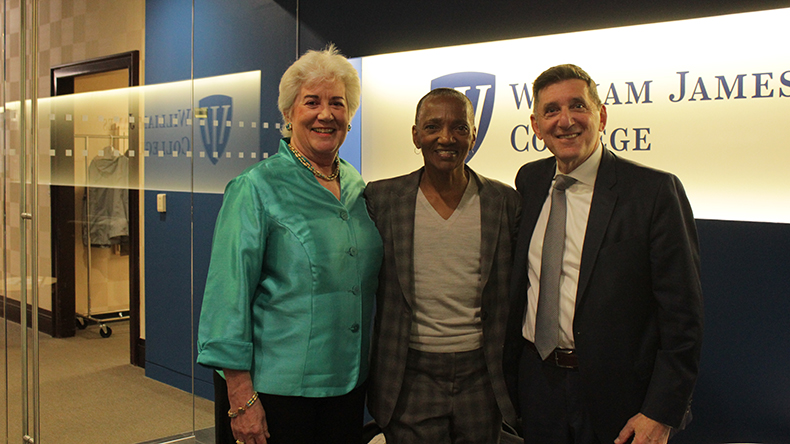 Members of the William James College community shared an inspiring evening with 2019 Commencement Speaker, A. Kathryn Power, and Honorary Degree Recipients, Dr. Thea James and Michael Botticelli, on Wednesday evening. Power, James and Botticelli will each receive an honorary degree from the College during Commencement Ceremonies on June 1.
At a reception held on campus on Wednesday, Power spoke on the importance of developing your own leadership philosophy. "You need to write it down and own it in your soul," she said.
James talked about one her most valued roles as an ER doctor — that every day she has the opportunity to change someone's perspective, and navigate them forward to a space of calm, optimism and hope.
Botticelli, who is the Executive Director of the Grayken Center for Addiction at Boston Medical Center, said that science and date are insufficient to move public policy because what changes public policy are people, stories and emotion. "It's critical to inspire a sense of hope in the people we serve," he said.
"The individuals we will honor this year are extraordinary professionals who are both leaders in the behavioral health field and committed workers," said President Covino in a recent press release. "Their contributions have helped to reshape the way our region, and our country, approach behavioral health care."
He added, "Where many people with their talent invest in their own success, these humanitarians have made a career out of investing in the lives of some of our most hurt and ignored fellow humans. It is an honor to recognize them as 'Doctors of Humane Letters.' As our talented graduates move to meet the great needs for leadership and behavioral health care, These honorees stand as examples for how William James College hopes, and expects, them to serve."
President Nicholas Covino closed the evening on Wednesday by reiterating what an honor it is for the College to honor these exceptional individuals.
Topics/Tags
Follow William James College
Media Contact
Katie O'Hare
Senior Director of Marketing