CAMHI Program Hosts Black Man Can Institute
By Staff Report
Nov 5, 2019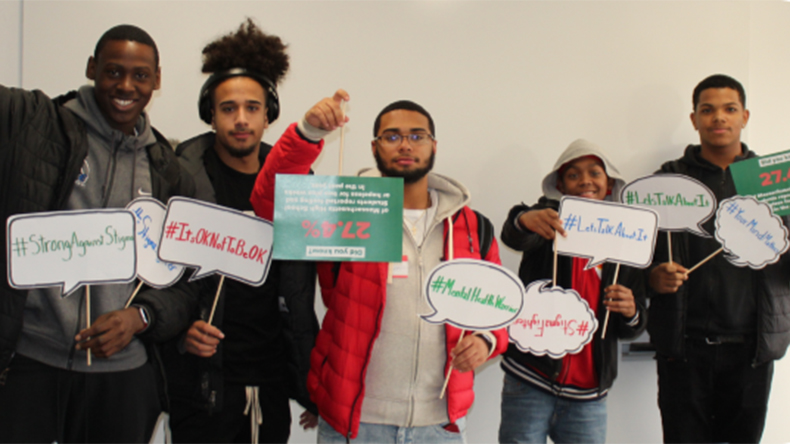 On Friday, October 18, 2019, in partnership with The Black Man Can Institute (BMCI) and the Boston Public Schools, the William James College Child and Adolescent Mental Health Initiative (CAMHI) hosted its inaugural mental health literacy program and anti-stigma campaign. Held on campus, the event, titled Building a Better Brother Summit, convened about 80 BPS students to engage in meaningful dialogue about stigma and its deleterious impacts on the mental health of boys and men of color.
Funded in part by Boston Children's Collaboration for Community Health, the Summit included welcoming remarks by Brandon Frame, chief executive officer of BMCI; Marc Abelard, co-director of CAMHI; and Harold Miller, senior director in the Office of Opportunity Gaps for the Boston Public Schools.
Included in the summit were three concurrent workshops on Mental Health Literacy. In one session, seven William James College students co-facilitated workshops on stigma and mental health literacy. There was also a panel discussion where male providers and educators discussed the challenges of living with a mental illness and the benefits of seeking mental health services.
The event's keynote address was delivered by Phillip Yacinthe, founder of The FulPhill Company, LLC., a company focused on providing personal as well as professional development for middle school to college students. Closing remarks and a "Tie Ceremony" followed. The tie ceremony, as explained by the BMCI website, is incorporated at the end of each institute because, "no matter your fashion, all men and boys will need to know how to tie a tie." Each boy participating in the institute picks a tie for himself and learns to tie a double windsor knot.
The Child & Adolescent Mental Health Initiative aims to expand and diversify the child and adolescent behavioral health workforce through the development, implementation, and evaluation of an innovative pipeline program focused on cultivating and educating culturally compassionate providers.
Click here to read the CAMHI newsletter, and here to watch a video of with highlights from the summit (produced by BMCI).
Topics/Tags
Follow William James College
Media Contact
Katie O'Hare
Senior Director of Marketing