Celebrating the Life of Dr. John D. Robinson
By Anne Wilson
Jul 12, 2021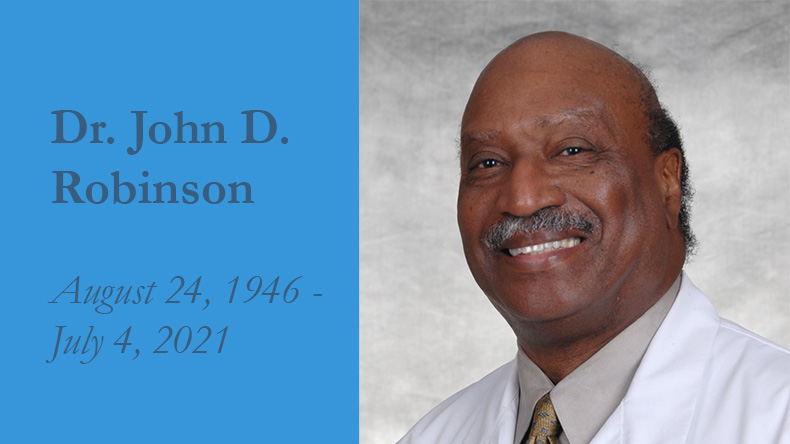 Former member of the Board of Trustees John D. Robinson, EdD, ABPP, leaves a legacy of service and a field changed by his contributions and advocacy for diversity, equity, and inclusion in mental health
Dr. John D. Robinson, former William James College Trustee and professor emeritus of Surgery and Psychiatry at Howard University College of Medicine, was a man of many firsts: he was the first African American psychologist in the U.S. Air Force and the Navy; the first African American administrator at the University of Texas at Austin; and the first Board Certified organ transplant psychologist from an ethnic minority background in the United States.
Robinson received his Master's in Public Health from the Harvard University School of Public Health and an honorary Doctor of Humane Letters degree from William James College, before becoming William James College's first African American member of the Board of Trustees. He also served as a distinguished visiting professor for the United States Air Force, Army and Navy; was president of the American Board of Clinical Psychology and the American Board of Clinical Health Psychology.
Robinson passed away recently following an illness, but his legacy and advocacy for the professional development of physicians and psychologists, and for causes that increase diversity in the mental health field, will live on for generations to come.
"John was among the first, and remained among the strongest, advocates for diversity and inclusion in the field of mental health. He was a leader in our profession and for our institution," said Dr. Nicholas Covino, president of William James College. "As a member of the Board of Trustees in the 1980's, he helped to frame an understanding about the importance of attracting and supporting professionals from underrepresented communities. His teaching helped set the stage nearly 40 years ago for work that we continue to advance today."
Even those who do not know his work directly have likely benefited from his teaching, in addition to mentoring scores of young professionals, military and civilian, Robinson edited Diversity in Human Interactions: The Tapestry of America, a text that examines how issues of race, ethnicity, disability, religion and sexual orientation impact human interaction on a daily basis. The book is widely used for diversity training in military and university settings.
"Psychologists should be trained to provide and have a professional duty and obligation to give culturally competent, relevant, diverse and compassionate services for their patients that are experienced-based and appropriate," Robinson said in a 2010 interview for Rapport magazine. "These services should have a basis in and understanding of the culture, history, and sociology of the population being served, be that gender, ethnicity, culture, social environment, sexual orientation, or economics."
Robinson was also among the first to establish a dedicated scholarship to support William James College students from minority backgrounds. In 1982, Robinson designated a scholarship fund for William James College students. The Fund reflects his belief that underserved populations, including individuals from minority backgrounds and former combat veterans, require behavioral health professionals with unique and responsive training. Though Robinson prided himself in a traditionalist educational approach, he held the College's experiential and practical training methods in high regard. In that same 2010 interview, he noted a tremendous respect for the approach and for the caliber of training William James College students receive.
For Darryl Sweeper, Jr., a fifth-year student in the Clinical Psychology PsyD program concentrating in Clinical Health Psychology and African and Caribbean Mental Health, a John D. Robinson Scholarship recipient and the first recipient of the College's Serving the Mental Health Needs of the Underserved Scholarship, being awarded funding for his PsyD program was "life changing."
"Not only has it provided financial flexibility and access to education, but it also reflects the hard work that I, myself, have put forth -- and the work of those before me to honor students who are serving marginalized populations with little to no financial benefits," he said.
Sweeper, who is also a graduate of the William James College Master's in Clinical Mental Health Counseling program with a concentration in Expressive Arts Therapy, recently accepted a post-doctoral fellowship at the Philadelphia VA in their primary care and whole health clinic. He plans to open his own private practice to serve the community in the Philadelphia area.
Robinson's work and his gifts, both financial and of his time and talents, touched many lives and will continue to advance new generations. There's a Facebook group called "Robinson Men" made up of his former medical students. Counted among those former students, Robinson proudly shared, is the current President of Howard Medical School.
"John was a bright and gentle man," Covino said. "In spite of, or likely because of, his significant accomplishments he kept his eyes on those who were following him and who needed his help. He would regularly reach out to his friends to ask them to pay something forward for the next generation of mental health professionals who would serve underserved folks. It was a blessing to have known this extraordinary man."
A few weeks before his death, speaking with the William James College alumni relations team, Robinson was asked what advice he has for students today who are entering the mental health field. He responded, "Don't forget to give back."
He said we tend to think about ourselves but we need to think of others. His advice to young people is to remember where they came from, that someone helped them, and that they should pass that on. He added, "There is a Black gospel song [by Mahalia Jackson] that goes 'if I can help someone as I travel along this road then my living shall not be in vain'."
Topics/Tags
Follow William James College
Media Contact
Katie O'Hare
Senior Director of Marketing