After 'The Year that Changed Everything,' Colleges Can Make Changes to Improve Student Mental Health
By Anne Wilson
Jul 20, 2021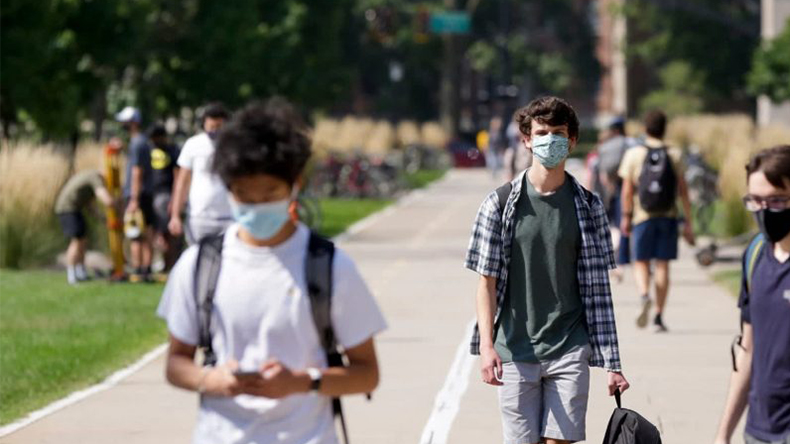 "Behavioral health cannot be the sole province of the [college counseling center] any more than proficiency in academic writing can be assigned only to the English Department," wrote President Covino in an essay published by a national think tank
Before the pandemic started, diagnosable mental health needs were already on the rise among college-aged young people (up from around 20 percent in 2007 to nearly 35 percent in 2017). Those numbers have climbed in the wake of recent events, according to studies by the Centers for Disease Control, Kaiser Family Foundation, and the American Psychological Association.
Today, 40 to 50 percent of college-aged young people are experiencing symptoms of anxiety and depression, with others undoubtedly processing the trauma and psychosocial impacts of a lost year.
"What was already a serious problem for college administrators has become a public health crisis as experts warn of an 'echo-pandemic' of mental illness caused by the length and breadth of the exposure students have had to the adverse events of 2020," wrote William James College President Nicholas Covino in a recent essay published in Mary Christie Quarterly, a publication of The Mary Christie Institute, a national think tank dedicated to mental health and wellbeing in higher education.
"For the most part, the psychosocial needs of the general population on campus are rarely addressed. This is unfortunate, since the period of adolescence to young adulthood is one of profound social and emotional growth for young people," he wrote.
When students return to college campuses this fall, they will need to be met within their communities and classrooms by practices shaped through an understanding of the role social emotional learning plays in student success.
According to Covino, it is time to implement models that take the onus off of campus counseling centers and instead involve everyone in implementing population level practices that support campus mental health. Fortunately, models exist.
"Higher education leaders can look for healing within their communities and classrooms with strategies involving social and emotional learning and a range of resources that transcend the limits of traditional counseling centers," he wrote, also describing approaches in his essay.
Read "It's on Us: Improving Student Behavioral Health After the Year that Changed Everything," on The Mary Christie Institute website.
Topics/Tags
Follow William James College
Media Contact
Katie O'Hare
Senior Director of Marketing