William James College Announces 2019 Commencement Speaker, Honorary Degree Recipients
By Staff Report
May 17, 2019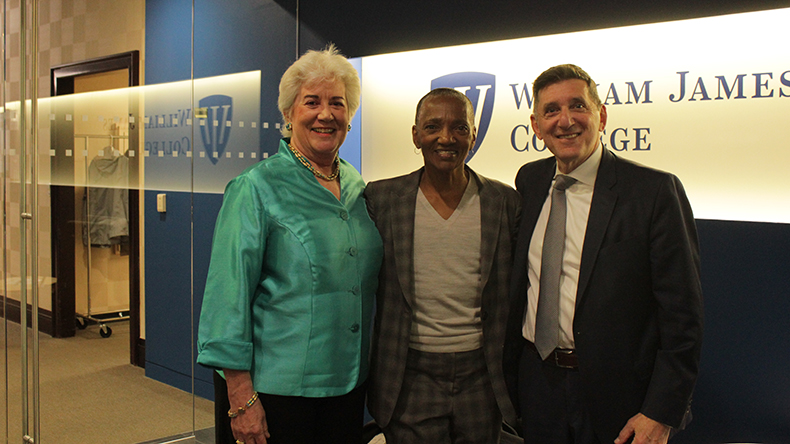 Three recognized for outstanding work in the behavioral health field
FOR IMMEDIATE RELEASE:
NEWTON, MASS. – A. Kathryn Power, M.Ed., an advocate in New England and in the federal government for individuals with substance use disorders, and a leading voice on behavioral health policies for use in the delivery and financing of prevention, treatment, and recovery services, will deliver the Commencement address to the 200 members of the 2019 graduating of William James College and their families on Saturday, June 1, 2019.
Power will also receive an honorary degree , as will Michael Botticelli, M.Ed., Executive Director of the Grayken Center for Addiction at Boston Medical Center (BMC) and former Director of National Drug Control Policy under President Obama, and Thea L. James, MD, Vice President of Mission and Associate Chief Medical Officer at Boston Medical Center, Associate Professor of Emergency Medicine and Director of the Violence Intervention Advocacy Program at BMC. Dr. James is also a founding member of the National Network of Hospital-Based Violence Intervention Advocacy Programs (NNHVIP).
"The individuals we will honor this year are extraordinary professionals who are both leaders in the behavioral health field and committed workers," said Dr. Nicholas Covino, President of William James College. "Their contributions have helped to reshape the way our region, and our country, approach behavioral health care. Where many people with their talent invest in their own success, these humanitarians have made a career out of investing in the lives of some of our most hurt and ignored fellow humans. It is an honor to recognize them as 'Doctors of Humane Letters.' As our talented graduates move to meet the great needs for leadership and behavioral health care, These honorees stand as examples for how William James College hopes, and expects, them to serve."
Students participating in the June ceremony completed their studies in August 2018, December 2018, or June 2019, or will complete their degree in August 2019. Degrees to be awarded at this year's ceremony include: Doctor of Psychology in Clinical Psychology; Doctor of Psychology in School Psychology; Doctor of Psychology in Leadership Psychology; Master of Arts in Clinical Mental Health Counseling; Master of Arts in Organizational Psychology; Master of Arts in Applied Behavioral Analysis; and the Certificate of Advanced Graduate Studies.
The William James College Commencement Ceremony will take place at the Boston Park Plaza Hotel, 50 Park Plaza at Arlington Street, Boston, on Saturday, June 1, at 11 AM.
About William James College
Founded in 1974, William James College is an independent, non-profit institution and a leader in educating the next generation of mental health professionals to support the growing and diverse needs of the mental health workforce. Integrating field work with academics, the College prepares students for careers as organizational leaders and behavioral health professionals who are committed to helping the underserved, multicultural populations, children and families, and veterans. William James College alumni can be found making an impact in a variety of settings, including schools, the courts, clinical care facilities, hospitals, the community and the workplace.
Contact
Anne Wilson Yu, Director of Communications, William James College
617-564-9429
Anne_Yu@williamjames.edu
Topics/Tags
Follow William James College
Media Contact
Katie O'Hare
Senior Director of Marketing