First Clinical Psychology Cohort of the New Specialized Training and Academic Retention (STAR) Fellowship Program Announced
By Staff Report
Oct 5, 2020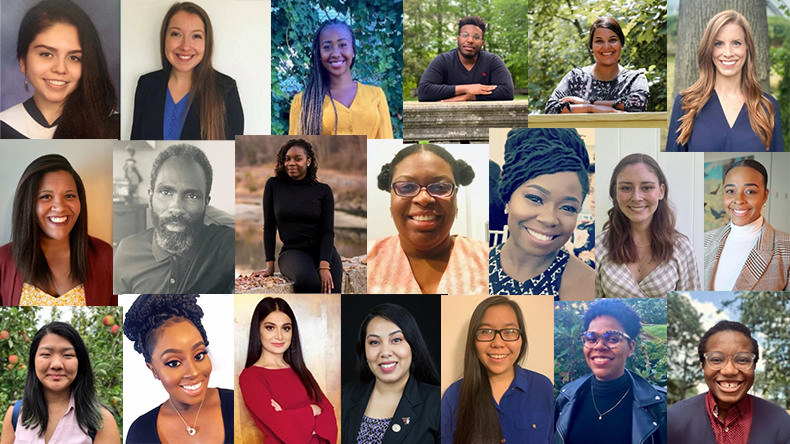 Although one in five adults in the United States experiences a diagnosable mental illness within a given year, according to the National Alliance on Mental Illness (NAMI) only about 43 percent receive treatment. Individuals in ethnic and racial minority groups are less likely than white counterparts to seek treatment than white counterparts and, when they do, often cannot find providers with similar backgrounds or culturally appropriate training.
The new William James College Specialized Training and Academic Retention (STAR) Fellowship Program is designed to address disparities by increasing diversity in the behavioral health workforce. Funded by the Health Resources & Services Administration's (HRSA) Scholarships for Disadvantaged Students, the STAR Fellowship program aims to equip students with the knowledge, skills, and training to provide culturally responsive mental health services in primary care settings and medically underserved communities.
"The HRSA-funded scholarships represent a major milestone for William James College," said Gemima St. Louis, Ph.D., associate vice president for workforce initiatives & specialty training, and program director of the STAR Fellowship. "Over the past few years, WJC leaders and faculty in the Center for Multicultural & Global Mental Health have taken bold and strategic steps to create academic, field training, and mentorship programs for students from historically marginalized backgrounds."
St. Louis added, "Being awarded these scholarships is an endorsement at the federal level of the pioneering work that WJC has undertaken to diversify the behavioral health workforce and the field of psychology. Above all, these awards will alleviate the significant financial burden of pursuing a doctoral degree for 20 clinical psychology students who are committed to working with unserved and underserved populations. That is the ultimate cause for celebration. We are very grateful to HRSA for bestowing this prestigious honor on our College."
In addition to providing scholarships to students from backgrounds underrepresented in the field, the STAR offers culturally focused field training and community service opportunities; mentorship and career counseling services; and social-cultural and professional development activities. The first cohort of Clinical Psychology STAR Fellows was recently announced.
Rebecca Rivas is an advanced-standing student in the Clinical Psychology doctoral program and is one of the 2020-2021 STAR Fellows. "Being a first-generation student, the STAR Fellowship program is an invaluable opportunity that will assist me in reaching my educational and professional goals," said Rivas. "The program will assist in my growth as a clinician and fuel my passion for serving traditionally underserved communities with culturally sensitive and equitable mental health care."
The following students are the 2020-2021 Clinical Psychology STAR Fellows:
LaNisha Allen
Alissa Assad
Alyssa Cetoute
Charda Davis
Sohenga Depestre
Nuliyar Dursun
Brianna Duval
Tin Huang
Barrington Latham
Angela Mendez
Deon Mowatt
Jehovanie Robert
Lyne Saddlie Joseph
Rebecca Rivas
Tia Rivera
Yauris Romero
Alejandra Sanchez
Lisa Saunders
Pilar Tucker
Ellen Yang
According to the program directors, these students have demonstrated a strong commitment to, and advocacy for, increasing mental health access and support for underserved groups. They are also dedicated to pursuing careers in primary care settings or medically underserved communities following their graduate studies.
"Congratulations to our impressive inaugural STAR Fellows who will be instrumental in further advancing WJC's paradigm-shifting efforts with their contributions to our world in desperate need of their courage and compassion," said Natalie Cort, co-director of the Center for Multicultural and Global Mental Health and associate director of the STAR Fellowship. "We should all be very proud that our collective efforts have resulted in WJC becoming the only university/college in receipt of this grant statewide in 2020 and one of three in the New England area."
The HRSA Scholarships for Disadvantaged Students also provides funding to support students enrolled in the William James College Clinical Mental Health Counseling master's program through the HRSA-SDS Scholarship funded Leaders in Diversity and Resilience (LDR) Fellowship Program.
Find more information about the STAR Fellowship program here.
Topics/Tags
Follow William James College
Media Contact
Katie O'Hare
Senior Director of Marketing