William James College Receives $3.8 Million from the Health Resources and Services Administration (HRSA) to Support Increased Diversity in the Mental Health Workforce
By Staff Report
Jun 30, 2020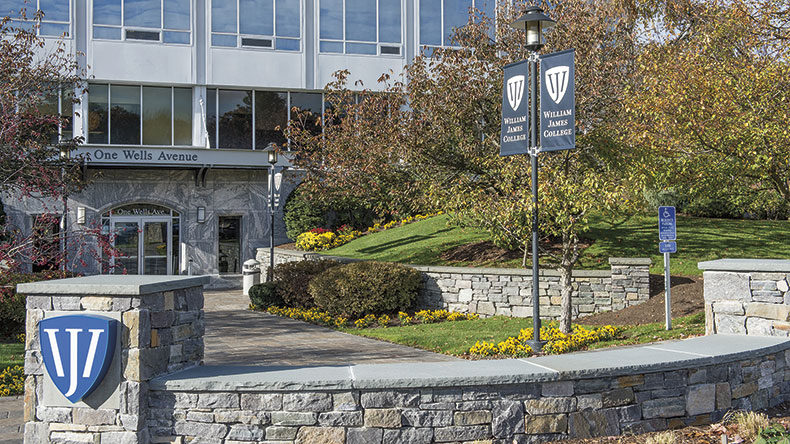 Grants to provide scholarship support to WJC Clinical Psychology and Clinical Mental Health Counseling students from disadvantaged backgrounds; Recipients commit to working in primary care settings or medically underserved communities following graduation
FOR IMMEDIATE RELEASE:
NEWTON, MASS. – William James College has been awarded $3.8M in grant funding from the U.S. Department of Health and Human Services' Health Resources and Services Administration (HRSA). Funds from the Scholarships for Disadvantaged Students (SDS) Program will increase William James College's capacity to support and retain students who are enrolled in the College's Clinical Psychology doctoral program and Clinical Mental Health Counseling master's program.
"The behavioral health workforce in the United States is woefully inadequate. More than half of the counties in the U.S. lack even a single provider, and the need for well trained, culturally responsive practitioners only continues to rise. This grant gives us yet another path to positively impact communities who desperately need services," said Dr. Nicholas Covino, president of William James College. "The award is a testament both to the hard work of many and to the commitment by the College over many years to build programs that meet a critical need for a larger and more diverse workforce. We're grateful to HRSA for their advancement of this important work, and for their support."
HRSA awarded nearly $48M in SDS funds to institutions nationwide for the 2020 grant cycle. William James College is one of three schools in New England, and the only school in Massachusetts, to receive funding.
To be eligible for the SDS grant, organizations had to demonstrate an existing commitment to the education and training of professionals from disadvantaged backgrounds, including first-generation college graduates, members of underrepresented minority communities, and those with a demonstrated commitment to serve in primary care settings or medically underserved communities. According to the HRSA website, there are 49 designated service areas identified as medically underserved in Massachusetts alone.
William James College is home to a number of specialized training programs and mentorship opportunities, including the Center for Multicultural and Global Mental Health, the Cynthia Lucero Latino Mental Health Program, and the Black Mental Health Graduate Academy. The College also offers academic concentrations and areas of study emphasis including African & Caribbean Mental Health, Asian Mental Health, Global Mental Health, Latino Mental Health, and Military and Veterans Psychology.
Additionally, the College, which was founded with practical and experiential education as a core focus, has over 350 partnerships with community-based programs in Massachusetts, New Hampshire and Rhode Island that provide students with field experience, most starting from their very first week of classes. Students complete field training experiences in programs that include community health centers, hospitals, community mental health centers, university counseling centers, schools, correctional institutions and court clinics, among others.
Scholarships awarded through the SDS program will support enrolled students in the College's Clinical Mental Health Counseling and Clinical Psychology degree programs. Recipients will be selected based on HRSA's disadvantaged definitions, prior academic achievement, GPA, and documented financial need. Scholarship funds will be prioritized for students for whom the cost of attendance constitutes a severe financial hardship.
Dr. Gemima St. Louis and Dr. Natalie Cort, both members of the Clinical Psychology Faculty, will direct the SDS program for the Clinical Psychology department. Dr. Nilda Laboy will direct SDS for the Counseling and Behavioral Health Department, with Melissa Koen, M.S., LMHC, as associate director.
"The HRSA funding will significantly reduce the financial burden and subsequent debt load frequently cited by students who are underrepresented in the behavioral health field as seemingly insurmountable barriers to pursing advanced education," said the SDS leaders in a joint statement. "These scholarships make advanced education, and practicing in medically underserved areas following graduation, an attainable goal for the very students who, through deep cultural understanding, can have the most impact in these communities."
SDS scholarships are available to students who are currently enrolled at William James College. For more information about admissions requirements, including application deadlines, please visit www.williamjames.edu/admissions/.
About William James College
Founded in 1974, William James College is an independent, non-profit institution and a leader in educating the next generation of mental health professionals to support the growing and diverse needs of the mental health workforce. Integrating field work with academics, the College prepares students for careers as organizational leaders and behavioral health professionals who are committed to helping the underserved, multicultural populations, children and families, and veterans. William James College alumni can be found making an impact in a variety of settings, including schools, the courts, clinical care facilities, hospitals, the community and the workplace.
Contact
Anne Wilson
Director of Communications, William James College
617-564-9429
anne_wilson@williamjames.edu
Topics/Tags
Follow William James College
Media Contact
Katie O'Hare
Senior Director of Marketing