Giving Thanks: Being Grateful Has Positive Effects on Wellbeing
By Staff Report
Nov 27, 2019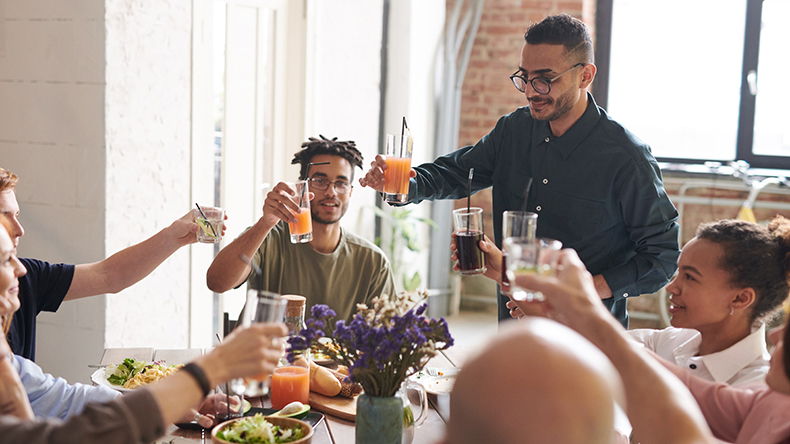 Thanksgiving, as its name suggests, is a day for giving thanks – and pausing to do so can actually be beneficial for your mental health and happiness. William James College clinical psychology faculty member, Dr. Claire Fialkov, explains how expressing gratitude can influence wellbeing:
In our fast-paced, "get to the finish line" culture, we rarely take or make the time to sit with friends and family and share our gratitude. Thanksgiving provides us with a sanctioned time to do just that. In addition to its time-honored association with turkey and an abundance of food, it is associated with giving thanks, with being grateful.
Gratitude allows us to appreciate what we have. It allows us to live in the present. Positive psychology research strongly suggests that gratitude is associated with higher levels of optimism and wellbeing. Those among us who are grateful seem to be better at dealing with adversity and seem happier. When we have a chance to stand back and reflect on all we have, it is natural to feel more grateful.
One question we might ask ourselves as Thanksgiving rolls around this year is "why did we wait so long?" What if we took the time to express our gratitude to ourselves and to others more often? Easier said than done apparently. The fast pace of life as we know it, and have come to anticipate, does not lend itself to the slowness and intentionality that gratitude requires.
So, enjoy the holiday, and if you'd like to have more optimism and wellbeing in your life, consider having a time of Thanksgiving more often – turkey optional.
Popular Topics/Tags
Follow William James College
Media Contact
Katie O'Hare
Senior Director of Marketing and Communications