Gloria Noronha Named William James College's Inaugural Director of Diversity, Equity and Inclusion
By Staff Report
Sep 12, 2019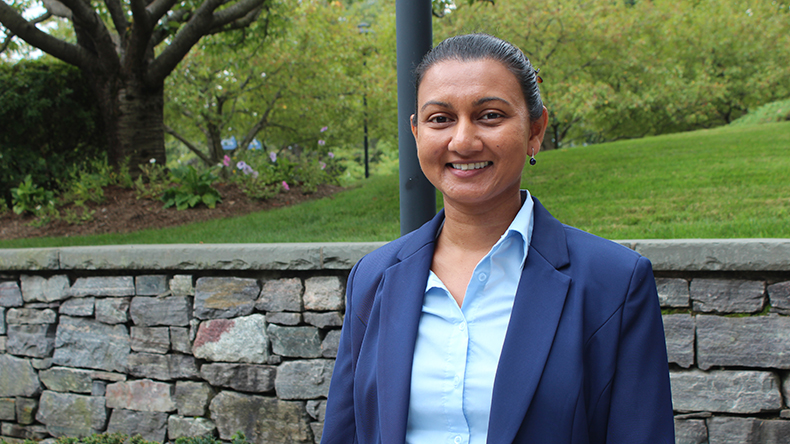 NEWTON, MASS. - William James College has announced the appointment of Ms. Gloria Noronha as the College's inaugural Director of Diversity, Equity and Inclusion. Noronha comes to William James College with 14 years of experience in higher education, including having previously served in diversity leadership roles at Emerson College and Arizona State University.
"The college has been working for a number of years to recruit and support a diverse group of students and staff to meet the behavioral health needs in our country. With more than 20 percent of our students and staff coming from a racial and culturally diverse background, and more to come, William James College is fortunate to have the talents and skills of Ms. Noronha to help us to continue to build a welcoming and inclusive learning community," said Dr. Nicholas Covino, president of William James College. "Having the commitment, courage and patience to realize respectful, inclusive environments are values that create great institutions -- and these efforts require great leadership. Gloria Noronha brings a wealth of experience and professionalism that will benefit the entire William James College community. We are delighted to welcome her."
In her new role, Noronha will lead the design and execution of policies and programs designed to foster an inclusive environment and create and execute an organizational learning strategy at William James College. She will also serve as a resource to, and work collaboratively with, the College's administrative units as they establish, coordinate and assess their contributions to institutional diversity goals.
"Gloria Noronha received the hiring committee's unanimous endorsement," said Dr. Natalie Cort, assistant professor of Clinical Psychology, associate director for Diversity in the College's Center for Faculty Development, program administrator in the Center for Multicultural and Global Mental Health, and member of the hiring committee. "Her professional excellence, compassion, competence, thoughtfulness, scholarship, and creativity stood out. We are excited to welcome her into this role."
As the Director of Diversity, Equity and Inclusion for the College, Noronha will develop and implement programs and policies that reflect and enhance the College's mission while extending its commitment to diversity, equity and inclusion. She will lead efforts to achieve the College's diversity goals related to faculty and staff development; curricular innovation; student success; campus climate; external relationships and partnerships; and building an inclusive campus community.
Collaborating across campus, Noronha plans to shape the policies, protocols and practices needed to advance diversity, equity and inclusion in recruitment, retention, education and research efforts. She will work in close partnership with campus leaders and college groups to strengthen relationships internally and with the local community. In addition to directing these efforts, Noronha will also serve as the College's designated Title IX Coordinator, as a member of the President's leadership team, and will be seated on several College committees.
"I am thrilled to bring my energy and passion for diversity, equity and inclusion to this role and I look forward to building and enhancing community relationships and creating dialogue and opportunities between faculty and staff that bridge differences, celebrate uniqueness and invigorate a climate of passionate leaders to expand the College's commitment to diversity, equity and inclusion," said Noronha. "I believe William James College can be an exemplary model of inclusive excellence within the mental health field and I look forward to partnering with the campus community to do this very important work."
Prior to working in higher education, Noronha has held roles in management, marketing and public relations, where she had a strong track record of developing strong connections with surrounding communities to increase access to and for universities and colleges.
Noronha received her Bachelor of Arts degree from Wartburg College in Waverly, Iowa, and her Master of Arts degree from Emerson College in Boston.
Read more about Noronha's work at /about/profiles/gloria-noronha.html and about diversity at William James College at /about/welcome/diversity.html.
About William James College
Founded in 1974, William James College is an independent, non-profit institution and a leader in educating the next generation of mental health professionals to support the growing and diverse needs of the mental health workforce. Integrating field work with academics, the College prepares students for careers as organizational leaders and behavioral health professionals who are committed to helping the underserved, multicultural populations, children and families, and veterans. William James College alumni can be found making an impact in a variety of settings, including schools, the courts, clinical care facilities, hospitals, the community and the workplace.
Contact
Anne Wilson Yu, Director of Communications, William James College
617-564-9429
Anne_Yu@williamjames.edu
Topics/Tags
Follow William James College
Media Contact
Katie O'Hare
Senior Director of Marketing