Check this Out: Library Launches New Board Game Collection
By Anne Wilson
Mar 15, 2021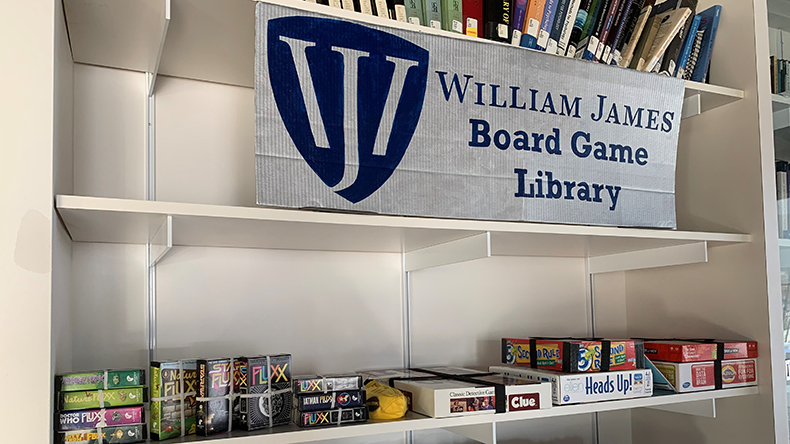 Head Librarian Julia Clement and Leadership Psychology PsyD Student Kristen Toohill teamed up to create the fun, educational new offering
A new collection of board games, now available from the library for anyone in the William James Community to borrow, seeks to engage and to educate.
"Play and games are great tools to teach core concepts such as communication and interpersonal skills," explained Julia Clement, head librarian. She worked with Leadership Psychology PsyD Student Kristen Toohill to create the still growing collection. Toohill, who is interested in organizational development and game play, approached Clement about the project.
"The collection began when Kristen brought the idea to me," Clement said. "She is an expert in using games as tools to teach theories and concepts in organizational psychology. She explained how they can be used in clinical and organizational settings, and that having the collection will give our community yet another tool to use in their practice."
Toohill is the author of Buffalo Facilitator's Workbook: A Guide to Leading Conversations to Reduce Implicit Bias, which she developed during a practicum to transform a party game into an opportunity to lead conversations about implicit bias. In an article written about that work, Toohill said, "sitting down and engaging in conversations through play creates a safe space, which can lead to change."
Toohill said she hopes students check out games from the new collection for both fun and learning, to use with clients or with their own families. The games are available to anyone in the William James Community for personal use, to play with friends at lunch or to take home to enjoy with family, or to faculty or department that would like to host game nights or incorporate games into an event, class or activity.
"Many of our games will come with guides to help faculty and students choose the right games for their needs," Clement said, adding, "Kristen is available to help folks incorporate games into the classroom, clinical or organization setting – at least until she graduates in May!"
Clement playfully called Toohill's upcoming graduation, "bittersweet." Toohill has put a lot of time and energy into this project, including starting to develop web pages for each individual game. She has created several so far and hopes to finish more between now and May. After she leaves, she hopes future work-study students will pick up the reins and assist in creating and maintaining future contributions.
The current game collection started with the purchase of just three games, then quickly grew through support from the Dean of Students office and the Organizational and Leadership Psychology Department, along with donations from companies.
Clement and Toohill will lead a Community Engagement Series event later this month where attendees will be playing the game Codenames over Zoom and discussing how it can be used to analyze and improve team communication.
The Board game collection is available via LibGuide.
Topics/Tags
Follow William James College
Media Contact
Katie O'Hare
Senior Director of Marketing