Managing Mental Health During COVID-19: Advice for Older Adults
By Staff Report
May 9, 2020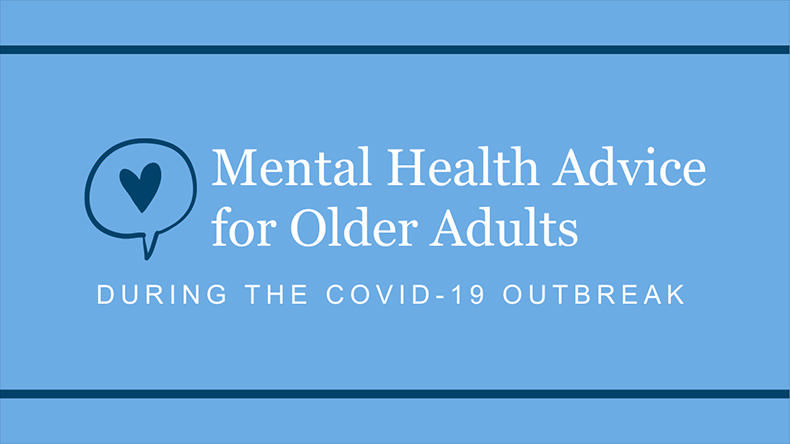 Managing Mental Health During COVID-19: Advice for Older Adults
People of all ages are adjusting to life changes resulting from the COVID-19 pandemic, but older adults may be facing unique challenges. Dr. Kate King, assistant professor of clinical psychology and faculty member in William James College's geropsychology concentration, offers advice for older adults as they navigate the public health situation.
Have a Realistic Sense of Health
The CDC has identified those age 65 or older as being at greater risk for COVID-19, which may cause many older adults to feel increased anxiety and worry. However, King emphasizes an error in this claim. "It is not age alone that confers risk, it is health status," she said.
"It's important to have a realistic sense of our own personal health and level of risk, and to not get too alarmed by messages in the media that are making sweeping generalities," said King, adding that everyone should be in consultation with a medical provider to make these assessments on a personal level.
Remember Social Connections
We may not be able to socialize in the same ways or for the same amount of time, but there are still opportunities to connect with friends, families and communities. King reminded older adults, especially those who live alone, "You are still loved, even if you cannot see each other right now."
King advised letting family members know the best method to reach out, whether that is via a landline or technologies such as video chatting. Furthermore, scheduling specific time for phone calls can be beneficial to have something to look forward to and to reduce the fear of interrupting others' lives.
"It's okay to ask for what you need," said King, "If you prefer using the landline, make sure your family knows it. If you want people to call more often, you can make a gentle request that they do so."
Don't Let Technology Be a Barrier
In a time when more people are relying on new technologies to maintain relationships and even order groceries, learning these unfamiliar methods can be intimidating.
"Regardless of how you feel about the technology, remembering how much you love and miss your family members might inspire you to give it a shot to try to learn," explained King. She suggested having a patient friend or family member help over the phone, ask for instructions in writing to refer back to, or calling your local Council on Aging, which may have accessible training resources.
Focus on What You Can Control, and What Brings You Joy
During this time, much is uncertain. King emphasized planning those activities that are in your control and feel rewarding. "It is good to do things regularly that give you a sense of achievement, whether it is taking a walk, learning something new, crafting, or just washing your dishes," said King.
If the media or certain channels make you feel more anxious or upset, limit exposure or watch something that makes you feel better. King explained, "Find things that make you laugh and smile, like a good sitcom on television or just remembering conversations with friends or family that made you laugh."
Seek Professional Support
Mental health is just as important as physical health and many providers are now offering telementalhealth services.
"If you are experiencing extra stress, anxiety, or feel like your well-being is suffering, it may be a good time to reach out for mental health treatment," said King.
William James College has created an online Resource Hub to provide information, tools and resources to help individuals, parents, educators, mental health professionals, and other members of the community on a variety of topics during this time.
The CDC website and National Council on Aging website both offer additional advice specific to older adult populations.
Popular Topics/Tags
Follow William James College
Media Contact
Katie O'Hare
Senior Director of Marketing and Communications