Managing Pressure: Teaching During COVID-19
By Staff Report
Apr 27, 2020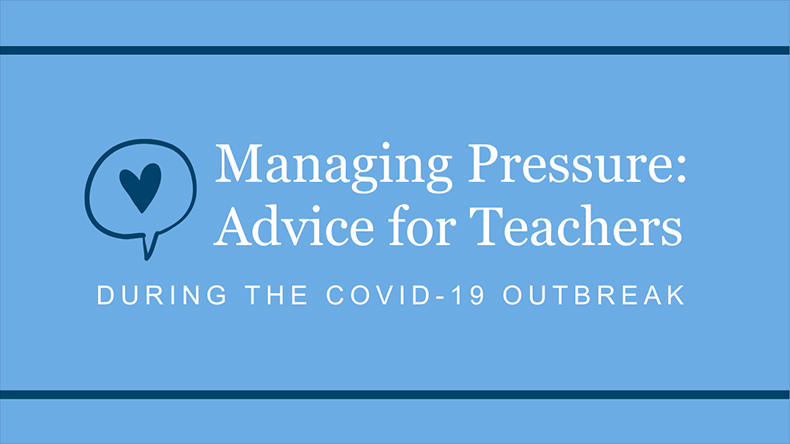 Maintaining mental well-being during the Coronavirus/COVID-19 outbreak can be challenging. William James Faculty offer advice.
The current public health crisis has disrupted every aspect of our society, but one of the most impacted areas is our schools. So far, 41 states, three territories and the District of Columbia have ordered or recommended school closures for the remainder of the 2019-2020 academic year. These closures, while necessary for the wellbeing of our communities, have left teachers and administrators with the challenge of transitioning academics and other classroom experiences into an online environment.
"I really feel for educators right now," said John D'Auria, EdD, director of the educational leadership concentration and faculty member in the Organizational and Leadership Psychology Department at William James College. "Most, if not all of them are under enormous pressure to take what they used to do in a face-to-face environment and really transform it into a learning environment that is online."
D'Auria and Arlene Silva Ph.D., LEP, NCSP, chair of the William James College school psychology department offered advice for teachers as they navigate this unique situation.
Acknowledge Challenges
Beyond managing the personal impact of COVID-19, many teachers are under enormous pressure to produce new, creative and engaging lesson plans; schedule virtual meetings with dozens of students; and foster a positive and supportive community.
D'Auria encouraged teachers to recognize this pressure and continue to check in with students and colleagues. He said, "When we're under pressure like that, if we don't acknowledge our feelings and pay attention to them…we're not going to be as creative."
Silva suggested creating group chats with colleagues to share advice, humor, and self-care tips or connecting with educators and other districts to share teaching ideas and peer supervision.
Be Creative and Ask for Feedback
The COVID-19 pandemic has thrust educators into a brand new situation where no one is sure what methods are most effective.
Silva suggested trying different, creative ways to connect with colleagues and students such as celebrating good news, holding virtual meetings centered around a fun theme, or having students send in pictures or videos in response to a question and creating a slideshow.
D'Auria added that in order to figure out the best ways to teach and connect with your students is to try. "If we are going to develop a whole new approach to education, we're going to have to do many experiments," he said. "Try them out and collect feedback from your students…or their parents."
Apply Social Emotional Teachings to Oneself
More and more educators at all grade levels are incorporating lessons on managing emotions, maintaining positive emotions, practicing self-care and other social emotional learning (SEL) topics. In a time full of stressors and challenges, D'Auria emphasized the importance of these teachings.
"The lessons we have been teaching children about social emotional learning have to apply to ourselves as well," said D'Auria.
Silva agreed. "It can be helpful to keep a growth mindset and remember we are all learning how to do this together," she said.
Remember Mental Health Resources
Students, teachers, administrators and parents all may be feeling stress and anxiety surrounding teaching and learning from home. Many mental health professionals are offering telementalhealth resources during this time and can be helping in managing these emotions.
Silva also encouraged districts to "ensure school psychologists and counselors are able to continue providing support to students via telehealth."
D'Auria also shared his recommendations for transitioning to distant learning, managing pressure and maintaining connections with students and colleagues via this video.
The William James College Resource Hub provides information tools and resources to help parents, educators, mental health professionals and other members of the community on a variety of topics during this time.
Teachers21 at William James College and the Richard I. and Joan L. Freedman Center for Child and Family Development offer online trainings, groups, and other resources for K-12 Teachers, Superintendents and Districts. For a list of all upcoming events, visit the WJC Public Events Calendar.
Popular Topics/Tags
Follow William James College
Media Contact
Katie O'Hare
Senior Director of Marketing and Communications