Rainbow Alliance Hosts Virtual Event Recognizing Pride, Allyship and Social Justice
By Staff Report
Jun 26, 2020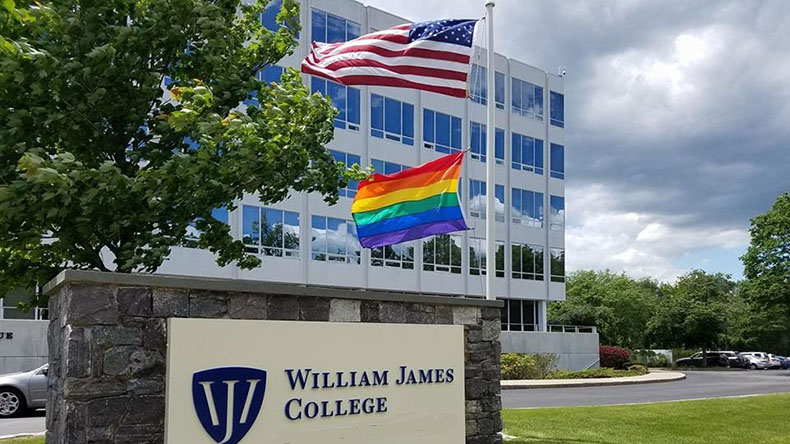 In a landmark ruling on Monday, June 15, the Supreme Court determined that the language of the 1964 Civil Rights Act, which bans employment discrimination based on race, religion, national origin or sex, applies to LGBTQIA+ employees. This historic decision came not only in the middle of Pride Month, but during a local milestone anniversary year as Bostonians celebrate the 50th Anniversary of Boston Pride.
The William James College community gathered earlier this month for a virtual recognition and reflection of Boston Pride. The event was hosted by the WJC Rainbow Alliance, a student-led organization engaging in LGBTQIA+ advocacy and awareness. Meridith Apfelbaum, assistant dean of students and staff advisor to the Rainbow Alliance, gave remarks focused on taking this moment to mark history and recognize the power of allyship.
"The first Pride Marches in the US were protests against systematic oppression and police brutality experienced by LGBTQ+ people, especially those who experienced numerous forms of oppression," said Apfelbaum. "We have fought so hard and yet, there is so much more work to be done, as is evident by the horrific racist, prejudice acts of murder that have recently taken place in our country. Our black and brown brothers and sisters are waking up in fear—we stand in solidarity with them and fight alongside them."
She continued, "Today is not a celebration, but rather a recognition of how far we have come and how far we have yet to go. Let us embrace hope, hope for a world without fear, hope for a world without violence, hope for a world where we can all be our true selves and be seen, respected, and loved for exactly who we are."
During the event, several faculty, staff, and student members shared their reflections and stories of pride, oppression, allyship, and social justice hopes for the future, and Rainbow Alliance student co-leaders Tristan Barney and Daniel Moore were praised for their outstanding contributions to the organization.
Topics/Tags
Follow William James College
Media Contact
Katie O'Hare
Senior Director of Marketing