September Return to Schools Should Take Trauma Informed Approach, Integrate Lessons Learned During Pandemic
By Anne Wilson, Director of Communications
Jun 8, 2021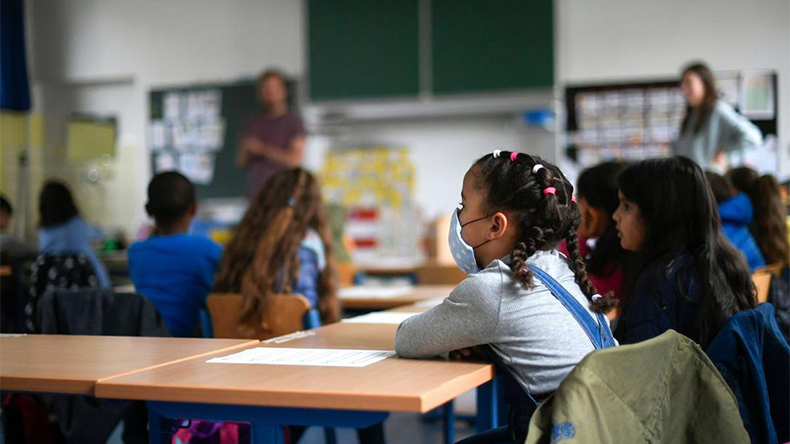 Although many students began returning to classrooms this past spring, the start of the first post-pandemic school year this fall will bring a new set of challenges. As the country starts to emerge from the conditions created by the COVID-19 pandemic, there are many critical questions on the minds of school leaders, educators, and parents. At the core of these questions is: What can we do to ensure that social, emotional, and behavioral health needs are met so that our communities can thrive?
A virtual conference convened by William James College, which was held on the morning of June 3 and sponsored by the Village Bank, welcomed some 70 educators and mental health professionals from around the state and invited participants to reflect upon the consequences of COVID-19 on their learning communities, to explore trauma-informed approaches to healing, and to identify resources and strategies for the path ahead.
"We have all been through a taxing, frustrating and traumatic year. All of us. Our children have never had such disruption in their learning, their relationships, and their development. All of them," said Nicholas Covino, president of William James College. "We are becoming relieved of our serious health concerns and some of COVID's restrictions, but we will continue to experience the psychosocial sequelae of this pandemic for years—some much more than others."
Covino also noted that the systemic relationships school leaders rely on to conduct educational work have all been strained. These relationships among and between school committees, parent groups, teachers, administrators, unions, state leadership and foremost with and among our children are essential, he said, and he urged attendees to spend time focusing on repairing them.
Schools provide more than academics, they provide certainty in social interactions, structure and schedule, food security, and access to both emotional and physical health care. The pandemic created an unprecedented level of uncertainty that has impacted all these things. Andre Ravenelle, executive director of Teachers21 at William James College, spoke to those points and added that use of technology and added dependence on social media during the pandemic, for students, parents, and others, has also created new dynamics that will have to be explored.
"This pandemic has been the first event in decades to present Universally Experienced Consequences. All constituencies have experienced some impact from it and yet it has created both common trauma as well as the possibility of a new and universal experience of empathy," said Ravenelle. "The fall will be an opportunity and test of our resilience, agility and determination to incorporate our learned lessons into the new normal."
The conference featured presentations by Christopher Bellonci, MD, a Board-Certified Child/Adolescent and Adult Psychiatrist and vice president for Policy and Practice/Chief Medical Officer at Judge Baker Children's Center, and Laura Danna, LCSW-BACS, the clinical director of Project Fleur-de-lis (PFDL), a school-based mental health intervention designed in response to Hurricane Katrina to serve the children and families of New Orleans (NOLA). Following each session, participants were invited to join small group discussions on the topics presented led by William James College faculty members.
Quarantine, social isolation, increased risk of abuse and neglect, loss and separation from family members, and disruption to routines, including sleep disturbance, are all impacts that can have far reaching, long term consequences if not properly addressed. Bellonci's presentation explored the impact of these factors on children, youth, and families, and explored approaches to promote positive outcomes and possible next steps.
"Children and adolescents are probably more likely to experience high rates of depression and most likely anxiety during and after this current crisis ends," Bellonci said, advocating for a public health approach in the collective response.
"The greatest predictor of resilience is collaboration and cohesiveness," he said.
Beyond caring for students, caregiver wellbeing also needs attention. It's a topic both keynote presenters touched on.
"Caregivers, including parents and teachers, were also under increased stress during this pandemic," Bellonci said. "Supporting children and youth also means supporting caregivers and ensuring that they are given the tools to engage in self-care, and to respond to the needs of their children."
Danna, who gave the second presentation of the day, included data from survey she and colleagues conducted of nearly 500 NOLA educators that points to significant impacts on caregivers. The survey asked teachers about topics like their personal experience with illness from COVID, loss of a colleague or family member, knowledge of students' losses, increase in workload, increase in non-professional caregiver responsibilities, stress, and feelings about personal safety.
"Exposure to Covid-19, which includes some potentially traumatic events, is high. All teachers were touched by these stressors. The average number of stressors experienced was 7," Danna said. "Most common experiences are pretty universal to all of us—separation stress, work transition stress—but the majority of teachers also reported increased awareness of student stressors and increased emotional distress. The collective nature of these experiences means that your entire workforce is coming back under the weight of stress and potentially trauma—to a job that most already find stressful."
Danna advocated for the use of a trauma-informed approach to start the next school year.
"A trauma-informed system is one where all parties involved recognize and respond to the impact of traumatic stress on those who have contact with the system, including children, caregivers, staff and service providers," Danna explained. "Educators, staff, and administrators infuse and sustain trauma awareness, knowledge, and skills into their school climate, programs and classrooms. They collaborate with all those who are involved with the child, using the best available scientific evidence, to maximize physical and psychological safety, facilitate the recovery or adjustment of the child and family, and support their ability to learn and to thrive."
With the conference, William James College has launched a microsite which will remain active through the summer and into the new school year to provide a collection of suggested resources available to all. Included among the materials on the microsite are Bellonci and Danna's presentations, and a link to the Trauma-Informed Schools Organizational Readiness Assessment, a tool developed by Safe Schools NOLA which offers a way to look at a school's capacity to implement and carry out trauma-informed approaches.
"William James College is pleased to be a resource as this work gets done during the summer and through upcoming school year," Covino said.
Topics/Tags
Follow William James College
Media Contact
Katie O'Hare
Senior Director of Marketing