Student to Run 2021 Boston Marathon, Raising Funds to Benefit William James College's Lucero Latino Mental Health Program
By Anne Wilson, Director of Communications
Jul 23, 2021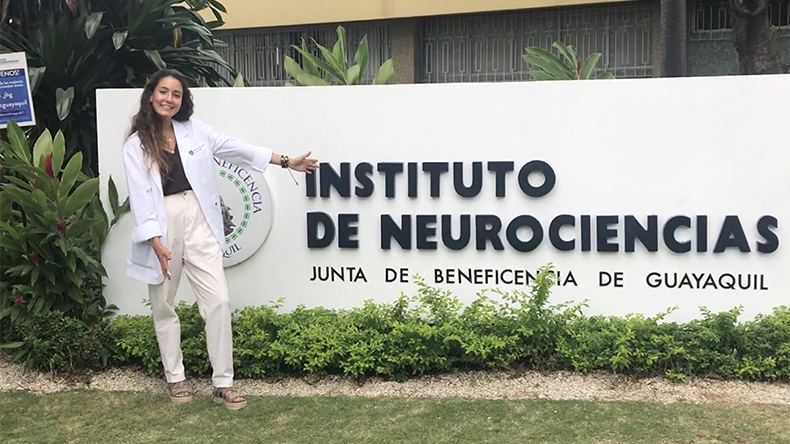 Clinical PsyD Student Amanda Salerno is running to raise funds for the William James College Dr. Cynthia Lucero Latino Mental Health Program as a member of "Team Newton"
The Boston Marathon is the country's oldest marathon and ranks as one of the most well-known road racing events in the world. The race, which returns for its 125th running on Monday, October 11, 2021, after a cancellation last year, welcomes some of the world's most elite runners, and also a slate of charity runners who earn their bib and a coveted place at the starting line by raising money for worthy causes.
Among the charity runners on the course this year will be fourth year Clinical Psychology PsyD Student Amanda Salerno. Salerno is running to raise funds for the Dr. Cynthia Lucero Latino Mental Health Program (LMHP) at William James College. She is, herself, an LMHP student and feels a personal connection both to the family of the LMHP's namesake, Dr. Cynthia Lucero, and to the cause.
"I'm a Latina. My mother's family is from Puerto Rico," Salerno said. "It is a big part of my life and culture. Working with Latinx populations feels like home."
Salerno travelled as part of one of the College's Service Learning and Immersion programs in the summer of 2019. The Ecuador program is a five-week intensive conducted in coordination with Centro Ecuatoriano Norteamericano (CEN), El Instituto de Neurociencias/Junta de Beneficencia, and La Fundación Dra. Cynthia Lucero in Guayaquil, Ecuador.
"There were 7 of us on the trip. It was beautiful and challenging. I had just joined the concentration that spring and hadn't traveled before," Salerno said. "I learned about myself and about what I want to do, clinically."
Training that is culturally informed teaches a provider about an individual's unique lived experience, culture, language, and traditions. Culturally responsive treatment is shown to improve outcomes.
"Being culturally responsive is about understanding the client and their cultural norms, their cultural background, and what all that means in a clinical setting," said Dr. Mari Carmen Bennasar, assistant professor of Clinical Psychology and director of the Lucero Latino Mental Health Program. "By creating culturally responsive practices, providers can assist to reduce long-standing disparities in who access mental health care. We can better support our patients' quest for quality services and a better life."
The LMHP trains students who are interested in working with individuals from Latinx cultures. Through intensive immersion in Spanish language and Hispanic cultures, students are prepared as culturally responsive clinicians. The LMHP is offered through the William James College Center for Multicultural and Global Mental Health (CMGMH), which offers transformative service learning experiences designed to expose, inform, and deepen students' knowledge, cultural awareness and sensitivity, and cultural fluency. Every summer, students enrolled in CMGMH concentrations participate in cultural immersion programs in Ecuador, Guyana, Haiti, Kenya, and Trinidad and Tobago. LMHP students travel to Ecuador where they participate in clinical rotations and work with providers seeing patients in El Instituto de Neurociencias, a former asylum.
"Some of the patients were never picked up by their families after [the asylum] closed so they have been there a long time," Salerno explained. "Many are very cognitively impaired. We did a rotation with women who had problems with addiction, and we did a rotation on an acute care ward for people who had had an episode. We did a lot of physical touch as part of our therapy, which we don't do here in the US."
Salerno also had the opportunity to meet Martita and Enrique Lucero, the parents of William James College Alumna Dr. Cynthia Lucero. Cynthia Lucero died after collapsing during the 2002 Boston Marathon. She had completed her doctoral dissertation, "Effects of A Marathon Training Program on Family Members and Friends of Cancer Patients," just days before running. Martita and Enrique have remained friends of the College, occasionally traveling to Newton to visit and always welcoming students who travel to Guayaquil.
"Martita hugs. She kisses your forehead. She pinches your cheeks and makes you feel like you're her granddaughter," Salerno said. "Martita said that our group was very special. Enrique showed us his hometown, told us about the jobs he'd had as a kid, and showed us where he and Martita met. He was very sweet."
Several programs at the College honor Dr. Lucero's legacy: The Dr. Cynthia Lucero Center for Latino Mental Health (LMHP) is named for her, as is the Dr. Cynthia Lucero Scholarship program.
"For many years now, we have been hosting an annual run (5K) to celebrate the life of Dr. Cynthia Lucero and her legacy," said Bennasar. "The fact that Cynthia's last moments were at the Boston Marathon and that the event held for years in her honor, our own 5k run, has been cancelled for the past two years due to COVID makes this especially meaningful."
Each year, the College awards one Cynthia Lucero Scholarship to a deserving student who exhibits a strong dedication and commitment to the delivery of human services to the Latino community. Salerno's fundraising efforts will support the scholarship fund.
"LMHP scholarships assist many students who otherwise would not be able to complete their graduate degrees and/or engage in this specialization," said Bennasar. "Scholarships also support the language development that is so needed to provide high quality health services to this population. As scholars, students engage in many leadership activities that prepare them to help clients and navigate complex systems."
By running, Salerno said she hopes to give back to Martita. "She gave me so much. She was so kind when I really needed it," she said. "It's easy to get bogged down with school, and I want to be able to look back on [the marathon] experience as part of my time in Boston – something not school, but really special too."
Salerno who is dual concentrating in LMHP and Children and Families of Adversity and Resilience (CFAR) is also a Lucero Latino Mental Health Program Mentorship and Networking Program Leader. To support Salerno's fundraising efforts please visit her page, or make a gift to support LMHP students via the College here.
By mileage, Newton has the longest stretch of road along the Marathon course. "Team Newton" is an assembly of runners who live or work in Newton. Salerno will be joined on the course by other William James community members including Dean of Students Josh Cooper and faculty member and alumna Dr. Katherine King. Cooper is running to benefit the West Suburban YMCA and King is running on behalf of the Samaritans of Hope, a suicide prevention organization.
On her fundraising page, King wrote she that she is running for hope, healing, and recovery.
"As a psychologist, I have spent countless hours with clients exploring what makes life worth living," she wrote. "I have spoken to people on the verge of making this permanent, life-or-death decision. I have been honored and humbled to be there, to be trusted, and to help people find their way back to life."
She also offered this wisdom, "Training for a long-distance race is a bit like life. There are ups and downs, periods of hardship and setback, times when it seems impossible… only to be followed by unexpected moments of grace, surges of vitality, gratitude, and triumph."
Bennasar, offering words of encouragement for Salerno, shared this Oprah Winfrey quote, "Running is the greatest metaphor for life, because you get out of it what you put into it." She added, "GRACIAS Amanda! I will be with you in spirit all the way."
Follow William James College's social media channels and hashtag #WJCRunsBoston for updates on WJC Marathon runners. Are you a WJC Community member who is running the 2021 Boston Marathon? Share a post from your own social media account and tag the College to share your story!
Topics/Tags
Follow William James College
Media Contact
Katie O'Hare
Senior Director of Marketing