The Black Mental Health Graduate Academy Celebrates Milestones, and Black Excellence in Psychology
By Staff Report
Feb 20, 2020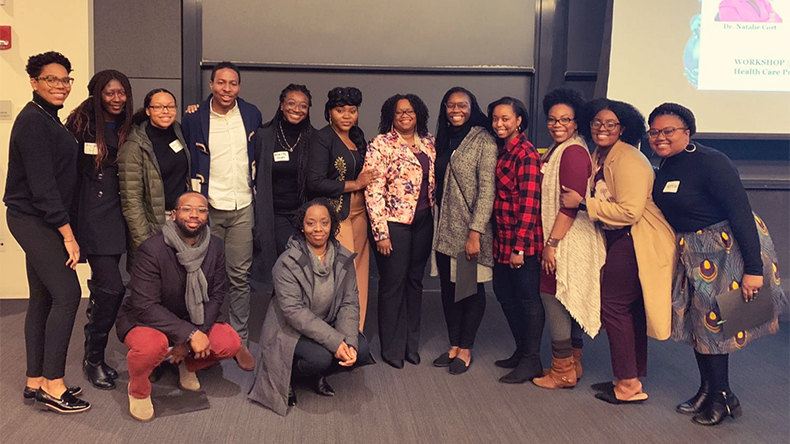 According to the American Psychological Association (APA), only 4 percent of psychologists practicing today in the United States are African-American/Black. This scarcity of Black mental health professionals, as well as providers from other racial and ethnic minority backgrounds, is a critical contributing factor to disparities in mental health care.
The Black Mental Health Graduate Academy was launched at William James College in 2016 under the auspices of the Center for Multicultural and Global Mental Health to help recruit, mentor and support Black students pursuing psychology and counseling degrees. The Academy began with 17 Scholars and, now in its fourth year, count 32 Scholars among its ranks.
"We've been sustained because we are a community of people who make each other feel like we belong—with each other and at William James College," said Dr. Natalie Cort, director of the Black Mental Health Graduate Academy and assistant professor of clinical psychology.
Beyond engaging in mentorship and professional development programs through the Academy, Scholars also often attend local and national conferences, participate in civic engagement throughout surrounding communities and hold student leadership positions on and off campus. Additionally, the Academy hosts two to three events each year including workshops, dinners, film screenings and other discussions.
Every February, the Academy hosts initiatives to celebrate and uplift Black voices. In 2019, the Academy celebrated Black History Month with a Black Diaspora Party, participated in the annual Juneteenth celebration, and hosted a workshop: 'Branding Strategies for Mental Health Professionals of Color.' Last year and again this month, the digital signs around campus are displaying profiles influential Black psychologists and mental health counselors throughout the entire month.
"The celebration of Black History Month is about acknowledging long-ignored contributions of people of color in this country and in our field," said Cort. "It's a powerful thing to be a part of an academy with 32 Black Scholars who represent excellence in all that they do."
The celebration for 2020 will also include a talk, 'Habits of Positivity: Transform Your Thinking and Change Your World,' with Dr. Oneeka Williams on February 26. Williams is a nationally recognized top-ranked urologic surgeon and award-winning author, known for her popular Dr. Dee Dee Dynamo children's book series.
"I'm so grateful that Dr. Williams will be celebrating Black History Month with us by highlighting the positivity and the optimism that we as a group have, and the resilience that got us here," said Cort.
During the on-campus event, Williams will discuss the five habits of positivity included in her upcoming book Unlimited. This event is free and open to the public, and pre-registration is required.
The Academy also launched a Psychology Today blog last year entitled, Achieving Excellence through Diversity in Psychology and Counseling. Currently, the blog has had six Academy Scholar publications, one of which was even promoted by Psychology Today on the homepage.
"Psych Today is one of the most widely-read psychology publication around the world," explained Cort. "The Black Mental Health Graduate Academy's Blog in the Psychology Today Magazine is about the Scholars solidifying their professional voice and professional brand. I really love how thoughtful their blog entries have been and how they are highlighting a variety of different interests."
Participating in the blog is open to all Scholars, who develop a proposal and submit it to Cort. Topics have included intersectionality in health psychology, the school-to-prison pipeline, experiences being a Black clinician and the importance of mentoring.
Fourth-year clinical psychology student, Ava Floyd, wrote 'Psychology's Unsung Heroines' highlighting influential Black female psychologists throughout history. On her experience writing the blog post, Floyd said, "What initially began as an article focusing on women underrepresented in the field of psychology, led to me reading about pioneering Black psychologists Drs. Mamie Phipps Clark and Inez Beverly Prosser. [Previously,] I never had the privilege of learning about these psychologists and the impact their research continues to have in the field of Cognitive, Clinical, Developmental and Social Psychology."
2020 is a milestone year for the Black Mental Health Graduate Academy for one more reason: most of the original Academy Scholars will either head off to American Psychological Association Internships or graduate from William James College and commence careers that involve serving communities in desperate need of their expertise.
"It's going to be a really special and emotional year as we witness the pioneering group leave the nest," said Cort. "I'm so proud of them, inspired by them, and grateful to them as they've made me a better person."
Topics/Tags
Follow William James College
Media Contact
Katie O'Hare
Senior Director of Marketing