William James College Awarded Grants Totaling $2.7 Million For Graduate Psychology Education Program, Opioid Workforce Expansion Program
By Staff Report
Sep 9, 2019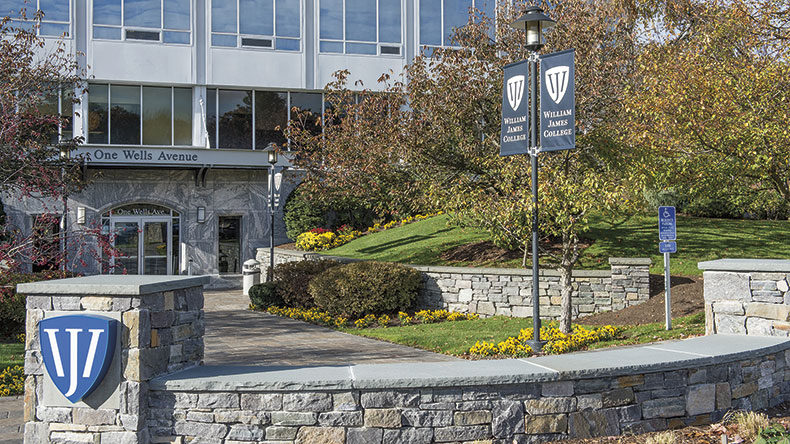 The HRSA grants received letters of support from Representatives Joseph Kennedy and Ayanna Pressley. Programs will benefit underserved Massachusetts Community Health Centers.
FOR IMMEDIATE RELEASE:
NEWTON, MASS. – William James College has been awarded two grants totaling $2.7 million over three years from the U.S. Health Resources & Services Administration (HRSA). These grant awards, titled the Graduate Psychology Education Program and the Opioid Workforce Expansion Program, are both focused on expanding and diversifying the behavioral health workforce to meet the growing and critical need for qualified mental health professionals in the Commonwealth of Massachusetts.
"These programs put William James College, and the training we offer, at the very head of the curve in terms of two essential trends in behavioral health services provision: the integration of behavioral and medical health services in primary care and the integration of mental health and substance use treatment services," said grant architect Dr. Bruce Ecker, associate Professor of clinical psychology, co-director of the Youth and Family Psychotherapy Service at William James, and now director of the HRSA-funded training programs. "These programs will both decrease the scourge of opioid addiction currently and train a large cadre of providers to help those with varied kinds of substance use disorders for generations to come."
Experiential, field-based education is a hallmark of a William James College education. Students begin field work at the outset of their studies and complete several practicum and internship experiences through the course of their academic experience. Even in this tradition, these new programs are a "game changer," Ecker said.
Together, the two grants will enable 60 William James College students to learn and apply skills in evaluating and treating opioid and other substance use disorders in settings where help is needed most. The programs will place students in integrated care training positions at five Federally Qualified Health Centers all designated as Health Professional Shortage Areas (HPSAs) in underserved communities in and around Boston. These are the East Boston Neighborhood Health Center, Lynn Community Health Center, Stanley Street Addiction and Recovery (Fall River), the South End Community Health Center, and Community HealthLink of Worcester. HPSA designations indicate communities with health care provider shortages in key areas including primary care, mental health, and dental.
"Serving in needy communities in a culturally responsive manner, students will help to decrease health and health care disparities," said Ecker. "They will learn to integrate behavioral health and substance use interventions and work alongside medical professionals, like primary care physicians and nurses, and they will develop skills in tele-behavioral health, meaning services rendered remotely through telephones, tablets and computers, which have been shown both to be effective and to increase accessibility."
The Graduate Psychology Education (GPE) grant program is limited to students in doctoral psychology programs while the Opioid Workforce Expansion Program is available for a broad range of behavioral health professionals, including counselors and psychologists. Together, these grants will employ 20 specially-trained students in their 3rd or 4th year of doctoral study to help address unmet mental health and/or opioid use disorder needs at the partnering health centers. These advanced practicum students will receive a stipend of $25,000 in exchange for one year of service.
The grant applications were accompanied by letters of support from U.S. Representatives Joseph Kennedy III and Ayanna Pressley.
"In the midst of a mental health crisis and opioid epidemic that has ravaged communities from coast to coast, only a talented, diverse mental health workforce will bring relief to the patients and families suffering among us. With the help of this grant funding, the students and professors at William James College can continue their mission to bring quality treatment and compassionate care to every single person who needs it," said Representative Kennedy.
Representative Pressley said, "William James College's commitment to diversifying and expanding the mental and behavioral health workforce is critical to healing our communities. Their focus on culturally-competent care for underserved individuals is just one example of their leadership in developing innovative, community-based practices. I was proud to support WJC's efforts to secure these grants, which will ensure equal access to quality behavioral health services while addressing the unmet mental health needs of our district."
Through its Clinical Health Psychology concentration and other projects, William James College has a nearly two-decade long history of training Clinical Psychology doctoral students to work in integrated care settings. The HRSA-funded programs will leverage existing partnerships with field sites, and also establish new partnerships, with students receiving extensive additional training in opioid-use and substance-use disorders.
"These programs will be transformational – for our students and their professional paths, and also for the communities they will serve now, and in the future," said Dr. Nicholas Covino, president of William James College. "The world needs more capable, compassionate providers. These grants will open doors for our current students, and for students for years to come. We are grateful to HRSA for this opportunity."
About William James College
Founded in 1974, William James College is an independent, non-profit institution and a leader in educating the next generation of mental health professionals to support the growing and diverse needs of the mental health workforce. Integrating field work with academics, the College prepares students for careers as organizational leaders and behavioral health professionals who are committed to helping the underserved, multicultural populations, children and families, and veterans. William James College alumni can be found making an impact in a variety of settings, including schools, the courts, clinical care facilities, hospitals, the community and the workplace.
The Graduate Psychology Education and Opioid Workforce Expansion Professional Programs are supported by the Health Resources and Services Administration (HRSA) of the U.S. Department of Health and Human Services (HHS) as part of awards totaling $2,700,000 with zero percentage financed with nongovernmental sources. The contents are those of the author(s) and do not necessarily represent the official views of, nor an endorsement, by HRSA, HHS or the U.S. Government.
Contact
Anne Wilson Yu
Director of Communications, William James College
617-564-9429
Anne_Yu@williamjames.edu
###
Topics/Tags
Follow William James College
Media Contact
Katie O'Hare
Senior Director of Marketing