William James College Signs Massachusetts Independent College Transfer Guarantee Agreement In Partnership with NEBHE, AICUM & MACC
By Staff Report
Nov 18, 2020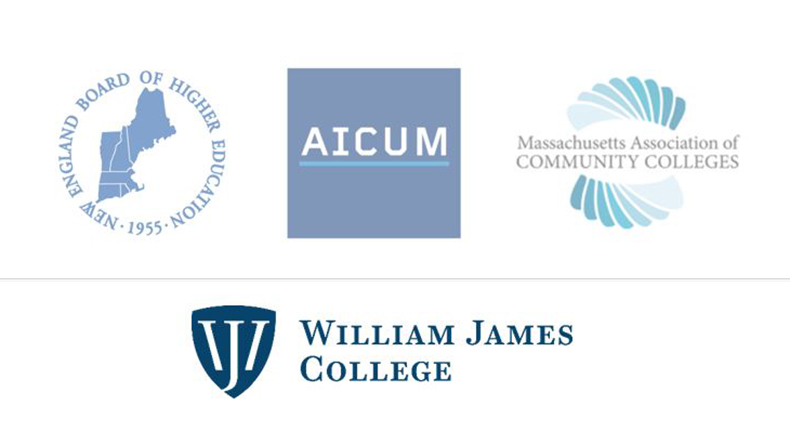 William James College is pleased to announce that it has signed onto the Massachusetts Independent College Transfer Guarantee (Massachusetts Guarantee) - a statewide effort to establish systematic transfer pathways between Massachusetts community colleges and the state's four-year independent institutions. The Massachusetts Guarantee mitigates credit loss and increases student success by ensuring admission into participating independent colleges for associate degree holding students. The initiative builds upon the state's public institution transfer policy and expands transfer options for Massachusetts' community college students.
Since signing the Massachusetts Guarantee Memorandum of Agreement, William James College will begin accepting transfer applications from Massachusetts community college graduates who have met the minimum GPA requirement of 2.5 as soon as January 2021 for guaranteed admission. Admissions fees will be waived for Massachusetts Guarantee applicants.
William James College is offering a major in Psychology and Human Services under the Massachusetts Guarantee. William James College launched the Bachelor of Science in Psychology and Human Services Completion Program, the first undergraduate degree in the school's history, in the fall of 2017.
The Massachusetts Guarantee is being spearheaded by the New England Board of Higher Education (NEBHE) and the Association of Independent Colleges and Universities in Massachusetts (AICUM), in partnership with the Massachusetts Association of Community Colleges (MACC), and each are co-signers to the Agreement.
"The behavioral health and human services field needs trained professionals more than ever, and a bachelor's degree is a credential that opens doors," said Stacey Lambert, PsyD, vice president for academic affairs at William James College. "We're proud to sign on to the Massachusetts Independent College Transfer Guarantee. This program lowers barriers to entry for talented individuals seeking new careers in this field, and a pathway to promotion and increased skills for those advancing existing careers."
"NEBHE is very pleased to work with a distinguished group of state and institutional partners to create expanded transfer pathways for students in Massachusetts," said Michael K. Thomas, president & CEO of NEBHE, "Stronger links between our two-year institutions and our outstanding independent colleges and universities simply makes sense. The Massachusetts Guarantee will expand the range of high-quality, affordable bachelor's degree programs available -- benefiting our students, our institutions and our workforce."
The President of AICUM, Richard Doherty expressed that
"many of our member institutions are thrilled to be collaborating with NEBHE in this important effort to promote transfer pathways for Massachusetts community college graduates. Many community college students in Massachusetts have found our member institutions to be a highly accessible and affordable option for transfer to complete their bachelor's degree and jumpstart their career. This new initiative will expand opportunities for more seamless transitions and allow even more transfer students to attend an institution in Massachusetts that best meets their educational aspirations and increases their opportunity to be successful."
About the New England Independent College Transfer Guarantee
The Massachusetts Guarantee is part of the New England Independent College Transfer Guarantee, coordinated by NEBHE. Additional state-specific systematic transfer pathway development is underway in Massachusetts and Rhode Island. The initiative is supported through grants from the Teagle Foundation and Davis Educational Foundation. The New England Independent College Transfer Guarantee will mitigate credit loss, increase persistence and degree completion, and meet the geographic needs of students who lack proximity to a public four-year institution. It supports a student-centered approach to transfer by matching diverse student learning styles and providing high-caliber student support and career services, as well as institutional financial incentives. To learn more, click here.
About William James College
Founded in 1974, William James College is an independent, non-profit institution and a leader in educating the next generation of mental health professionals to support the growing and diverse needs of the mental health workforce. Integrating field work with academics, the College prepares students for careers as organizational leaders and behavioral health professionals who are committed to helping the underserved, multicultural populations, children and families, and veterans. William James College alumni can be found making an impact in a variety of settings, including schools, the courts, clinical care facilities, hospitals, the community and the workplace.
About NEBHE
Founded by six visionary New England governors in 1955, NEBHE is a regional compact that works with the six New England states to promote greater educational opportunities and services for its residents of New England. In pursuit of this mission, NEBHE assists leaders with educational practices and policies of regional significance, promotes programs and best practices that support the implementation of regional higher education policies, promotes regional cooperation and shared educational resources, and provides leadership to strengthen the relationship between higher education and New England's economic well-being.
About AICUM
Established in 1967 by college and university presidents, AICUM is the leading voice on public policy issues affecting independent higher education in Massachusetts. The association comprises 60 degree-granting, accredited, independent (private) colleges and universities across the Commonwealth. AICUM works closely with its member institutions to strengthen higher education, to advocate for need-based financial aid for Massachusetts students, and to address state and federal legislative and regulatory issues. The Association also promotes increased awareness of the significant contributions by colleges and universities to the cultural, economic, and knowledge-based reputation of the state.
About MACC
The Massachusetts Association of Community Colleges (MACC) represents the fifteen state funded community colleges and their local Boards of Trustees. MACC is an association whose sole purpose is to support and enhance the wellbeing of community colleges across the state in service to students, community and the Commonwealth. MACC does this through a variety of services. The MACC mission is to advocate, communicate and collaborate in order to strengthen community colleges for the benefit of students, communities and The Commonwealth of Massachusetts.
Topics/Tags
Follow William James College
Media Contact
Katie O'Hare
Senior Director of Marketing