Educational Leadership Concentration Brings Organizational and Leadership Psychology to Education
By Staff Report
Dec 16, 2019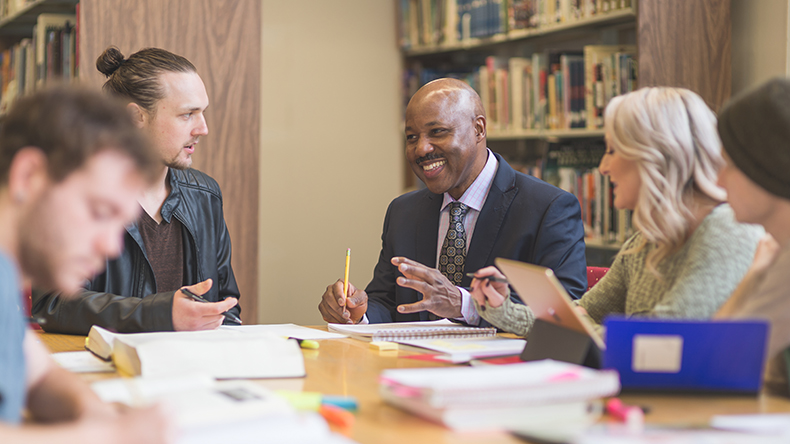 Incorporating mental wellness and social-emotional learning (SEL) into a school curriculum is shown to have positive effects on academics, social behavior, and other skills like cooperation and problem-solving. One way to advance this mental health and wellbeing education is to provide training for leaders in school systems and districts.
William James College recently launched an academic concentration in educational leadership, which brings teachings from organizational and leadership psychology to the education sphere. This concentration, which is offered primarily with the Leadership Psychology PsyD program but is available to any student at the College, prepares educational leaders to create a work culture that inspires employees, to address issues from multiple perspectives and to shape the schools of the future.
"I think part of the educational leadership concentration is a way to connect mental wellbeing to schools," said the Concentration Director John D'Auria, Ed.D. "I think that what we're seeing out in the field is that more and more schools are beginning to realize that the domain of social-emotional learning really is critical to academic achievement and other elements like resilience, ability to manage emotions, ability to understand the emotions of others, the ability to motivate and more."
William James College already offers several programs and educational opportunities for students, parents, teachers and community members who are interested in SEL and other child and adolescent development topics. For example, Teachers21 at William James College improves the professional practice of teachers from Pre-K through grade 12; the Richard I. and Joan L. Freedman Center for Child and Family Development provides mental wellbeing resources for children and families and also offers a collaborative graduate certificate in School Climate and Social Emotional Learning; and the school psychology department educates school psychologists who promote the healthy development of children in educational settings.
"The College is in an interesting position because these domains are our forte," said D'Auria. "What I'm trying to do [with the new concentration] is attract educators and educational leaders to come here to deepen their understanding of how social and emotional development within children and adults is deeply linked to learning, creativity, and the vitality of the community."
In addition to practicum hours in educational settings and a doctoral project related to the topic, the educational leadership concentration comprises three classes: Leadership of Educational Institutions; Shaping School Culture; and The Crux of School Leadership—Managing Dilemmas, Paradoxes, and Complexity. The concentration is intended for directors, principals, superintendents and other school administrators who can create change at the highest levels of school systems, as well as those who want to consult to schools and districts.
"Up until now, the focus on improving schools has been on trying to improve teachers and teaching," said D'Auria, "If we influence [the leaders] in a positive way, I think we can have a huge impact on the teachers who then impact the students."
Prior to coming to William James College, D'Auria had a varied career where he worked at all levels of education in order to affect the most change. He spent time as a math teacher, a guidance counselor, a principal and a superintendent, and also served for seven years as the President of Teachers21. Additionally, in 2010 D'Auria was appointed by the Massachusetts Commissioner of Education to a statewide task force to study and develop a new framework for the supervision and evaluation of all educators in Massachusetts. Due to the success of his work, D'Auria transitioned to higher education when he was invited by the University of Pennsylvania to be a professor of practice.
"I began to realize that a lot of what influences people are the conditions in which they work," said D'Auria. "And shaping those conditions so those people can be both held accountable to high quality standards, but also experiment, learn and craft innovative approaches, is really the role of leadership. So, I asked if I could take the learnings of organizational psychology and package it for educators."
In June 2019, D'Auria, along with Johnathan Supovitz, Ed.D., of the University of Pennsylvania and James Spillane, Ph.D., of Northwestern University, published an article, 'Meaningful & Sustainable School Improvement with Distributed Leadership.'
The purpose of the article, according to D'Auria, is to address how school administrators should tackle the complexities of school leadership. It emphasizes how to distribute responsibility and how to involve teachers in the leadership work. "No one person can do it alone," said D'Auria.
The educational leadership concentration at William James College pairs experiential learning with classes and study of organizational and leadership psychology to provide a practical hands-on experience. The application of research linked to systems thinking and theories of change specific to an educational context will prepare school administrators and consultants to be successful and visionary in pre-K through grade 12 settings.
"Schools are a tremendous source of influence," said D'Auria, "So, if we think about helping students become more understanding of how emotions impact them, become more sensitive to issues of equity, embrace more of the power of inclusivity, I think it can have tremendous influence on society."
Popular Topics/Tags
Follow William James College
Media Contact
Katie O'Hare
Senior Director of Marketing and Communications