William James Faculty, Students and Alumni Attend National Association of School Psychologists Annual Convention
By Staff Report
Mar 15, 2019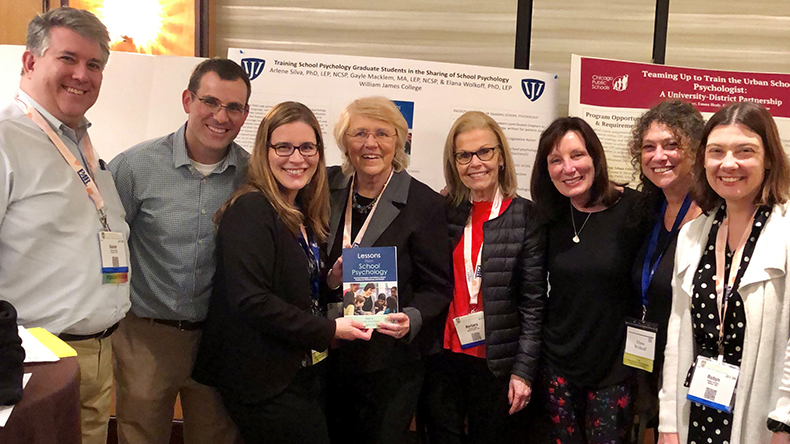 School psychologists do more than help students through academic struggles. They support students beyond the classroom, providing expertise and assessment in mental health, learning and behavior to help students succeed throughout life.
The world's largest organization of school psychologists, the National Association of School Psychologists (NASP), held their annual convention at the end of February with the theme "Unlock Potential." From February 26 through March 1, members of the William James community, including faculty, students and alumni, attended the conference, connecting and engaging on a national scale with others in the field.
"The NASP Convention provides a wonderful opportunity to connect with school psychologists from around the country, share ideas, and deepen my professional knowledge," said Dr. Arlene Silva, associate professor and chair and director of the William James College school psychology department. "William James College has a strong presence each year, with student, faculty, and alumni presenting sessions and participating in NASP Leadership activities. I always return feeling energized and grateful to be part of a profession that puts the well-being of kids and schools first!"
This year, two William James alumnae were honored at the convention. Dr. Wendy Price, who was recently elected to serve as 2020-2021 NASP President, and Liz Niemiec, who received a Certificate of Appreciation from the NASP Government and Professional Relations Committee for her dynamic school psychology practices and advocacy for social justice at the local, state and national level.
Price will begin her term as President-Elect this July and her term as President the following year. She has nearly 20 years of experience in school psychology, currently working at Whitman-Hanson Regional High School. She previously served as President of the Massachusetts School Psychology Association (MSPA), as well as serving NASP in a variety of leadership capacities, and is currently in her second term as NASP secretary. Price earned her Doctorate in School Psychology from William James College in August 2015.
Silva said, "Dr. Price is a tireless advocate for children, and has dedicated much of her professional career to service and volunteer leadership at the local and national level. She has boundless energy and ideas for how to advance the work of the profession, and we can't wait to follow her in her upcoming 2020-21 presidential year!"
Liz Niemiec is a School Psychology Master of Arts (MA) and Certificate of Advanced Graduate Studies (CAGS) graduate. In addition to receiving the NASP Certificate of Appreciation this year, Niemiec was named the 2017-2018 Baltimore City School Psychologist of the Year by the Baltimore City Association of School Psychologists last March.
"When our faculty heard Liz would be receiving this award at the Convention," said Silva, "We felt appreciation that her talents and passion for the field, which we have long been familiar with, were being recognized on a national level."
Additionally, William James College faculty members Gayle Macklem, Dr. Barbara Miller, Dr. Dan Jacobs, Dr. Arlene Silva, Dr. Elana Wolkoff, Margaret Hannah and Dr. Jason Kaplan presented on a variety of research topics at the NASP Convention as well as the Trainers of School Psychology Conference—a separate event held during the NASP Convention.
William James College MA/CAGS students Allison Doherty, Jessica Reis and Ashley MacDonald also presented their individual research at the NASP poster sessions.
Graduate study in school psychology at William James College is grounded in an integrative philosophy of training and education, with ongoing application of classroom instruction in structured, closely supervised field experiences that prepares school psychologists and individuals with the advanced capabilities and credentials to pursue a wide range of professional opportunities.
Topics/Tags
Follow William James College
Media Contact
Katie O'Hare
Senior Director of Marketing