Alumni Spotlight: Dr. Nancy Connolly Shares Forensic Psychology Experience and Advice
By Sarah Johansson, Assistant Director of Marketing
Nov 1, 2022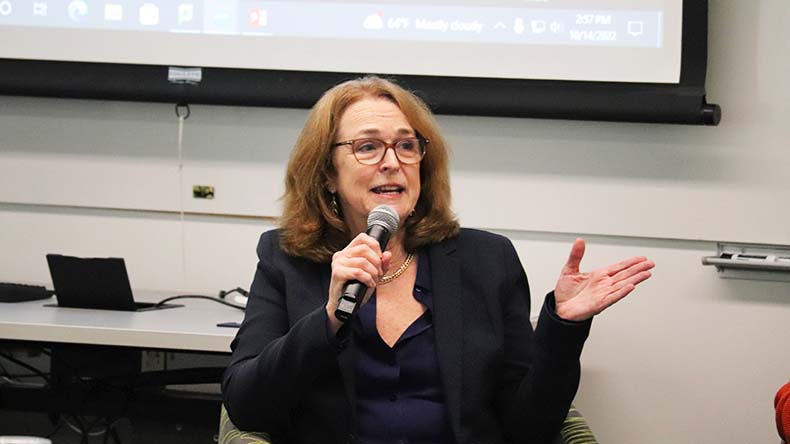 Nancy Connolly, PsyD, has been the Assistant Commissioner for Forensic Services for the Massachusetts Department of Mental Health since 2017, and has over 30 years of experience in the forensic world.
"[Forensics] has always been my primary interest in psychology," explained Connolly. "Forensic psychologists work on the most challenging, interesting clinical issues that come before the courts."
Connolly earned a master's in social work from Boston College and her PsyD from William James, giving her a strong foundation for her career. Of her time at William James (then MSPP), Connolly said, "The experience elevated my clinical skills and dramatically enhanced my understanding of psychological functioning. I liked the model of practicums and internships blended with classroom learning."
Upon earning her doctorate, Connolly served as a Designated Forensic Psychologist in the court clinics, conducting evaluations and providing witness testimony. Throughout her career, she has worked in the Boston Juvenile Court, at Bridgewater State Hospital, in various positions with the Department of Mental Health, and as a member of the Federal Bureau of Investigation's Mass Bay Threat Assessment Team. In her current role, Connolly, oversees many forensic programs including adult and juvenile court clinics, inpatient forensic assessments, and jail diversion programs.
"The work I do now is not at all like the work I did when I started," explained Connolly during a panel at a recent William James College Continuing Education program. "Court clinics are for lifelong learners. You can never think that you know everything you need to know today because tomorrow will be different. We respond to the world."
For example, Connolly shared how in recent years the Department of Mental Health has been responding to efforts to increase racial equity in the courts and other systems. Through a racial equity subgroup, DMH continues to research effective tools and protocols for staff.
"When I was writing my reports in the early years, I wouldn't put racial information because I knew it was going to be misused or used for purposes not to serve the client," shared Connolly during the CE panel. "We've learned now how to integrate data so that it actually discusses some of the clinical implications of the race-ethnic issues that the client is facing…and that's what our racial equity subgroup has been able to direct us to do a better job at."
Connolly was just one panelist participating in the full-day CE event focused on intervention and assessment strategies for working with law enforcement and in the court systems. Geared towards advanced graduate students and early career professionals, the program included a career fair for in-person attendees to speak with professionals and agencies in the forensic field.
"There's a lot of action [in forensic psychology], a lot of places to go, a lot of demand for clinicians right now," shared Connolly. "If you're interested in a fast-moving type job, the forensic work is where you want to be."
For those looking to pursue this career, Connolly's advice is to gain experience working with justice-involved individuals and with those with serious mental illness and substance use issues. The demand for forensic psychologists is great, and the difference one can make in the field is even greater.
"We make a decision every day when we're in our jobs that can impact someone's life significantly. You don't see that everywhere," said Connolly. "If you're in the forensic world, you're making an impact every day."
William James offers forensic-focused concentrations in our clinical psychology and clinical mental health counseling programs as well as houses a number of centers that provide services to the community and direct training experiences to students.
Topics/Tags
Follow William James College
Media Contact
Katie O'Hare
Senior Director of Marketing