Alum Spotlight: Five Questions with a Health Psychologist
By Josh Rizkalla, Communications and Media Relations Associate
Sep 9, 2022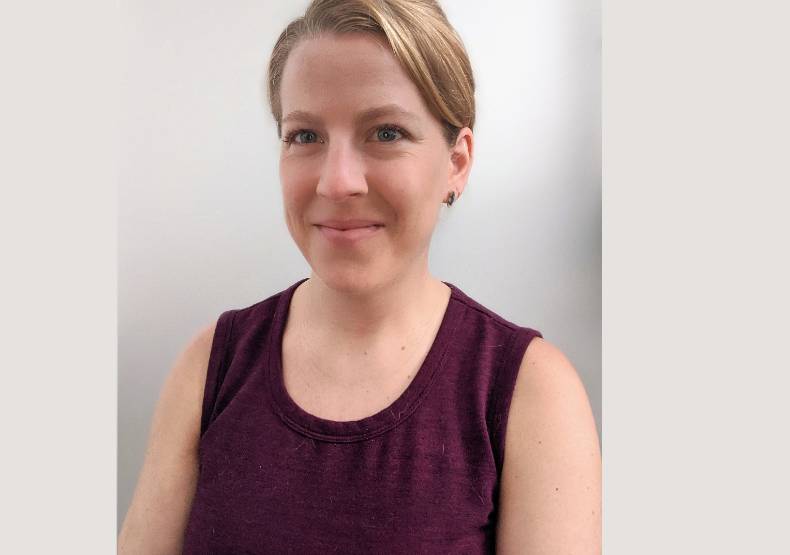 Amy J. Clara, Class of 2017
PsyD in Clinical Psychology, Concentration in Clinical Health Psychology

Current Job Title: Staff clinical psychologist (MGH, Cancer Center), term lecturer (MGH IHP, Genetic Counseling Program)
Dr. Amy Clara is a 2017 graduate of William James College's PsyD in Clinical Psychology with a concentration in clinical health psychology. Students in this concentration explore the relationship between physical and mental health and typically pursue careers that support the well-being of patients suffering from long-term illness or facing increased health risks. Clinicians help patients adopt positive health behaviors, manage physical symptoms through non-pharmacological strategies and/or cope with their emotions related to their medical diagnosis.
Clara's post-doctorate work was in an integrated care setting where a mental health provider is introduced into a primary care health setting to assist referred patients with consultations and next steps related to their health. We spoke with Clara to learn more about the field of clinical health psychology and potential career paths.
The conversation has been edited for clarity.
You completed your post-doctorate work in an integrated care model, could you talk about that experience and your role within that work? Is this something you've continued in your career?
My post-doctoral fellowship was in integrated primary care in Southwest Massachusetts. My central office was a group practice, but I traveled to a different primary care office four or five days a week. Each primary care office was in a different town, and I was given one of the primary care provider's (PCP) offices to use for the day. I worked with about 20 different PCPs in addition to nurses, administrators, and family care coordinators in family medicine as well as adult medicine.
All of my referrals came from the PCPs, so the population was incredibly diverse, diagnostically, in severity, age, resource access, family culture, and education. I had two supervisors, one of whom I traveled with to the various offices and one stationed at the group practice. As this was a self-developed fellowship, I was given the opportunity to fill my own didactic hours and I was able to attend lectures and conferences that were relevant to whichever population I might need training exposure to that week. Under the care of my supervisors, I was able to develop a research project that studied assessment-based practices in PC settings and presented a poster at an academic conference.
I chose a PC fellowship to gain exposure. I knew I eventually wanted to "fine-tune" my patient population focus, but first I wanted to see which patients I enjoyed working with.
I did not continue with PC because I wanted to focus on a medical specialty. I do, however, use my experience to inform collaborative work and referrals with PCPs at the hospital and my patients' PCPs.
There is a lot of discussion around the patient benefits of an integrated care model including a reduction in waiting time, more accessibility to mental health care, and a reduction in stigma. Does that align with your experience?
On a microscale, yes, on a macroscale no. In my opinion, there is still a major gap in education, both among medical professionals and the general population, about how, when, and what to access for appropriate mental health care. Due to the overwhelming need and/or recognition of the need for mental health care, PCPs have been most often a primary resource for accessing care, but the referral system between PCP and integrated therapists is typically not a well-organized nor time-sensitive one. I do have hope that the normalization of primary care integrated therapists will improve this over time, but systemic changes need to be made for the evolution to be successful.
Do you have a sense of how these models are received within the medical community? Is there a sense of these types of facilities expanding?
The medical community seems to be highly supportive of the concept. There is a gap between being supportive and engaging in collaborative care, but that too, I believe, is due to poor systemic structure, such as dedicated time to case discussion and cross-discipline education.
What can students who may see these types of models as a potential career path through the Clinical Health Psychology concentration expect?
Students can expect to find an incredible, unique experience with clinical presentations you wouldn't see elsewhere. There will be plenty of opportunities to practice every form of therapy or behavioral intervention you have learned. There is a great deal of schedule flexibility. Often, primary care patients had a variety of schedule needs, so I was able to match my schedule to both my personal and patient needs. As a clinical health psychologist, there are many opportunities to "be the change you want to see in the world."
How did your experience at William James help your work following graduation?
Course exposure and the consortium prepared me well for critical thinking and creative approaches to integrated mental health care. Also, Dr. Carolyn Rabin, director of the Clinical Health Psychology concentration, is a phenomenal role model who is encouraging and connecting. If this interests you, I would encourage you to explore the Clinical Health Psychology concentration.
Topics/Tags
Follow William James College
Media Contact
Katie O'Hare
Senior Director of Marketing