Celebrating 231 graduates and three honorary degree recipients
By Staff Report
Dec 15, 2017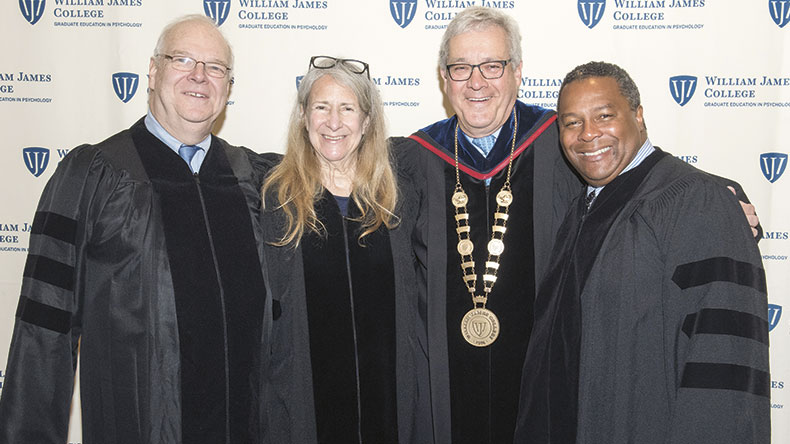 June 4th marked an exciting day at William James College, when 231 students graduated! The newest alumni included 102 graduates of the Clinical Psychology Program, 85 graduates of the Clinical Mental Health Counseling Program, 26 graduates of the Organizational Psychology Program, and 18 graduates of the Certificate of Advanced Graduate Studies in School Psychology Program.
During the ceremony, President Nicholas Covino highlighted the importance of the graduates' community work. "William James' belief was that psychology should be applied to remediate human problems and that students should learn their craft by doing it under supervision of experienced professionals. This year William James College students contributed more than 185,000 hours of psychological services to the community, which is the equivalent to the work of more than 105 full-time mental health professionals."
President Covino also bestowed an honorary degree on commencement speaker Margot Stern Strom, founder, president emerita and senior scholar at Facing History and Ourselves, a nonprofit organization dedicated to engaging students of diverse backgrounds in an examination of racism, prejudice, and antisemitism to promote the development of a more humane and informed citizenry. The program encourages teachers to implement critical academic discussion of gender and race equity, and fosters learning in students so they can make connections between current events and history.
Strom talked to the graduates about the importance of "being trusted with others' truths and the ability to empathize." She said, "You are the truthtellers and you are bringing value to people who have not yet been valued by society. You need to take the resilience you learned here and rely on others to move forward to appreciate the value of others and what you do."
Honorary degrees were also awarded to James Roosevelt, Jr., advisor to the CEO and board of directors of Tufts Health Plan (THP) and the grandson of US President Franklin D. Roosevelt and Eleanor Roosevelt, and Robert Lewis, Jr., founder and president of The BASE.
Roosevelt was recognized for his leadership in mental healthcare. Formerly the CEO of THP, Roosevelt led THP to become the largest qualified health plan in enrollment on the Massachusetts Affordable Care Act marketplace and the largest Medicare Advantage Plan in New England.
Lewis was awarded the degree for his work at The BASE, which plays a key role in shifting the national mindset and re-imagining pathways to success for urban youth. It utilizes baseball to support student athletes and help inner-city children find success in both athletics and academics. In addition to launching The BASE, Lewis was the visionary behind StreetSafe Boston, the only privately-funded gang program in the country aimed at reducing gun violence.
Concluding the ceremony, Covino told the graduates, "A commencement ceremony is not an end, but it is a beginning. Business and industry need the leadership and organizational skills that you have honed here. As you leave, know that you can call on us to continue to be part of your learning and growth."
He added, "William James College attracts and supports bright and compassionate leaders who will leave here today with the skills to meet the needs in their community and make a difference."
Topics/Tags
Follow William James College
Media Contact
Katie O'Hare
Senior Director of Marketing