Critical Collaboration: Students Reap the Benefits of Partnerships with ABA Organizations
By Staff Report
Dec 8, 2022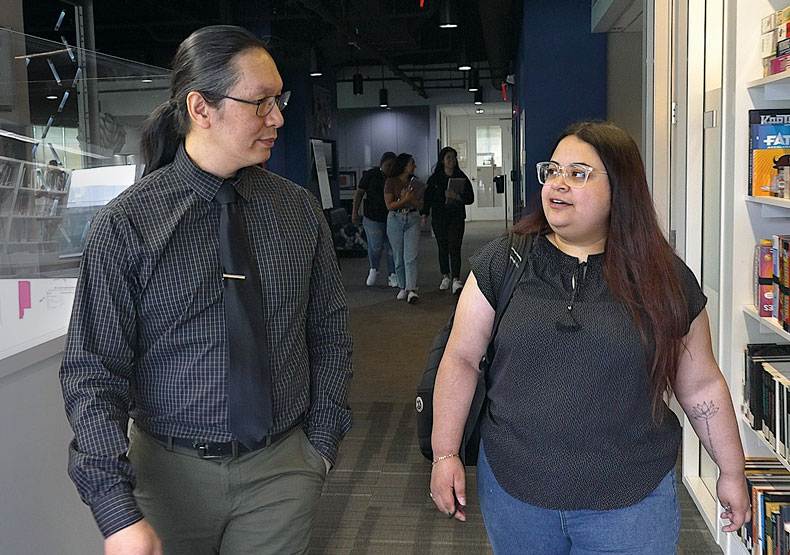 Last year, Vanessa Benitez Cisneros graduated with a bachelor's degree in psychology and found herself uncertain about the next step in her career.
"I felt stuck," Cisneros said. "I always had it in mind that I wanted to be a mental health counselor, but I had been working in an officejob for six years and didn't know what I wanted to do next."
After talking to a co-worker about their experience working in the Applied Behavior Analysis (ABA) field, Cisneros decided to apply to Positive Behavior Supports (PBS), an agency that provides ABA therapy and behavioral support to children and their families following an autism diagnosis.
She quickly fell in love with the work she would do supporting children through in-home and classroom interventions.
"I don't like to branch out a lot," Cisneros said. "When I finally did and applied to PBS, that's really when I saw the countless opportunities that I have. That's when I got to discover something that I truly love."
Eager to advance her skills and earn credentialing as a Board-Certified Behavior Analyst (BCBA), she applied to the William James College Master of Arts in Applied Behavior Analysis program soon after starting in the new role. Through an organizational partnership agreement between the College and PBS, students can use their job as their fieldwork site while they learn in the classroom. Students from partner organizations benefit from an accelerated admission process and qualify for a significant tuition scholarship.
Now, halfway through the six-semester, 24-month online program, Cisneros has felt the impact of the partnership on her educational journey.
"I'm always putting the classroom concepts and the field experience together, so I understand that much more. It just puts it all together for me," Cisneros said.
Dr. Ronald Lee, director of the ABA program, agrees, calling the partnerships "critical to student success in the program."
He added, "As a field largely devoted to helping people with a wide range of needs, the experience that our partners provide gives students the chance to make contact with everything that comes with the successes of helping a child and their family as well as the frustrations that come with the challenges and obstacles that arise."
Each student who comes to the ABA program from these partner organizations brings a different background and range of experiences into classroom discussions.
Through the student's experiences with different partners, our partner organizations become a part of the classroom education. Without these experiences, it would take a student years over the course of their career to learn what they can be exposed to over the course of a semester."

—Dr. Ronald Lee, Director, Graduate Programs in Applied Behavior Analysis
Laurie Bonavita, regional clinical training coordinator for PBS, shared that the partnership
with William James has been "extraordinary," adding that the College "supports its students in such a way that PBS is able to provide a robust and meaningful applied experience to these trainees. The trainees come to our team knowledgeable and prepared to transfer their classroom learning to their supervision experience."
As Cisneros looks back, she is amazed at how much she has changed in such a short time. She recalls feeling emotional after her recent final session with a child she first began working with when she started at PBS.
"Remembering him a year ago, and seeing the progress he's made, makes everything worth it," Cisneros said. "Knowing I helped improve his behavioral challenges makes all the difficult
moments worth it."
Cisneros is no longer stuck, and she knows what she wants to do after she graduates later this year. After becoming a BCBA, she hopes to work in a classroom setting to help ensure children diagnosed with autism have the same opportunities as neurotypical students.
"I would love to be the one creating intervention plans for these children to help improve their lives and allow them to be understood and seen like everyone else," Cisneros said.
Topics/Tags
Follow William James College
Media Contact
Katie O'Hare
Senior Director of Marketing