D'Angelo Returns to William James College Board After Eight Years
By Staff Report
Feb 27, 2015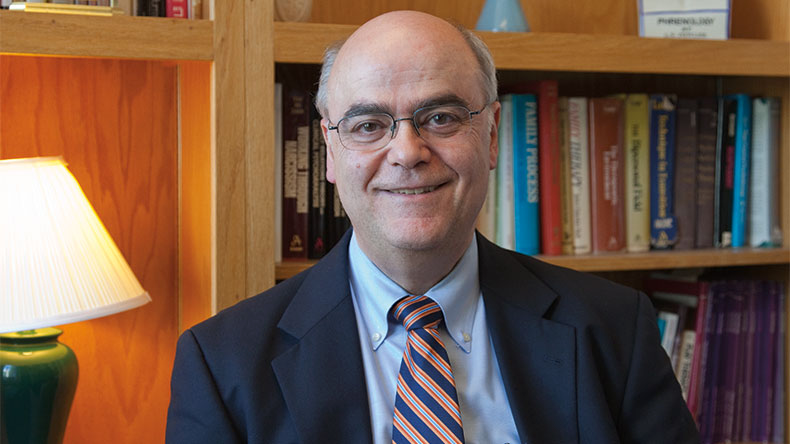 Dr. Eugene Joseph D'Angelo, Chief of Psychology at Boston Children's Hospital, holds the Linda and Timothy O'Neill Endowed Chair in Psychology, is an Associate Professor at Harvard Medical School and also Children's Director of the Outpatient Psychiatry Service. His academic and administrative positions, awards, activities and peer-reviewed publications would require increasing the length of Rapport by many pages.
D'Angelo is no stranger to William James College. In addition to having served on the Board from 2001-2006, he has, in his professional capacities, hired many William James College graduates. He has high praise for William James College alumni, especially those with clinical roles, Harvard faculty appointments, and specialized interests such as autism and integrated care. He singles out Drs. David Stein, Jonas Bromberg and Jennifer Gentile as three William James College alumni whose skills, curiosity and leadership he says deserve special praise. "William James College has established a vision and mission for itself," he says now, "with a true sense of bringing social commitment and social justice to a variety of its training and education initiatives. William James College has an important role on the national landscape of education and training," he says.
I wake up excited about my day at work, about new initiatives in psychology and to contributing in areas of social well-being.
—Eugene D'Angelo
"I love this field," says D'Angelo with enthusiasm. "I wake up excited about my days at work, about new initiatives in psychology and to contributing in areas of social well-being." The wave of the future, according to D'Angelo, who has been on the staff at Children's for 33 years, "is integrated care where psychologists will work closely with pediatricians in primary care settings, requiring that they know a variety of interventions and assessments."
D'Angelo is a lover of many sports, especially sailing. Being out on the water, he says, requires him to be keenly aware of the currents and focused on charting a course. The metaphors are not lost on this William James College board member, scholar, clinician, teacher, mentor, sailor, husband and father.
Topics/Tags
Follow William James College
Media Contact
Katie O'Hare
Senior Director of Marketing