Dr. Kris Taylor Co-Leads Training on Effective Implementation of Equitable and Inclusionary Practices
By Katie O'Hare, Senior Director of Marketing
Jul 28, 2022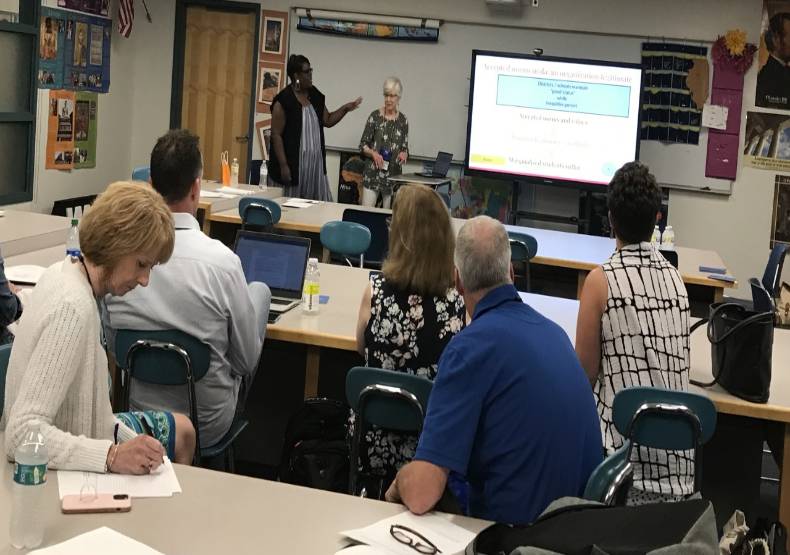 The Center for Behavioral Health, Equity, and Leadership in Schools (BHELS) at William James College joined the Massachusetts Association of School Superintendents (MASS) Executive Institute to promote the critical work of educational equity, racial understanding, and organizational transformation. The theme of the institute was Looking Ahead: Promoting Equity, Wellness, Academic Achievement, and a Culture of Care for All.
Kris Taylor, EdD, director of the William James College Graduate Certificate in School Leadership and director of DEI for BHELS, delivered a presentation with Christine Francis, EdD, co-leader of the MASS Assistant Superintendent Leadership Seminars and the MASS Mentor Program. The presentation, Moving from Valuing Diversity, Equity, and Inclusion to Employing Effective Leadership Strategies, focused on helping educational leaders move towards the successful implementation of inclusionary practices, and identify next steps they could take to achieve equitable outcomes, for students in their learning communities.
Ryan Lynch, assistant superintendent of the Silver Lake Regional School District, valued the learning experience and the research sources embedded throughout the presentation. "Taylor's presentation style emphasized a collaborative approach by encouraging sharing, individual reflection, and space for questions," he said.
"She shared several excellent research sources during the presentation. I felt like I walked away with many productive paths to pursue related to equitable learning environments."
One of these research sources included the concept of the Margin of Tolerance, which was developed by Dr. Andrea K. Rorrer, associate dean at the University of Utah. According to Rorrer, the educational leader's role, in providing an equitable learning environment, includes being cognizant of the school community's ability to acknowledge inequity. To implement changes, the school leader needs the support of parents, teachers, and students. They must, therefore, constantly be mindful of this margin of tolerance and work to both advance equity and delegitimize inequity concurrently.
In thinking about this concept, Lynch shared, "Conflicts emerge when districts undertake equity work, and we must constantly be mindful of the effects of old structures and policies as we design and build more equitable ones."
Employing effective leadership strategies was a key tenet of the presentation. Jason DeFalco, EdD, superintendent of the Blackstone-Millville Regional School District, explained, "There is much that I can bring back to the district from the session, but one of the most helpful pieces is ensuring that our strategic plan is addressing the equity work in all areas… in the most assertive way possible."
For DeFalco, the state graduation data spoke to the importance of this work. According to a 2018-19 report from the National Center for Education Statistics, white students graduate at higher rates than Black students in every state. In Massachusetts, 93% of white students graduate compared to 80% of Black students. "The large gap in high school graduation rates by race was incredibly eye opening and deepened even further the urgency around the work that we are all doing," said DeFalco "It screams the 'why' of this work!"
Taylor valued the opportunity to lead the session on employing effective leadership strategies and represent the BHELS Center at William James College. BHELS provides school districts; leaders; educators; mental health professionals; and diversity, equity, and inclusion professionals with a holistic, integrated set of programs, professional learning opportunities, and resources designed to foster healthy, inclusive school climates.
If you are interested in exploring these topics further, consider an advanced degree to help you move your school forward. Taylor is the director of the Graduate Certificate in School Leadership for Educational Equity, Racial Understanding, and Organizational Transformation at William James College. Learn more here.
Topics/Tags
Follow William James College
Media Contact
Katie O'Hare
Senior Director of Marketing