Dr. Robert Brooks Receives William James College Mental Health Humanitarian Award
By Staff Report
Nov 5, 2018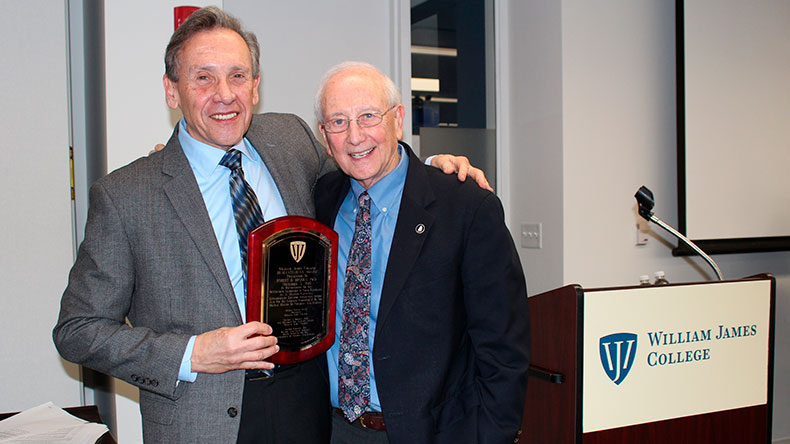 Through the Mental Health Humanitarian award, William James College celebrates the contributions of people who are truly, in the words of the College's motto, "Meeting the Need" and "Making a Difference." The 2018 William James College Mental Health Humanitarian Award has been awarded to Dr. Robert Brooks, former director of the department of psychology and of psychology training at McLean Hospital, and a member of the faculty at Harvard Medical School
A renowned speaker, Dr. Brooks has lectured nationally and internationally on topics such as motivation, resilience, family relationships, the qualities of effective leaders and executives, and balancing our personal and professional lives. He has also written extensively about these topics and is the author or co-author of 17 books. The award was presented during a day-long conference held in Dr. Brooks' honor at the College on the theme "Nurturing Resilience in Children and Families."
The inscription on the plaque given to Dr. Brooks read, "In recognition of his outstanding leadership in child psychology as a master clinician, extraordinary educator, influential author, and for his lifelong commitment to the mental health of children and families." It was presented Dr. Stanley Berman, vice president for academic affairs and associate professor in the department of clinical psychology, on behalf of the College, William James College President Dr. Nicholas Covino, and Dr. Arnold Kerzner, founder and chair emeritus of the Boston Institute for the Development of Children and Families.
"Dr. Brooks' leadership extends well beyond his academic positions and affiliations," said Berman. "At a time when child psychology was focused on psychopathology, Robert Brooks invited us all to examine the positive factors within children, families and communities that foster self-esteem and resilience. His strength-based emphasis was prescient in inviting parents, educators and child mental health professionals to view the whole child in her context and to facilitate resilience."
Berman continued, "A humanitarian dedicates his or her life to improving the lives of others. Dr. Robert Brooks has been a pioneer, an innovator, a master clinician, and a superb educator with a large reach and impact."
The conference was offered as part of the College's continuing education program. Speakers and panelists for this conference included: Dr. Robert Brooks; William James College Alumna Dr. Jennifer Brownstein; Dr. Arnold M. Kerzner; and William James College Faculty members Dr. Julie L. Ryan and Dr. Gemima St. Louis. Taking a "strengths-based stance," the program examined "theories, factors, and processes that promote resiliency in children, parents, families and systems" with speakers providing examples of their work promoting resilience using a strengths-based approach in various settings with diverse populations.
Topics/Tags
Follow William James College
Media Contact
Katie O'Hare
Senior Director of Marketing