William James College First Annual Reunion Weekend
By Staff Report
Feb 27, 2015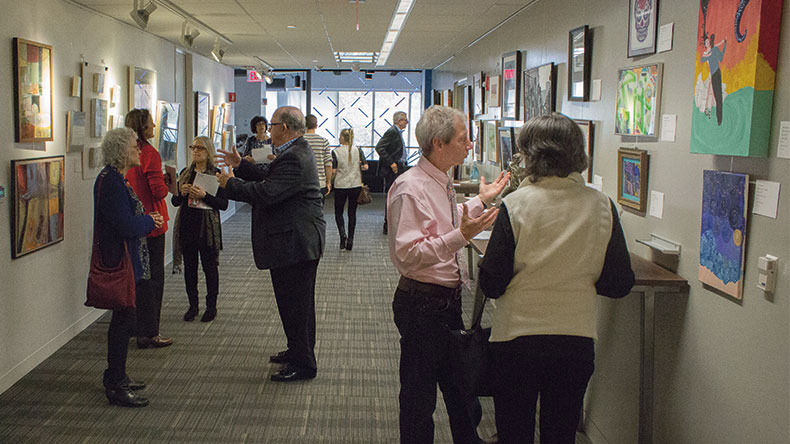 From recent graduates to those whose degrees are nearly 30 years old, William James College alumni brought affection, respect and gratitude to the school that shaped their personal and professional lives.
Director of Alumni Relations and Dean Emeritus, Dr. Alan Beck, thanked alumna and Trustee Barbara Gannon who spearheaded the "Conversations with Alumni" initiative and then put the work of alumni into context: "In a world fraught with crisis, anxiety and fear, we need only to listen to the daily news to know that intervention is required to manage the pervasive unrest, assault and danger experienced by many. Through our expanded vision, William James College is touching the lives, organizations and communities of our world with ever-increasing impact. And you are the instruments of such effectiveness."
Following an historical presentation by Dr. Stanley Rosenzweig, one of William James College's founders, President Nick Covino offered a brief overview of William James College's tremendous growth over the last dozen years and an enthusiastic call for further engagement. Dr. Robert Kinscherff, Associate Vice President for Community Relations awarded Charlene M. Bonner, PsyD, class of 2005, the Florence H. Lerman Mintz Award for Distinguished Alumni. Dr. Bonner specializes in forensic psychology and addictive disorders, is Chair of the Parole Board of the Commonwealth and a consultant to the Criminal Justice System. Tina Forrister, MA, class of 2011, an organizational psychologist, standing in for Dr. Kathryn Stanley, Program Director of Masters of Organizational Psychology Program & Talent Management Concentration, awarded EJ Olson, MA, class of 2014 the Achievement Award for Recent Alumni for EJ's extraordinary work with LGBTQ teenagers (see article).
Sally Powis, MA, Julie Lerner, MA and Melissa Alvino, MA, all from the class of 2014, report that they have moved smoothly from classmates to colleagues since graduating and have high praise for the skills and experience their William James College work afforded them. Kumkum Pareek Malik, PsyD, class of 1996, began her William James College studies as a mother of two young children, ages three months and four years. "I have a passion for motherhood," she says. "Most women present with symptoms that no one connects to being a mother. Our work as mothers is invisible." She sums up her philosophy with the Sanskrit word swayum-siddha, meaning self-liberator, an approach that helps her patients to find their own strengths. "I give our work as mothers legitimacy," she says. Malik also works in a pro bono capacity with the women of the Southeast Asian Community in the Burlington, MA area.
The Saturday Conference on Psychological Assessment for Immigrants and Refugees was presented by two more extraordinary alumni, P. Michelle Contreras, PsyD, Program Director, MA in Counseling Psychology in Global Mental Health and Joseph Gorin, PsyD, Counseling Psychology in Global Mental Health Faculty as well as William James College faculty Richard F. Mollica, MD. Setting the tone with the words engraved at the base of the Statue of Liberty by Emma Lazuras, Give me your tired, your poor, your huddles masses, yearning to be free, Contreras and Gorin talked about the resilience, passion and energy of the individuals seeking asylum, freedom and psychological survival from persecution and abuse of many kinds—political, physical, emotional and sexual. Among the alumni in class was Dr. Jeanne Lauer Williams, a nurse, attorney and psychologist, who worked with torture and trauma survivors.
Beck also curated an art exhibition of William James College students, faculty, staff and alumni work.
Popular Topics/Tags
Follow William James College
Media Contact
Katie O'Hare
Senior Director of Marketing and Communications