5 Tips for Writing Your Graduate School Admission Essay
By Sarah Johansson, Assistant Director of Marketing
Jul 18, 2022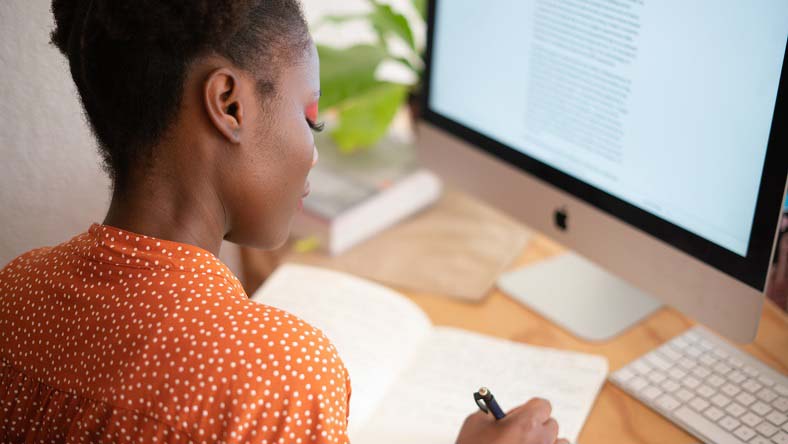 While your graduate school application provides the admissions team with information about your grades and experience, many programs at William James College also require an essay. The requirements may differ by program, but the goal is the same: to get to know you and your aspirations beyond the information on your resume and/or transcript.
The William James College Clinical Psychology PsyD, Leadership Psychology PsyD, MA in Clinical Mental Health Counseling, MA in Psychology, MA in Organizational Psychology, MA/CAGS in School Psychology, Graduate Certificate in Executive Coaching, Graduate Certificate in School Leadership, and Applied Behavior Analysis programs all require that you submit an essay as part of your application. Please view the specific essay details for your program here.
Read (and Reread!) the Prompt
As you begin to work on your graduate school essay, you may notice you'll need to address several topics in your writing. Don't overlook these details. Before you begin, as you revise, and after you've finished your final draft, make sure to double-check all the essay requirements including questions to answer, word or page counts, and any formatting specifications.
Review Your Resume, Qualifications, and Goals
You are the best expert on yourself, and you should use your application essay to display that. Before you start writing, brainstorm ideas for how you can best respond to the prompt. Jot down bullet points for each required topic, and try looking back over your resume, or thinking about answers to questions like the following, for some ideas.
What do I hope to achieve with this degree?
Why am I applying to William James College specifically?
What is my ultimate career goal?
What about me is unique, or what will I bring to this program?
What about my experiences makes me an ideal candidate for admission to this program?
Think About Your Audience
At William James, our admissions team, potential interviewers, and future faculty members will be reading your essay. Think about what you would like to tell them or what you hope they learn about you through your writing. Remember, this is not an academic essay for class—it is a personal narrative that tells your story.
Don't Get Bogged Down by Your First Draft
Starting an essay can be overwhelming, especially when it is part of your graduate school application; don't worry, however, about making your first draft perfect. Think about what writing process works for you. Do you want to start with an outline? Is it easier for you to write out everything that comes to mind, then pare it down? Whatever your writing style is, remember it will be easier to edit than to create, so just start writing!
Proofread, then Proofread Again
After you've spent time crafting a detailed narrative about yourself and your goals, the last thing you want is for the admissions team to find a typo or grammatical error. Don't let yourself look unprofessional by forgetting to review your final essay before submitting. Here are some tips.
Try reading out loud. This will make you slow down as you read and help you check for sentence flow, missing words, and other mistakes.
Try reading backwards. This will force your brain to look at words individually and check for spelling errors.
Have a friend, family member, or colleague read your essay. They will have fresh eyes and might have suggestions or catch errors you may have missed.
Don't Forget
The essay is only one part of your application. Review your program's application requirements to make sure you have submitted everything else.
Still need your transcripts? Reach out to your institution's Registrar's Office or check the National Student Clearinghouse listing here.
Stuck on finding letters of recommendation? Get tips and a template for reaching out to recommenders here.
Have other questions? Contact the William James College Admissions Office at info@williamjames.edu or call us at 617-564-9376. The admissions team would be happy to walk you through the application process.
Topics/Tags
Follow William James College
Media Contact
Katie O'Hare
Senior Director of Marketing