Franklin Elementary Leadership Team Finds Support and Affirmation of their Social and Emotional Focus in William James College Program
By Staff Report
Mar 15, 2018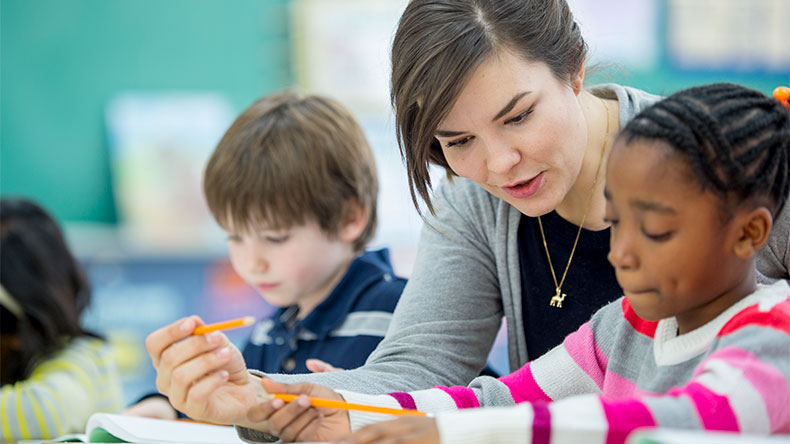 If you're looking for a town and a school system dedicated to teaching elementary school students the values that contribute to a positive, humane society, look to Franklin, Massachusetts. There you will find an elementary school full of compassionate elementary school teachers teaching young children tolerance, understanding and compassion for one's fellow human beings. The commitment to a positive, supportive culture is so strong that a team of teachers from the Oak Street School is pursuing a Graduate Certificate in School Climate and Social and Emotional Learning at William James College.
Kate Peretz, Principal of Oak Street School, 5th grade teachers Kristen Farrell and Heather Adams, and school psychologist Diane Petit are members of the social emotional learning leadership team for the Oak Street School and they were awarded the opportunity to pursue the William James certificate by the school district's superintendent. The Franklin school district has been working to build a positive elementary school climate and culture for years now and educational training for the leadership team is one more pillar of that effort.
"In our school district, teachers work together to build relationships with students from the first day of school," said Farrell. "We want students to feel safe, loved and supported in the classroom and to have a sense of belonging throughout the entire school. Teachers focus on connecting with their students for the first six weeks of every school year.
"We employ the Responsive Classroom method, a positive and proactive approach to interactions between teachers and students, and among the students themselves," said Adams. "It fosters confidence within each child and among classmates as well."
It's not just a "feel-good" approach to interpersonal relationships. Responsive classrooms get to the underlying behavior that can cause bullying and other destructive behaviors. Teachers regularly ask "What supports do we need to put in place for children with negative behaviors?" According to school psychologist Petit, the goal is "more about growth and less about punishment."
Young students struggling with emotional difficulties benefit greatly from the Oak Street School approach. "We used to pull them out of the classroom to teach them appropriate behaviors and language," said Petit. "They would return to the classroom where fellow classmates didn't necessarily have the same knowledge. Now the entire classroom is modeling that behavior so there is much more support for these children."
The program at William James is putting facts and figures behind the teaching that occurs every day at Oak Street School. The 9-month, evidence-informed, blended course of online and in class-room work addresses multiple dimensions for transforming, creating and sustaining a positive school culture and climate. It focuses on training teams of school staff including teachers, school mental health providers and administrators and improving child emotional and academic learning at a district and system level. That's exactly the type of work being pursued every day in the Franklin school district. It's almost like the course was made for them.
The consensus of the leadership team at the Oak Street School is that William James has elevated their thinking from an intuitive level to an evidence-informed model, shored up with data and clinical research. It is also giving them the tool kit they need to model practical skills for fellow teachers in order to further embed positive culture into the school.
"We naturally practice positive behavior modeling and have been teaching this way for years," said Principal Peretz. "However, we did not know the brain research, evidence-based models and data behind the programs that we employ. It has given us a deeper understanding and insight into why what we do works, not just how it works."
Ask the leadership team members what they are getting out of the William James program in school climate and SEL, you will hear exciting answers:
"We feel the importance of it. It has peeled away layers that we didn't know existed," said Adams.
"It has brought the issues to a micro scale for us, helping us to feel even more competent," said Farrell.
"The data analysis has really pushed us to think outside the box and challenged us," said Peretz.
"We will be able to take our approaches to teaching, learning and social thinking and help to implement them system wide," said Petit.
In the halls and classrooms of Oak Street Elementary, children are being taught tolerance, compassion and understanding from a very young age. They are being given the tools and insights necessary to change society, at the very least. At the very most, they might just change the world.
Topics/Tags
Follow William James College
Media Contact
Katie O'Hare
Senior Director of Marketing