Graduate Certificate in School Leadership Prepares Future Principals to Lead with Equitable Strategies in Mind
By Josh Rizkalla, Communications and Media Relations Associate
Sep 9, 2022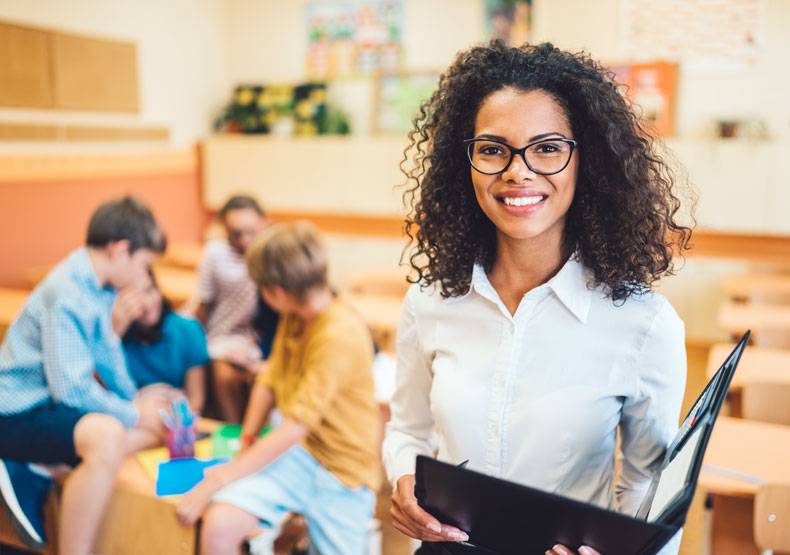 What are the essential skills a school leader needs? The answer is different today than it was a year ago or five years ago. According to Dr. Kris Taylor, director of the Graduate Certificate in School Leadership through the Center for Behavioral Health, Equity, and Leadership in Schools (BHELS) at William James College, successful school leaders need to be prepared to respond to the evolving needs of society and understand the nuances and impacts of their decisions on the various stakeholders within a school system.
Taylor used her past experiences as an urban school principal, district leader for Boston Public Schools and the Massachusetts Department of Education, and as a consultant for educators to develop the Graduate Certificate in School Leadership for Educational Equity, Racial Understanding, and Organizational Transformation (GCSL). The GCSL is a principal preparation program designed to address the challenges participants will likely see as future leaders and provide them with the resources necessary to establish inclusive environments for both students and adults.
"Participants are having conversations about how to be responsive to state, federal, and district policies; how to anticipate resistance; be socially aware of individual identity; and build team culture with a shared vision," Taylor said.
The first cohort of nine students began courses in the fall of 2021, coming to the program while serving various roles within local urban and suburban public-school systems. Some have spent time in administrative roles such as social work positions or as assistant superintendents, while others bring experience as teachers.
Over three semesters, the 18-credit online program explores concepts such as racial identity, data analysis, organizational leadership, and social-emotional competencies. Professors bring experience as either school leaders or leadership consultants. The program utilizes readings and case studies to identify persistent challenges in schools and teaches effective responses that lead to inclusion and belonging. The program is aligned with the Department of Elementary and Secondary Education administrator standards, prepares students for Massachusetts licensure requirements, and its practicum requires 500 hours of on-site school experience. While many students seek principal certification, not all students enroll for this reason. Non-educators, who want to gain a deeper understanding of inclusive leadership are welcome to apply.
Students graduate with the ability to navigate future leadership positions with a much deeper understanding of themselves as a leader, enabling them to transform school cultures and advance student learning.
"What students and families need from schools is constantly changing," Taylor said. "In addition, this role is in the public eye."
Decisions or changes may evoke many reactions, and good leaders center students, involve families, encourage teachers, and include those who may disagree, while holding everyone accountable to reach high goals.
"We want leaders to be the ones, as a result of this program, who are able to lead these discussions and engage people across the school community, so they can be heard, but at the same time, bring others together," Taylor said.
Several cohort members have joined the GCSL through a partnership with Boston Public Schools and The Metropolitan Council for Educational Opportunity, Inc. (METCO), a K-12 program that expands educational opportunities for marginalized students and increases diversity in the classroom.
Marika Hamilton, the METCO director for the Lincoln Massachusetts school system, came to the program looking for strategies to better incorporate diversity training into her work. Hamilton says the discussions and readings have provided her with a deeper perspective and valuable resources.
"[The classes have] made me look for opportunities to engage and respond as an inclusive school leader," Hamilton said. "If I'm in an IEP meeting, or I'm talking about trauma a student might be experiencing, or we're only talking about academic achievement, and we're not bringing up the culturally responsive piece of it and the identity of the student, then I find myself really drawn back to the readings and some of the strategies we use, especially when you want to be heard. That has truly been rewarding on a personal and professional level."
Prior to starting the program, the mother of three young children, already working a full-time job, was hesitant as to whether she could incorporate the program into her life. Now a current student, she praised the program's flexibility for working adults and the ways her professors incorporate student feedback into the learning model.
Hamilton is preparing, through the certificate program, to earn principal licensure, and in the near future, she is also interested in earning her doctorate. The GCSL program supports those interested in that path, and a portion of credits earned can be applied toward the Leadership Psychology PsyD program in the Organizational and Leadership Psychology department.
The School Leadership program will continue to support these aspiring leaders and explore methods that best provide for students in a way that fully realizes their social-emotional needs and identities. These considerations ensure that these future school leaders can adapt to the challenges they can anticipate, understand a student's full potential, and completely support their entire school community.
The Center for Behavioral Health, Equity, and Leadership in Schools at William James College (BHELS) provides school districts, leaders, educators, mental health professionals, and diversity, equity, and inclusion professionals with a holistic, integrated set of programs, professional learning opportunities, and behavioral and mental health resources designed to foster healthy, inclusive school climates where children can flourish and thrive.
We view the challenges schools face through a psychology-informed lens—enabling us to identify their root causes and provide high-impact solutions.
The BHELS Center at William James College partners with the following public and private schools:
Acushnet Public Schools • Avon Public Schools • Berlin-Boylston Regional School District • Blackstone-Millville Regional School District • Boston Public Schools • Burlington Public Schools • Easton Public Schools • Lexington Public Schools • Norfolk Public Schools • Norton Public Schools • Old Rochester Regional School District • Peabody Public Schools • Quabbin Regional School District • Salem Public Schools • TECCA/Connections Academy • Wachusett Regional School District
Topics/Tags
Follow William James College
Media Contact
Katie O'Hare
Senior Director of Marketing