June '13 Graduate Assumes Challenges as a School Psychologist
By Staff Report
Nov 1, 2013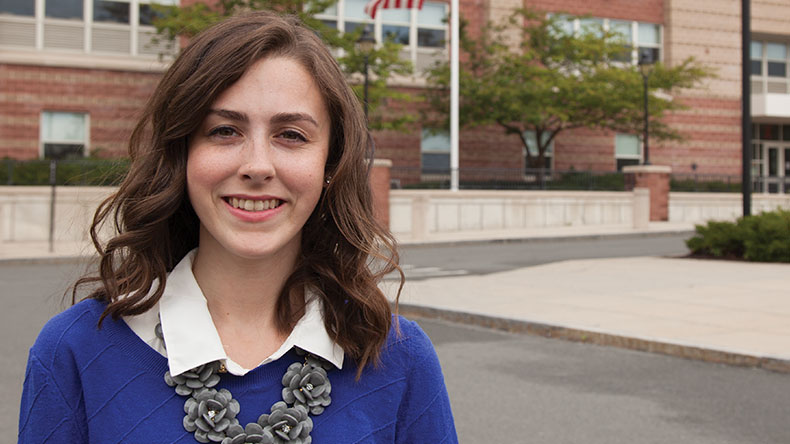 Many William James College alums express high praise for the graduate school's faculty, and Erika Johnson, MA/CAGS, is no exception. What seems to distinguish her enthusiasm for the women and men who taught her to become a valued school psychologist is that she's only been at the job a month and already feels superbly prepared for its complex challenges. In an elementary school not far from New Haven, Connecticut, Johnson shares responsibility for 435 young people with a team of school personnel.
"I love being here," she says, " and people in the district tell me I'm doing a great job. I have my teachers at William James College to thank for that." She talks about Dr. Bruce Ecker and Dr. Bob Lichtenstein in particular for having taught her so much "critical stuff" like psycho-educational assessment, children's life-span development, theories of counseling and psychopathology. "From day one," she insists, "everyone was very welcoming and made you feel at ease. We were immediately working in the field and could come into the classroom and get support for what we were doing." She credits her teachers also being clinicians as a reason her education felt so realistic and relevant. "It wasn't just academic or theoretical," she explains. "It's a concrete hands-on approach. I still feel I could call any faculty member for advice."
Johnson's experiential learning added immeasurably to her confidence and her skills. "The field supervisors were passionate about their work and really great at helping us learn," she says. Johnson, like all of her School Psychology classmates, secured a job soon after graduation. She enjoys the variety of skills her job demands. "I have a counseling case load, do testing, facilitate meetings and write plans for kids. I wear many hats, but I love it. William James College prepared me well."
Topics/Tags
Follow William James College
Media Contact
Katie O'Hare
Senior Director of Marketing