Hearst Foundations Grant Supports Student Scholars Who Are Serving the Mental Health Needs of the Underserved
By Staff Report
Dec 5, 2018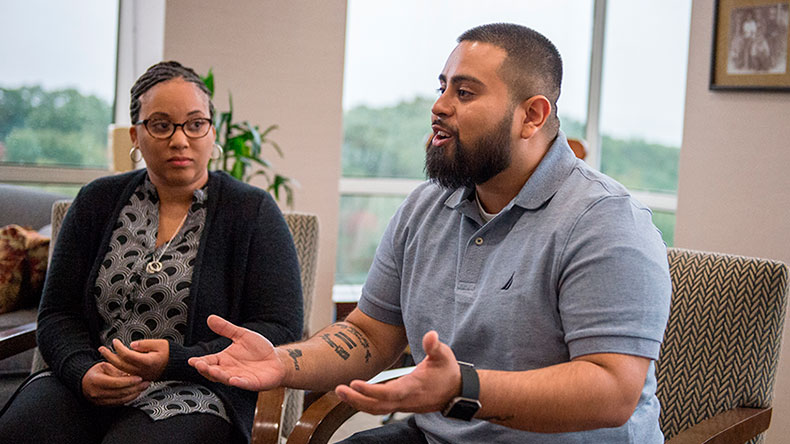 One in five Americans experiences mental illness in a given year, but for certain groups—due to economic, cultural, social, or logistical reasons—there is an added struggle to get help.
"The rate of mental illness (i.e., 1 in 5) is similar across culturally diverse groups. The disparity lies in access to and utilization of mental health services," said Gemima St. Louis, associate professor of clinical psychology and co-director of the Center for Multicultural and Global Mental Health (CMGMH). "What the research shows is that ethnic minority groups are less likely to receive adequate and culturally sensitive mental health services (compared to their counterparts) and they are less likely to remain in care."
William James College is committed to promoting social justice and addressing mental health disparities among historically marginalized populations across the country. This commitment is reflected throughout the College in our academic programs, through our centers, and in the work of our students, faculty, and staff.
One highly-competitive scholarship program, the Serving the Mental Health Needs of the Underserved scholarship program, aims to recruit, train and mentor graduate students committed to pursuing careers where they will provide culturally-informed mental health or organizational wellness services to underserved communities and recognizes the achievements and promise of students who are seeking Master's (MA), Certificate of Advanced Graduate Studies (CAGS) or Doctor of Psychology (PsyD) degrees. The program, which covers two-thirds of the recipient's tuition cost, welcomed an inaugural class of six scholars in 2017 and added five additional scholars this year.
Operating under the auspices of the CMGMH, the scholarship program identifies students based on a combination of academic achievements, volunteer and community service to underserved groups, demonstrable commitment to social justice and advocacy, leadership skills and financial need. As CMGMH Fellows, scholarship recipients actively engage in mentoring, outreach, social-cultural, and professional development initiatives – in the community and on campus. Among the mentoring opportunities that the CMGMH fellows engage in on campus is to work with students in the William James College Bachelor's Completion program.
This fall, the scholarship program received a generous grant from The Hearst Foundations. The $100,000 grant will provide partial financial support for the 2018-2019 scholarship recipients—Regina Banks, Presceia Olivia Cooper, Emily Crain, Christopher Rosales, and Jessica Sharp.
Presceia Olivia Cooper, a master's student in organizational psychology, has a long term professional goal to be a talent management and diversity leader; Emily Crain, a first-year clinical PsyD student, is invested in exploring the intersection of psychology and law and supporting policy initiatives that create systemic changes around mental health care and at-risk populations; Christopher Rosales, a school psychology MA/CAGS student, plans to provide mental health services to youth and families of color who have been impacted by community violence and have limited access to resources; and Jessica Sharp, a leadership psychology PsyD student, plans to expand her knowledge of topics related to inclusion, intellectual disabilities, social justice, the intersection of poverty and education, and the criminal justice system and its impacts on people of color.
Regina Banks, a school psychology PsyD student with a research interest on the experiences of microaggression among African American students enrolled in predominantly white schools, said being the recipient of this award will allow her to focus fully on her studies. "This is invaluable to me as a wife and mother of two babies," Banks said. "More importantly, I am honored to receive this award and will endeavor to fulfill its mission in becoming an agent of change and social justice in the mental health field."
The Hearst Foundations are national philanthropic resources for culture, education, health and social services organizations. The Foundations "identify and fund outstanding nonprofits to ensure that people of all backgrounds in the United States have the opportunity to build healthy, productive and inspiring lives."
"We appreciate the Hearst Foundations leadership in recognizing the importance of helping those from underserved backgrounds get the support they need to serve and help others," said Robert Whittaker, vice president for institutional advancement at William James. "We hope others will follow their lead to make sure exceptional students can pursue their professional aspirations."
Topics/Tags
Follow William James College
Media Contact
Katie O'Hare
Senior Director of Marketing