Hope links Haiti, Boston 5 years after quake
By Jeremy C. Fox
Jan 12, 2015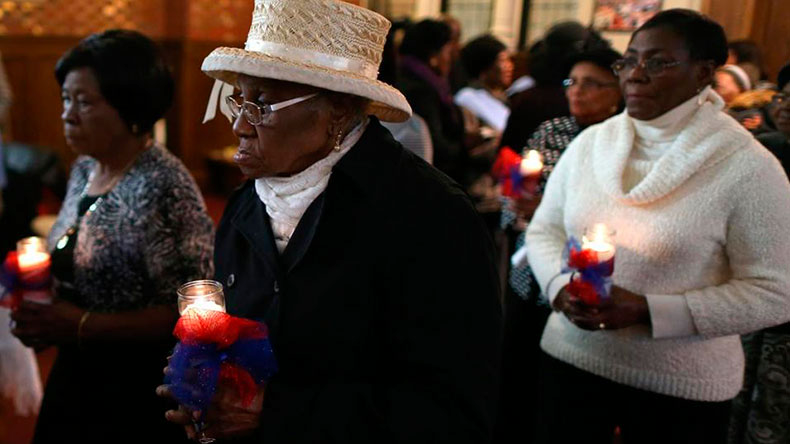 The Boston Globe | Metro
The Boston Globe quoted Dr. Gemima St. Louis, William James College faculty member and president of the Boston-based Haitian Mental Health Network, in their article about the fifth anniversary of the earthquake in Haiti.
Click here for The Boston Globe online version of the article.
---
On the fifth anniversary of a massive earthquake that killed 300,000 in Haiti, a pipeline of financial and emotional support still flows from Boston to the ravaged Caribbean island nation.
Support from Boston —home to the United States' third-largest Haitian population —was evident at weekend events remembering those killed on Jan. 12, 2010.
Community members expressed resilience in the face of persistent obstacles, including ongoing political instability as Haiti's government is poised to miss a Monday elections deadline, potentially forcing the dissolution of its Parliament.
"A better tomorrow is always possible," said the Rev. Gustave Miracle, parochial vicar for the Haitian community at St. Angela's Parish in Mattapan, at an anniversary Mass on Saturday. "Let's believe in it. Let's bet on it."
Solemn parishioners carried candles wrapped in ribbons of blue and red —the colors of the Haitian flag —to the altar during a service in which Miracle called for a spiritual, social, and political renewal of Haiti and the worldwide Haitian diaspora.
"We cannot excuse ourselves," he said. "If we do so, we will never build a country for our children."
The rebuilding continues as the poorest nation in the Western Hemisphere works to restore —and improve —the fragile infrastructure and health care systems that existed before the quake.
Dr. Joia Mukherjee, 50, chief medical officer for Partners in Health, a Boston-based organization founded in 1987 to provide health care in Haiti, said that even before the disaster, most Haitians had little access to care and "the worst health statistics in the hemisphere."
Today, a few thousand Haitians still suffer from injuries sustained in the earthquake, she said, and "many people died because care wasn't available." Recovery efforts are further hampered, Mukherjee said, because many development specialists were killed in the earthquake.
In response to the "complete devastation" of the Hospital of the State University of Haiti, the country's main teaching hospital in Port-au-Prince, Mukherjee said, Partners in Health has helped build the 350-bed University Hospital of Mirebalais, about 55 miles northeast of the capital city.
The new facility offers a first-of-its-kind training program in emergency medicine, she said, and is gradually adding additional services, with a new intensive care unit set to open later this year.
Since the earthquake, Partners in Health and other organizations also have worked to expand mental health services.
Gemima St. Louis, president of the Boston-based Haitian Mental Health Network, said that before the earthquake, the country had no more than 25 or 30 mental health providers for a population of 10 million, partly because of a longstanding stigma about mental illness.
"Because it was a significant event that affected everyone, it normalized the experience and made it OK for the country to begin addressing mental illness and the stigma," said St. Louis, 46.
St. Louis also has worked with some of the thousands of Haitian orphans and families who relocated to the Boston area following the quake, facing a huge cultural shift in their lives as well as lasting trauma from the earthquake.
She said each survivor recovers at his or her own pace, and mental health providers must allow them time and space.
"If it takes 10 or 20 years, it takes 10 or 20 years," she said, going on to compare earthquake survivors to those who lost loved ones in the terrorist attacks of Sept. 11, 2001.
"Even now, families, when they talk about the memories of losing relatives, tell you it is as if it were yesterday. You can't say they should get over it," she said.
As the program director of Youth &Family Enrichment Services, a social service organization for Boston-area Haitian-Americans, Geralde Gabeau has worked with many immigrants acclimating to new lives after the earthquake.
"It's a very big adjustment, not easy at all," said Gabeau, 48.
Many teenagers were enrolled at the Boston International High School in Dorchester, Gabeau said, and initially they seemed listless and uninterested in learning.
Staff from Youth &Family Enrichment Services spoke with the teens at the school's request and found they were unable to adjust to American breakfasts of cold cereal with milk and lunches of cold sandwiches. In Haiti, Gabeau said, milk and most foods are served hot.
After the organization brought in parents to prepare familiar Haitian meals, the students had more energy and focus, she said.
No such simple solution is apparent for Haiti's unstable government, however.
On Saturday, as local Haitian-Americans paid tribute to friends and relatives lost, about 1,500 protesters in Port-au-Prince called for President Michel Martelly to step down, some throwing rocks at police and burning tires.
Marie St. Fleur, a former Massachusetts state representative who was the first Haitian member of the Legislature, returned from a visit to Haiti just a week ago.
"People are girding up for a protest," said St. Fleur, 52, "and there's a real possibility that the Parliament will be dissolved, that there will be no real legal authority in the country . . . except for the presidency, which has put fear in a lot of people."
St. Fleur has visited Haiti twice a year since the earthquake as chairwoman of the advisory council of the Haiti Fund at the Boston Foundation.
She has seen the new roads and schools, the hospital in Mirebalais, and the international airport in Cap-Haitien.
She has seen tourism on the rise, with new hotels built amid a peak of $250 million in direct foreign investment last year, up from $4 million in 2001, according to the government. But efforts to draw tourists have been hampered by the country's fragile economy as well as safety concerns.
"Haiti's problems are so complex," St. Fleur said. "They're not going to [be solved] overnight."
Hundreds of Haitians celebrated their community'sresilience Sunday eveningin Hyde Park, where earthquake survivor Belinda Jean-Calixte recalled being inside her family's concrete-block home west of Port-au-Prince when it crumbled.
"I wasn't really hurt, but I think I was hurt mentally . . . because I had a few friends that died," said Jean-Calixte, 25, in an interview.
Eight months later, still experiencing flashbacks, she came with her father and two sisters to Boston, where she found support at Youth &Family Enrichment Services, as well as encouragement for her interest in working with children.
"When I'm with the kids, when I'm with the people working at YOFES, I feel like I'm home," she said. "I feel like I'm in the Haiti that I know."
Jean-Calixte stood along the back wall of the auditorium, watching as the St. Angela's Parish choir appeared in their brilliant white robes to sing a hymn.
The song, she explained, was called "Esperans" —Haitian Creole for "Hope."
Material from the Associated Press was used in this report. Jeremy C. Fox can be reached atjeremy.fox@globe.com. Follow him on Twitter@jeremycfox.
Topics/Tags
Follow William James College
Media Contact
Katie O'Hare
Senior Director of Marketing