William James College Featured in Report from National Commission on Social, Emotional, and Academic Development
By Staff Report
Jan 15, 2019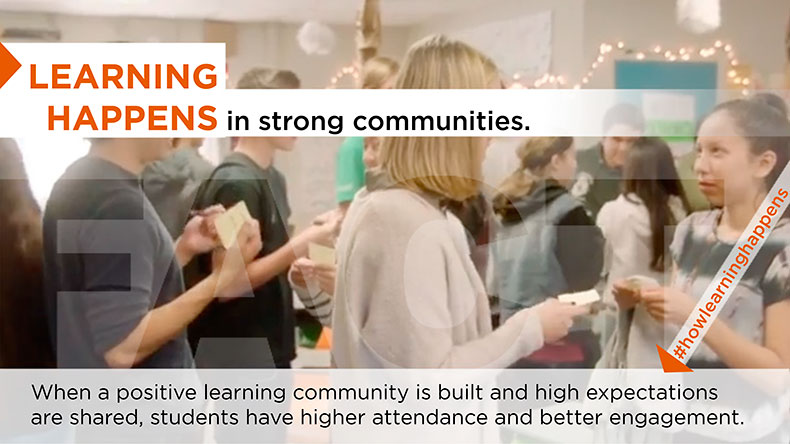 National Report Spotlights William James College, graduate certificate in school climate and social and emotional learning
FOR IMMEDIATE RELEASE:
NEWTON, MASS. – William James College and its work to support the whole student is included as an exemplary approach to supporting students' social, emotional, and academic development in a report released today by a prestigious national commission.
The Aspen Institute National Commission on Social, Emotional, and Academic Development's "From a Nation at Risk to a Nation at Hope" asserts that our nation is at a turning point, understanding that social, emotional, and cognitive development underpins children's academic learning. This breakthrough understanding about how people learn is fueling a growing movement to educate children as whole people, with social and emotional as well as academic needs, the report says.
William James College's nine-month graduate certificate in school climate and social and emotional learning, which is offered through the Richard I. and Joan L. Freedman Center for Child and Family Development and the Department of School Psychology, is highlighted in "A Practice Agenda in Support of How Learning Happens," one of three "agenda" reports which informed the culminating report containing more detailed recommendations for practitioners, policymakers, and researchers.
"Twenty percent of students today have a mental health need that limits their learning and that of others, yet fewer than half of teachers surveyed report social and emotional skills being taught in schools on a programmatic basis," said Nicholas Covino, president of William James College. "Districts that encourage a focus on social emotional learning see significant benefits within and outside of the classroom. By educating and empowering teachers and educational professionals to drive systemic change, we're promoting change at an upstream level. It's an honor to have this program and its impact recognized in this report."
The certificate, which launched in fall 2017 with a cohort of five districts and is currently in its second year with another full cohort, brings together school teams work toward ways to embed social and emotional learning into their home districts. "The team ends up with an action plan that's not only a school action plan, but a connected district action plan, so they really see the result of their investment," said Margaret Hannah, co-director of the certificate program.
"The importance of developing positive school climates and teaching social emotional skills in school settings has been well documented," said Arlene Silva, chair of the School Psychology Department. "Our program brings teams of school staff together to engage in a thoughtful, year-long process of experiential learning, needs assessment, and intervention, through which participants develop the awareness and skills needed to become agents of lasting change within their districts."
"A Nation at Hope" emphasizes that translating knowledge about how people learn into practice and helping students develop skills like collaboration, empathy, and perseverance requires systemic change. It offers specific actions in research, practice, and policy to fundamentally shift how we teach children, with the understanding that the social, emotional, and cognitive dimensions of learning are mutually reinforcing rather than distinct.
The culminating report recommends taking these key steps:
Set a clear vision that broadens the definition of student success to prioritize the whole child.
Transform learning settings so they are safe and supportive for all young people.
Change instruction to teach students social, emotional, and cognitive skills; embed these skills in academics and school-wide practices.
Build adult expertise in child development.
Align resources and leverage partners in the community to address the whole child.
Forge closer connections between research and practice to generate useful, actionable information for educators.
Nearly 100 organizations that have signed on in support of the report's conclusions and recommendations as part of an ever-widening coalition committed to advancing the work. This groundswell of support that has surged over the course of the Commission's work, and now supports action across communities following its release, sets the report apart and offers promise for the movement to grow nationwide.
Drawing on input from more than 200 scientists, youth and parent groups, educators and policymakers, the report seeks to accelerate and strengthen efforts in local communities. These recommendations are especially pertinent as states and communities continue to leverage their increased authority on education policy under the federal Every Student Succeeds Act. The report includes specific strategies that schools, districts, and communities can pursue related to each recommendation and examples of places that are engaged in these efforts.
The report also outlines evidence that confirms that supporting students' social, emotional and academic development has a positive impact on their attendance, test scores, success in college and careers, and overall well-being. This approach also improves students' feelings about school and makes schools safer.
For more information, and to read the report and agendas, visit: NationatHope.org.
---
About William James College
Founded in 1974, William James College is an independent, non-profit institution and a leader in educating the next generation of mental health professionals to support the growing and diverse needs of the mental health workforce. Integrating field work with academics, the College prepares students for careers as organizational leaders and behavioral health professionals who are committed to helping the underserved, multicultural populations, children and families, and veterans. William James College alumni can be found making an impact in a variety of settings, including schools, the courts, clinical care facilities, hospitals, the community and the workplace.
Contact
Anne Wilson
Director of Communications
William James College
617-564-9429
anne_wilson@williamjames.edu
Popular Topics/Tags
Follow William James College
Media Contact
Katie O'Hare
Senior Director of Marketing and Communications